Dornröschen
Director: Walter Beck, 67 Min., Color, Feature Film
Deutsche Demokratische Republik (DDR)
DEFA-Studio für Spielfilme, 1970
Film/Video Format

35 mm

Length in m

1925

Premiere Date

Release Date (for Cinema)

Literary Source

Gebrüder Grimm: "Dornröschen", Märchen

Releases

DVD: ICESTORM Entertainment GmbH / www.icestorm.de
Short Summary (English)
On the occasion of their daughter's birth, the king and queen give a lavish feast. Among the guests are twelve fairies who endow the infant in the cradle with all good qualities. As the king loathes diligence, he does not invite the thirteenth fairy - the fairy of diligence. A captain lets her slip into the castle and she casts a spell on Sleeping Beauty, wishing death upon her. The twelfth fairy transforms and mitigates the spell. On the day she turns fifteen, the princess is to sink into a hundred-year sleep after pricking her finger on a spindle. The king has all spindles banished from his country, plunging working people into great misery. But one spindle has been overlooked and so the curse takes effect. When a young prince comes along to wake Sleeping Beauty, the thirteenth fairy puts him to the test. He proves to be wise and just and so Sleeping Beauty - and all the others - awake and arise.
Source: Progress Film-Verleih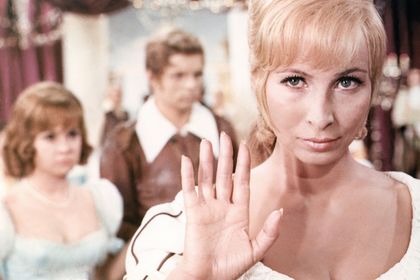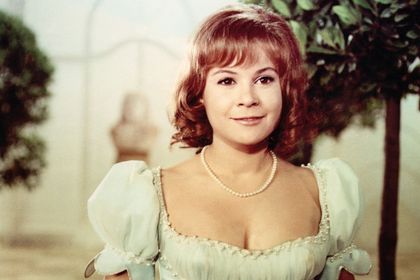 Film Crew
Script

Margot Beichler
Gudrun Deubener-Rammler
Walter Beck

Cast

Juliane Korén (Dornröschen)
Burkhard Mann (Prinz)
Helmut Schreiber (König)
Evamaria Heyse (Königin)
Vera Oelschlegel (13. Fee)
Dorothea Garlin (1. Fee)
Angela Brunner (2. Fee)
Gerlinde Leider (3. Fee)
Karin Gundermann (4. Fee)
Margot Busse (5. Fee)
Theresia Wider (6. Fee)
Renate Michel (7. Fee)
Renate-Catharina Schroff (8. Fee)
Verena Grimm (9. Fee)
Sonja Hörbing (10. Fee)
Brigitte Krause (11. Fee)
Barbara Dittus (12. Fee)
Fritz Decho (Haushofmeister)
Thomas Langhoff (Hauptmann)
Dieter Wien (Neuer Hauptmann)
Erich Brauer (Schloßgärtner)
Klaus Pönitz (Koch)
Martin Hellberg (Spielmann)
Jaecki Schwarz (Ritter)
Jörg Knochée (auch: Knoche) (Ritter)
Waltraut Kramm (Frau mit Spinnrad)
Agnes Kraus (Frau mit Spinnrad)
Nico Turoff (Wirt)
Ruth Mickan (Edelfrau)
Lilo Grahn (Edelfrau)
Evelyn Höpfner (Edelfrau)
Bruno Carstens (Edelmann)
Sepp Klose (Edelmann)
Joachim Pape (Edelmann)
Ostara Körner (Bäuerin)
Gerhard Paul (Tischler)
Karlheinz Siewert (Goldschmied)
Günter Drescher (Schneider)
Zofia Slaboszowska (Magd)
Karin Beewen (Magd)
Matthias Merker (Page Andreas)
Günter Neuschild (Bursche)
Wolfgang Braune (Bursche)
Bernd Hirschauer (Diener)
Lothar Müller (Diener)
Annette Böttche (Spinnmädchen)
Marlies Schön (Spinnmädchen)
Giselane Schorr (Spinnmädchen)
Karin Rebnitz (Spinnmädchen)
Klaus Bamberg (Soldat)
Walter Wystemp (Soldat)
Heinrich Pohl (Soldat)
Joachim Störzner (Soldat)

Assistant Camera

Frank Bredow
Gerd Petrasch

Music

Klaus Lenz
Hermann Anders

Sound

Georg Gutschmidt
Günter Lambert
Klaus Wolter
Gerhard Ribbeck

Make-Up

Bernhard Schlums
Regina Teichmann

Unit Production Management

Narrator

Angelika Neutschel
Elisabeth-Christine Schuster
Monika Däbritz
Short Summary (German)
Anläßlich der Geburt ihrer Tochter geben König und Königin ein großes Fest. Geladen sind auch zwölf Feen, die dem Kind alle guten Eigenschaften in die Wiege legen. Da der König den Fleiß verachtet, hat er die dreizehnte Fee, die Fee des Fleißes nicht geladen. Ein Hauptmann läßt sie dennoch ins Schloß, und sie wünscht Dornröschen den Tod. Die zwölfte Fee wandelt den Spruch um. In einen 100jährigen Schlaf soll Dornröschen fallen, wenn sie sich an ihrem fünfzehnten Geburtstag an einer Spindel sticht. Der König verbannt alle Spindeln aus dem Land, womit er die arbeitenden Menschen in große Not stürzt. Eine aber ist vergessen worden, und so erfüllt sich der Fluch. Das ganze Schloß fällt in Schlaf. Als ein junger Prinz kommt, um Dornröschen zu wecken, stellt die dreizehnte Fee ihn auf die Probe. Da er sich als klug und gerecht erweist, erwachen mit Dornröschen auch alle anderen.
(Quelle: Das zweite Leben der Filmstadt Babelsberg. DEFA-Spielfilme 1946-1992)
Short Summary (Other Languages)
Per festeggiare la nascita della figlia, un re e una regina danno una gran festa, invitando anche 12 fate, affinché donino alla neonata le più meravigliose virtù. Disprezzando lo zelo, il re fa a meno d'invitare la tredicesima fata, la fata dello zelo. Entrata comunque nel castello, la tredicesima fata augura a Rosaspina di morire. La dodicesima fata, non potendo annullare la spietata sentenza, cerca di attenuarla, dicendo che a 15 anni la principessa si pungerà con un fuso e cadrà in un sonno profondo lungo 100 anni. Il re, sperando di poter preservare la sua bambina da quella grave disgrazia, bandisce tutti i fusi dal suo regno, ma ne dimentica uno e la maledizione si avvera. Un giovane principe, venuto per risvegliare Rosaspina, verrà messo alla prova dalla tredicesima fata. Dimostrandosi intelligente e giusto, risveglierà con Rosaspina anche tutto il castello. (Italienisch)