Drei Kapitel Glück
Director: Walter Beck, 98 Min., Black-White, Feature Film
Deutsche Demokratische Republik (DDR)
DEFA-Studio für Spielfilme, 1961
Film/Video Format

35 mm

Length in m

2687

Other Title

Ein Fernglas war schuld

English Title

Three Chapters Of Happiness

Premiere Date

Release Date (for Cinema)

Literary Source

Peter, Hans: "Äffchen und der Sand am Meer", Filmerzählung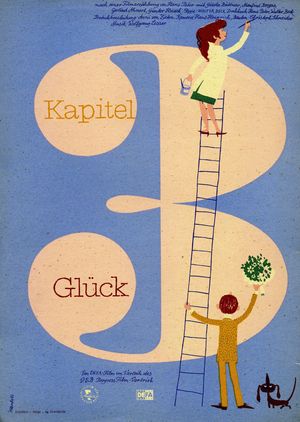 Short Summary (English)
Ev and Peter fall in love at first sight. Peter studies dentistry in Leipzig and is eager to work in the country. There is an unfilled dentist vacancy in his home village. Ev, on the other hand, is drawn to the city. Being a commercial artist, she sees no chance to find a job in the country. This conflict becomes the first real test for their relationship. Via their friends, however, Ev is eventually offered the possibility to work as a commercial artist in the country. On receiving this happy news, Ev and Peter decide to get married.
(Quelle: filmportal)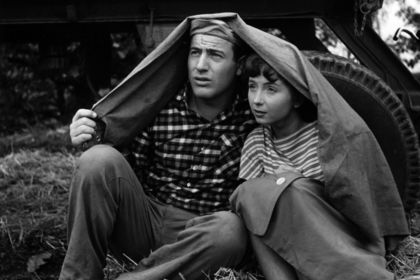 Film Crew
Cast

Gisela Büttner (Ev)
Manfred Borges (Peter)
Gerlind Ahnert (Dorle)
Günter Haack (Fred)
Karin Seybert (Mutter)
Wolfgang Sasse (Kuhn)
Gerd Ehlers (Rödel)
Sabine Thalbach (Ursula)
Manfred Krug (Fritz)
Gertrud Brendler (Wirtin)
Marylu Poolman (Renate)
Ilse Bastubbe (Mädchen)
Käte Märker-Paschen (Mutter von Hans)
Horst Detloff (Hans)
Rudolf Frickau (Bauer)
Manfred Pilz (Kunstmaler)
Heinz Hupfer (Kunstmaler)
Hans Flössel (Professor)
Otto-Erich Edenharter (Bürgermeister)
Peter Sturm (Zahnarzt)
Rolf Römer (auch: Rolf Specht) (Kunststudent)
Erich Engel (Kellner)
Bruno Meier (Bassist)
Hans-Joachim Göte (Tierpfleger)
Herbert Kroiss (Fotograf)
Hans-Joachim (auch: Jochen) Zillmer (Kameramann)

Assistant Camera

Hans-Joachim (auch: Jochen) Zillmer

Costume Design

Walter Schulze-Mittendorff

Unit Production Management

Design

Werner Klemke (Grafik: Vorspann)
Short Summary (German)
Peter ist ein strebsamer und etwas schüchterner Student der Zahnmedizin in Leipzig. Nach Abschluss des Studiums will er ins Landambulatorium seines Heimatdorfes, denn dort ist die Zahnarztstelle unbesetzt. Eines Tages erblickt er Ev durch sein Fernrohr. Es ist Liebe auf den ersten Blick, und wie er bald feststellt, erwidert Ev seine Zuneigung. Es gibt nur noch ein Problem für das junge Paar. Ev will Werbegrafikerin werden und sieht auf dem Dorf keine Arbeitsmöglichkeiten für sich. Glücklicherweise gibt es Freunde, die ihr zeigen, dass sie auch auf dem Lande sinnvolle Arbeit findet, und so steht der Hochzeit nichts mehr im Wege.
(Quelle: Das zweite Leben der Filmstadt Babelsberg. DEFA-Spielfilme 1946-1992)
Short Summary (Other Languages)
Finiti gli studi, Peter, uno studente di odontoiatria timido ma zelante, vuole lavorare nell'ambulatorio del suo paese d'origine. Qui incontra Ev e se ne innamora. Anche la ragazza contraccambia il suo affetto, ma per diventare una grafica pubblicitaria la ragazza vorrebbe trasferirsi altrove. Degli amici la convinceranno che anche in campagna si può lavorare bene ed Ev sposerà Peter. (Italienisch)