Ehesache Lorenz
Director: Joachim (auch: Hans-Joachim) Kunert, 78 Min., Black-White, Feature Film
Deutsche Demokratische Republik (DDR)
DEFA-Studio für Spielfilme, 1959
Film/Video Format

35 mm

Length in m

2131

Other Title

Ehescheidung

English Title

The Lorenz Vs. Lorenz Case

Premiere Date

Release Date (for Cinema)

Literary Source

Waterstradt, Berta: "Ehrensache Lorenz", Bühnenstück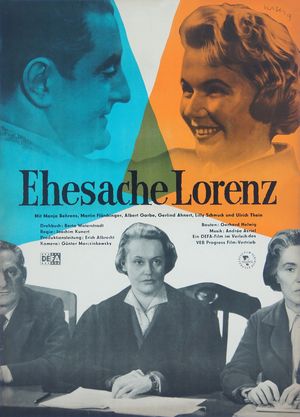 Short Summary (English)
Trude and Willi Lorenz have been leading a seemingly exemplary married life for 24 years. Their daughter, Gitta, regards this marriage as the definitive model for her and her fiancé. But in reality things look altogether different Willi Lorenz, department head in a heavy machine plant and often away on business, two-times his wife with his secretary, Helga Ritter. Trude is a judge in divorce cases and has a lot of work on her hands. The initially close family life has consequently eased off, worn thin and become rather superficial over the years. A lay assessor draws Trude's attention to Willi's escapades on the sly. Now she has to face the very case she has to hear almost daily.
The young secretary comes to see Trude, urging her to give up her husband. Willi has, in effect, betrayed both women but when it finally comes to settling the matter, he opts for Trude, acknowledging their shared and fulfilled past. Schliffke, a driver, plays no mean part in stopping a case of Lorenz versus Lorenz taking place by giving his boss a tactful talking-to...
(Source: PROGRESS Film-Verleih)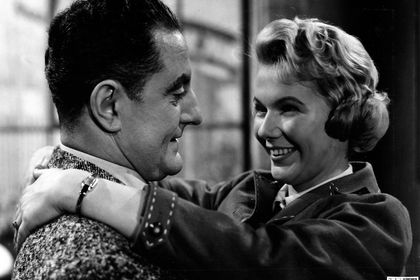 Film Crew
Director

Joachim (auch: Hans-Joachim) Kunert

Cast

Manja Behrens (Trude Lorenz)
Martin Flörchinger (Willi Lorenz)
Albert Garbe (Albert Schliffke)
Gerlind Ahnert (Helga Ritter)
Lilly Schmuck (Gitta Lorenz)
Ulrich Thein (Peter Fischer)
Antje Ruge (Elli Lemke)
Rudolf Ulrich (Kurt Lemke)
Marga Legal (Schöffin Cavalier)
Charlotte Küter (Mutter Fischer)
Mathilde Danegger (Lieschen Schliffke)
Kurt Steingraf (Kaderleiter Lamprecht)
Charlotte Brummerhoff (Sekretärin Lamprechts)
Amy Frank (Frau Lehmann)
Peter A. Stiege (Schöffe Müller)
Martha Beschort-Diez (Schriftstellerin)
Ruth Maria Kubitschek (Frau Köhler)
Werner Lierck (Herr Köhler)
Erich Brauer (Werkleiter)
Herbert Köfer (Verkaufsstellenleiter)
Ursula Braun (Frau Klein)
Hans Klering (Wirt)
Gustav Müller (Herr Klein)
Klaus Gendries (Herr Schönemann)
Ingeborg Chrobok-Thies (Protokollantin)
Ingrid Breitsprecher (Frau Schönemann)
Günther Polensen (Rechtsanwalt)
Sonja Haacker (Betriebsschwester)
Maria Besendahl (Ältere Garderobiere)
Susanne Wikarski (Mitarbeiterin)
Beate Bauer (Mitarbeiterin)
Ilse Bastubbe (HO-Verkäuferin)
Harry Pietzsch (Arbeiter im Werk)
Ernst Zillmann (Arbeiter im Werk)
Rudolf Woschick (Arbeiter im Werk)
Martin Ernst (Arbeiter im Werk)
Karin Kornatis (Mannequin)
Rita Steinmaus (Mannequin)
Veronika Axmann (Mannequin)
Astrid Much (Mannequin)
Irene May (Mannequin)
Ilona Schmidt (Mannequin)

Sound

Johanna Lindner
Gerhard Wiek

Unit Production Management
Short Summary (German)
Seit 24 Jahren führen Trude und Willi Lorenz eine mustergültige Ehe. Tochter Gitta nimmt sie als Vorbild für sich und ihren Verlobten Peter. Der Schein jedoch trügt. Willi betrügt seine Frau mit der jungen Sekretärin Helga. Er ist Abteilungsleiter in einem Schwermaschinenbau-Betrieb und viel auf Dienstreisen. Trude hat als Scheidungsrichterin ebenfalls einen ausgefüllten Arbeitstag. Offensichtlich kam das Familienleben dadurch zu kurz, und nun steht Trude selbst vor einem Problem, das ihr von Berufs wegen sehr vertraut ist. Eine Schöffin hatte sie auf die Untreue ihres Mannes aufmerksam gemacht, und ein Besuch Helgas, die von ihr fordert, den Mann aufzugeben, zwingt zu einer Entscheidung. Willi Lorenz hat beide Frauen betrogen. In einer Aussprache bekennt er sich schließlich zu Trude und ihrem gemeinsamen Leben. Dass es nicht zur "Scheidungssache Lorenz" kommt, ist auch dem aufrichtigen, mitfühlenden Kraftfahrer Schliffke zu danken, der seinem Chef Lorenz und der jungen Helga taktvoll die Augen öffnet.
(Quelle: Das zweite Leben der Filmstadt Babelsberg. DEFA-Spielfilme 1946-1992)
Short Summary (Other Languages)
Trude e Willi Lorenz, sembrano felicemente sposati da ben 24 anni, eppure Willi, tradisce sua moglie, di professione avvocato divorzista, con la giovane segretaria Helga. Informata da una collega dei tradimenti del marito e assalita dall'amante di lui, che rivendica la loro relazione, Trude pone Willi davanti a una scelta. Il marito tornerà giudiziosamente da sua moglie. (Italienisch)