Ein Mädchen von 16 1/2
Director: Carl Balhaus, 96 Min., Black-White, Feature Film
Deutsche Demokratische Republik (DDR)
DEFA-Studio für Spielfilme, 1957
Film/Video Format

35 mm

Length in m

2656

Other Title

Das Mädchen vom Werkhof

English Title

Young Girl Of 16 1/2

Premiere Date

Release Date (for Cinema)
Short Summary (English)
In post-war years, the young orphan Helga is raised by her aunt. When she turns sixteen, she leaves her to cut her own path. At night, Helga roams the streets of Berlin and has fleeting acquaintances with several boys, among them the upright Rolf and the greasy Egon. Eventually, her odyssey comes to an end in a youth detention center where she reunites with Rolf who has cast an eye on her. Helga's heart, however, is still set on Egon. She escapes from the youth center and starts searching for him. When she finally finds Egon in a bar, he turns out to be a completely broken and mental wreck who wants her to walk the streets in order to bring in some money. At last, Helga realizes that he is the wrong guy for her and that she no longer wants to be a part of his life. Instead, she returns to the youth center where Rolf is waiting for her.
(Source: filmportal)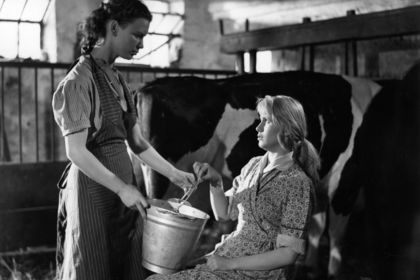 Film Crew
Script

Ilse Czech-Kuckoff
Carl Balhaus

Cast

Nana Schwebs (Helga)
Erika Dunkelmann (Frau Fritsche)
Helga Göring (Fräulein Peters)
Wolfgang Stumpf (Baum)
Gerhard Bienert (Oskar Genz)
Hartmut Reck (Rolf)
Uwe-Jens Pape (Egon)
Edwin Marian (Hans)
Hans-Joachim Martens (Müller)
Fred Delmare (Walter)
Rolf Ripperger (Karsten)
Manfred Krug (Freddy)
Horst Buder (Knirps)
Werner Dissel (Rohn)
Christina Monden (Karla)
Ursula Körbs (Renate)
Rosemarie Bitter (Waltraud)
Ingrid Weingarten (Erna)
Eva-Maria Müller (Lisa)
Gerd Scheibel (Peter)
Heinz Lyschik (Wolfgang)
Gertrud Brendler (Helgas Pflegemutter)
Otto Roland (Mann in der Bar)
Georg Helge (Betrunkener)
Paul Knopf (Vorarbeiter)
Augustin Kovacz (Kriminalbeamter)
Wolf Lucas (Kriminalbeamter)
Dieter Kaufmann (Junger VP-Angehöriger)
Friedrich Teitge (Volkspolizist am Fernschreiber)
Johannes Siegert (Beamter)
Helmut Hinke (Volkspolizist am Fernschreiber)
Waldemar Döring (Fahrer)
Gregor Greguletz (Kriminalbeamter)
Martin Quast (Kriminalbeamter)
Karl-Heinz Moebius (Postbote)
Roland Gaut (Postbote)
Fritz Ernst Fechner (Fernfahrer)
Rolf Bergmann (Wärter / Rettungsschwimmer)
Gerd Holtenau (Meister in der Tischlerei)
Carlo Kluge (Verkäufer)
Irmtrud Stangenberger (Trude)
Paul R. Henker (Kraftfahrer)
Roland Nietzold (Beifahrer)
Erich Franz (LPG-Vorsitzender)
Sabine Nebauer (Mädchen)
Helga Drews (Mädchen)
Ingrid Weeke (Mädchen)
Artur Klang (Junge)
Siegfried Laaps (Junge)
Joachim Heinrich (Junge)
Siegfried Kausler (Junge)

Make-Up

Kurt Dreier
Vera Schlawin

Unit Production Management

Günter Propp
Wolfgang Bertram
Short Summary (German)
Helga hat im Krieg ihre Eltern verloren und ist bei einer Tante aufgewachsen, der sie eines Tages davonläuft. Sie treibt sich im nächtlichen Berlin herum, macht Männerbekanntschaften und landet schließlich in einem Jugendwerkhof. Rolf, mit dem sie eine kurze Fluchtepisode erlebt hat, verliebt sich in sie. Helga jedoch denkt noch immer an den zwielichtigen Egon, den sie auf ihren abendlichen Streifzügen kennengelernt hatte, und mit dem sie sich ein angenehmes Leben erhofft. Sie flieht aus dem Werkhof zu ihm. Als sie ihn endlich in einer Bar findet, völlig pleite und heruntergekommen, will der sie auf den Strich schicken. Helga aber hat inzwischen genügend Reife, um zu wissen, dass das nicht ihr Weg ist. Sie geht freiwillig zurück in den Werkhof - und zu Rolf.
(Quelle: Das zweite Leben der Filmstadt Babelsberg. DEFA-Spielfilme 1946-1992)
Short Summary (Other Languages)
La giovane Helga, rimasta orfana durante la guerra e cresciuta con sua zia, scappa di casa e dopo aver vagabondato per Berlino finisce in un riformatorio. Rolf, con cui Helga ha tentato di scappare, s'innamora di lei, ma la ragazza è attratta dall'ambiguo Egon, conosciuto vagabondando per la città. Egon, squattrinato e malandato, vuole costringere Helga a prostituirsi. La ragazza preferirà ritornare al riformatorio da Rolf. (Italienisch)