Ein Schneemann für Afrika
Director: Rolf Losansky, 84 Min., Color, Feature Film
Deutsche Demokratische Republik (DDR)
DEFA-Studio für Spielfilme, 1977
Film/Video Format

35 mm

Length in m

2295

English Title

A Snowman For Africa

Premiere Date

Release Date (for Cinema)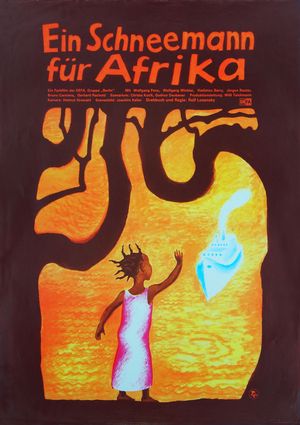 Short Summary (English)
The little African girl Asina is eagerly waiting for her new friend Karli. Karli is a young sailor from Rostock who has promised her a gift on his next arrival in Coccatuttibana. Karli keeps his promise and smuggles a stowaway onboard the "MS Wismar". Kasimir, a snowman, finds shelter in a cooling chamber. Although the journey turns out to be turbulent, Karli and Kasimir manage to arrive in Africa in good health. Asina is very excited about her extraordinary present. To prevent the snowman from the African sun, however, she sends him on another cargo ship journey. This time his destination is the land of the Eskimos.
(Source: filmportal)
Film Crew
Camera

Helmut Grewald
Erich Günther (Puppentrick "Schneemannaufnahmen")

Cast

Wolfgang Penz (Matrose Karli)
Wolfgang Winkler (Koch Bob)
Hadiatou Barry (Asina)
Jürgen Reuter (Chiefmate Sebastian)
Bruno Carstens (Kapitän)
Ingolf Gorges (Maschinist)
Gerhard Rachold (Bootsmann)
Kurt Nolze (Matrose Backe)
Dieter Jäger (Funker Bernd)
Hartmut Schreier (Matrose Chanti)
Peter Festersen (Matrose Schulle)
Renate Heymer (Stewardess Els)
Mahoma Mwangulu (Hafenmeister Kamuk)
Niemat El Obeid (Asinas Mutter)
Albert Ndindah (Fischer Oisanga)
Henry Wollner (Boko, Asinas Bruder)
Dieter Wardetzky (Kapitän der "Pinguin")
Gerd Staiger (Lotse)
Jörg Gillner (Matrose der Finnen)
Liselott Baumgarten (Bobs Oma)
Joachim Dittmann (Offizier Linse)
Hans-Otto Reintsch (Maschinenwärter Otto)
Ilona Brömmer (auch: Brömmer-Weiß) (Frau des Chiefmate)
Hans-Jürgen Plust (Funker der Finnen)
Walter Ruge (Sowjetischer Offizier)
Angelika Herrmann (Karlis Freundin Rita)
Rudolf Hannemann (Hochseesegler)
Constanze Khupe (Afrikanische Sekretärin)
Fatima Stojanow (Uongue)

Assistant Director

Rosemarie Remlinger
Thomas Jahn

Assistant Camera

Klaus Groch
Jürgen (auch: Hans-Jürgen) Hoeftmann
Tony Loeser (Puppentrick "Schneemannaufnahmen")

Scenario

Christa Kozik
Gudrun Deubener

Production Design

Jochen (auch: Joachim) Keller
Frank Wittstock (Puppentrick "Schneemannaufnahmen")

Sound

Werner Blass (auch: Blaß)
Helga Kadenbach

Make-Up

Jürgen Holzapfel
Ursula Funk

Production Management

Willi Teichmann
Sybille Pahl (Puppentrick "Schneemannaufnahmen")

Unit Production Management

Heinz Ullrich
Rüdiger Lieberenz

Design

Marianne Poppe (Puppengestaltung "Schneemannaufnahmen")

Animation

Kurt Weiler (Regie Puppentrick "Schneemannaufnahmen")
Heike Ebert (Puppenführung "Schneemannaufnahmen")

Consulting

Kapitän Wolf-Peter Zimmer

DEFA Photography

Jürgen (auch: Hans-Jürgen) Hoeftmann
Awards
16. Internationales Kinder- und Jugendfilmfestival Gijon/Spanien (1978): Eine der gleichbereichtigten Auszeichnungen der internationalen Jury
1. Nationales Festival für Kinderfilme der DDR in Kino und Fernsehen Gera (1979): Ehrenpreis der Kinderjury
Short Summary (German)
Der Matrose Karli vom MS "Wismar" hat dem kleinen Mädchen Asina in Afrika ein Geschenk versprochen. Als er die Kinder im winterlichen Rostock spielen sieht, kommt ihm die Idee, Asina einen Schneemann mitzunehmen. Während der aufregenden Fahrt geht einmal der Schneemann über Bord, ein andermal die Kühlflüssigkeit aus. Aber schließlich kann Asina ihr ungewöhnliches Geschenk überglücklich entgegennehmen. Doch die Träume von gemeinsamen Abenteuern schmelzen in der afrikanischen Sonne schnell dahin. Mit einem weinenden und einem lachenden Auge gibt Asina ihr wertvolles Geschenk einem sowjetischen Frachter mit, der es ins Land der Eskimos bringen soll.
(Quelle: Das zweite Leben der Filmstadt Babelsberg. DEFA-Spielfilme 1946-1992)
Short Summary (Other Languages)
Il marinaio Karli ha promesso di riportare ad Asina, una bambina africana, un regalo molto speciale. L'inverno a Rostock gli suggerisce di regalarle un pupazzo di neve. Durante il viaggio il pupazzo finisce prima in mare, poi rischia di sciogilersi, ma poi arriva sano e salvo a destinazione. Quando il sole africano rischia di liquefare il pupazzo, Asina affida il suo nuovo amico a una nave mercantile sovietica, in viaggio verso il Paese degli Eskimesi. (Italienisch)