Eine handvoll Hoffnung
Director: Frank Vogel, 78 Min., Color, Feature Film
Deutsche Demokratische Republik (DDR)
DEFA-Studio für Spielfilme, 1977
Film/Video Format

35 mm

Length in m

2127

Other Title

Berlin, O 116; Ich muß jetzt gehen; Und vergib mir meine Schuld

English Title

A Handful Of Hope

Premiere Date

Release Date (for Cinema)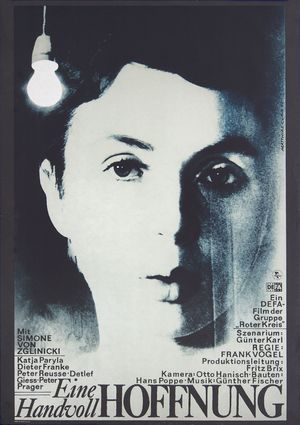 Short Summary (English)
Berlin at the end of the 1940s. Anneliese Weyher is working as a switchboard operator. She is living with her aunt after losing her parents in the war - a stroke of fate that has thrown the young woman off course emotionally. Indifferently, she is doing her work; her private life consists of an affair with a black-marketeer. Even when Anneliese witnesses an armed robbery, committed by infamous Wollnick and his gang, she stays lethargic and apathetic - she keeps silent instead of helping the inspector who is a friend of her aunt. It is not until Anneliese by coincidence meets her former lover, the watchmaker Kurt, that her life seems to take a positive turn. But then, Kurt is killed by Wollnick. Although the police finally capture the criminal, Anneliese realizes that she is complicit in her lover's death, because she kept quiet before. In her desperation, Anneliese sees no other way than to take her own life.
(Source: filmportal)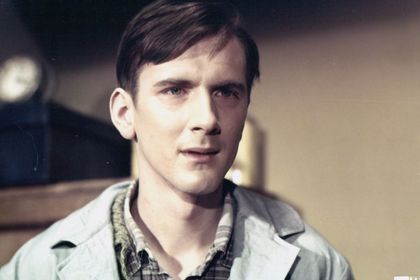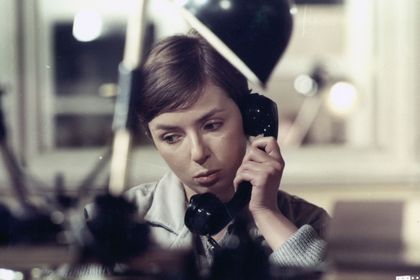 Film Crew
Cast

Simone von Zglinicki (Anneliese Weyher)
Katja Paryla (Martha Menzel)
Dieter Franke (Albert Neuenfeld)
Peter Reusse (Dieter Wollnick)
Detlef Gieß (Manfred Lebus)
Peter Prager (Kurt Danneberg)
Michael Gerber (Jürgen Niewisch)
Helga Göring (Edith Radicke)
Walter Lendrich (Erich Radicke)
Carl Heinz Choynski (Heide)
Christoph Engel (Reichsbahnrat)
Rainer Doering ("Mücke" Mühlich)
Peter Kalisch (Erwin Wollnick)
Hans Michael Linke (Bert)
Annelise Matschulat (Henny Wollnick)
Peter Köhncke (Benno)
Jörg Panknin (Birne)
Norbert Stöss (Latte)
Evamaria Bath (Oberschwester)
Karin Beewen (Sekretärin)
Carola Braunbock (Bäckersfrai)
Angela Brunner (Ilse Engel)
Jürgen Huth (Wachtmeister Schauer)
Hans Klering (Kassierer)
Günter Rüger (Parteisekretär)
Jakob Freitag (Axel Niewisch)
Daniela Neunast (Beate Wollnick)
Frank Wuttig (Ernst)
Frank Schulz (Peter)
Wilfried Pucher (Polizeirat)
Rosemarie Herzog (Kundin)
Victor Deiß (Paul)
Christa Loeser (Frau von Paul)
Klaus Ebeling (Volkspolizist Schulz)
Hans-Hasso Steube (Mann auf Rummelplatz)
Inge Noack (Mädchen)
Holm-Henning Freier (Junger Mann)
Gerlinde Schorm (Näherin)
Horst Giese (Schwarzhändler)
Hannes Stelzer (Schwarzhändler)
Ernst Balcke (Arzt)

Assistant Camera

Dietram Kleist
Norbert Kuhröber

Sound

Konrad Walle
Gerhard Ribbeck

Make-Up

Christa (auch: Christel) Grewald
Kurt Tauchmann

Props

Wilhelm Marquardt
Adolf Kilian

Unit Production Management

Paul Lasinski
Michael Schorm
Short Summary (German)
Berlin 1948/49. Die Telefonistin Anneliese Weyher, Anfang zwanzig, hat im Krieg ihre Eltern verloren und lebt bei der Tante. Sie ist innerlich zerstört, geht mechanisch ihrer Arbeit nach, hat ein Verhältnis mit einem Schieber. Sie schweigt, auch als sie Zeugin eines Verbrechens von Dieter Wollnick wird. Der ist Chef einer Bande Krimineller, die von Raubüberfällen lebt, und wird von Kommissar Neuenfeld gesucht, dem Freund ihrer Tante. Unverhofft trifft sie ihre erste Liebe wieder, den Uhrmacher Kurt Danneberg. Sie hofft, mit ihm ein bisschen Glück zu finden. Doch bei einem Überfall wird Kurt von Wollnick erschossen. Wollnick wird gestellt und Anneliese erkennt, dass sie durch ihr Schweigen mitschuldig wurde am Tod Kurts. Sie unternimmt einen Selbstmordversuch.
(Quelle: Das zweite Leben der Filmstadt Babelsberg. DEFA-Spielfilme 1946-1992)
Short Summary (Other Languages)
Rimasta orfana durante la guerra, Anneliese Weyer, una centralinista di vent'anni, si trasferisce da sua zia. Distrutta dal dolore, si butta sul lavoro e in una relazione con un poco di buono. Testimone di un delitto perpetrato da Dieter Wollnick, criminoso capobanda, Anneliese si rifiuta di collaborare con il commissario Neuenfeld, compagno della zia. L'incontro con Kurt Danneberg, suo primo amore, sembra riportare un po' di gioia nella sua vita. Eppure, durante una rapina, Kurt viene ucciso da Wollnick. Anneliese capisce che con la sua omertà ha contribuito all'assassinio di Kurt e tenta di suicidarsi. (Italienisch)