Einer vom Rummel
Director: Lothar Großmann, 92 Min., Color, Feature Film
Deutsche Demokratische Republik (DDR)
DEFA-Studio für Spielfilme, 1982
Film/Video Format

35 mm

Length in m

2524

English Title

The Boy From The Fun - Fair.

Premiere Date

Release Date (for Cinema)

Literary Source

Falkenhayn, Harry: "Einer vom Rummel", Erzählung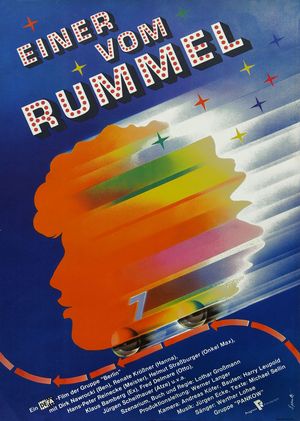 Short Summary (English)
19-year old Benjamin, called Ben, works as a cashier on the fairground und is impressing girls with his youthful self-confidence. After an argument with his uncle, who had caught the boy with a 16-year old girl, Ben leaves his familiar surroundings und ventures into the world beyond the fairground. At Berlin's Ostbahnhof, he meets the much older cookmaid Hanna, who puts homeless Benjamin up in her flat. Ben finds work as a welder in a factory where he at first has to cope with the prejudice of his sceptical co-workers. But Ben does not give up and adapts to the new conditions. Given his positive development, Hanna finally lets the matured Ben return to the fairground.
(Source: filmportal)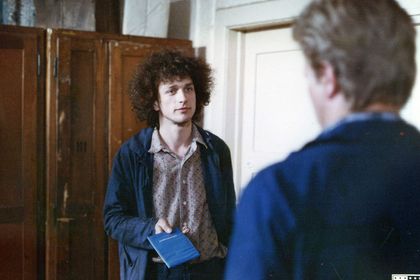 Film Crew
Cast

Dirk Nawrocki (Ben)
Renate Krößner (Hanna)
Daniela Hoffmann (Ilona)
Jens-Uwe Pröse (Kalle)
Angela Brunner (Tante Lucie)
Helmut Straßburger (Onkel Max)
Hans-Peter Reinecke (Meister)
Fred Delmare (Otto)
Klaus Bamberg (Ex)
Jürgen Scheithauer (Atze)
Beate Kiesant (Monika)
Thorsten Bednarz (Blümchen)
Frank Ciazynski (auch: Ciaczynski) (Transportpolizist)
Roland Kuchenbuch (Transportpolizist)
Waltraut Kramm (DRK-Schwester)
Willi Neuenhahn (Lukas-Mann)
Maria Romakina (Lukas-Frau)
Peter Pauli (Daffy)
Wolfgang Scheuer (Zauberer)
Carl Heinz Choynski (Koch)
Hasso von Lenski (Kulturobmann)
Klaus Drescher (Kaderleiter)
Harald Moszdorf (Kaderleiter)
Wolf-Dieter Lerch (Arzt)
Henry Lachmann (King Kong)
Eberhard Eichner (Peitschenartist)

Assistant Camera

Eckhart (auch: Eckhardt) Hartkopf
Klaus Zähler

Sound

Wolfgang Staab
Wolfgang Großmann
Helga Kadenbach (Tonmischung)

Musical Performance

Werner Lohse (Gesang)
Pankow (Musikgruppe)

Unit Production Management

Eberhard Schulze
Manfred Bendick
Short Summary (German)
Benjamin Mykita ist neunzehn, er kassiert das Fahrgeld in einer Berg- und Tal-Bahn auf dem Rummelplatz. Dem selbstbewussten Mann laufen die Mädchen nach, aber mit dem Onkel gibt es Krach, als der ihn mit der 16-jährigen Wohnwagen-Nachbarin ertappt. Benjamin verlässt den Rummel, um die Welt zu entdecken - und sich selbst. In der Mitropa am Berliner Ostbahnhof lernt er die wesentlich ältere Küchenfrau Hanna kennen. Sie nimmt den Heimatlosen mit nach Hause. Er findet Arbeit als Schweißer in einer Fabrik, rauft sich mit den neuen Kollegen, die ihm erst skeptisch gegenübertreten, zusammen. Als er festen Boden unter den Füßen hat, lässt Hanna ihn gehen. Und eines Nachts kehrt er auf den Rummelplatz zurück, um einiges reifer.
(Quelle: Das zweite Leben der Filmstadt Babelsberg. DEFA-Spielfilme 1946-1992)
Short Summary (Other Languages)
Benjamin Mykita lavora alla giostra della fiera del Paese. Sebbena sia l'idolo di tutte le ragazzine, suo zio lo rimprovera per aver sedotto una sedicenne. Il ragazzo lascia la fiera per ritrovare sé stesso e scoprire il mondo. Nel ristorante della stazione est di Berlino conosce Hanna, una cuoca più anziana di lui, che lo invita a trasferirsi a casa sua. Benjamin inizia così a lavorare come saldatore in una fabbrica, ma lo scetticismo dei nuovi colleghi sfocia in numerosi scontri. Trovata finalmente una sua dimensione, il ragazzo ritornerà a lavorare alla fiera, con un bagaglio di esperienza in più. (Italienisch)