Engel im Fegefeuer
Director: Herrmann Zschoche, 84 Min., Black-White, Feature Film
Deutsche Demokratische Republik (DDR)
DEFA-Studio für Spielfilme, 1964
Film/Video Format

35 mm

Length in m

2090

Other Title

Bote Lenins

English Title

Angels In Purgatory

Premiere Date

Release Date (for Cinema)
Short Summary (English)
The Ruhr area in November of 1918. 13-year old Achim Wolters and his friends get their hands on some potatoes on the market. They want to surprise Achim's father, who works on a mine sweeper boat, with a decent meal. But Achim's father does not show up - an informer at the train station has betrayed him for his left-wing beliefs and has turned him over to the police. The priest tells Achim the sad news and advises him to pray for the release of his father. But when carpenter Stelzebein stresses that everybody has to take actions for himself, the devout boy at first does not believe in Stelzebein's words. But then Achim witnesses in the prison how brutally the imperial police treat his father and the other inmates. Together with his loyal friends, Achim takes Stelzebein's side. When the revolution starts, they stand together on the barricades.
(Source: filmportal)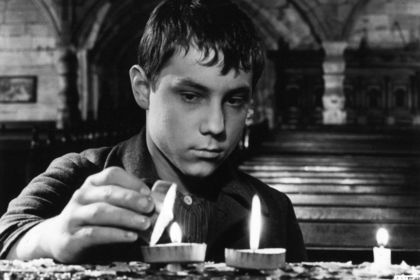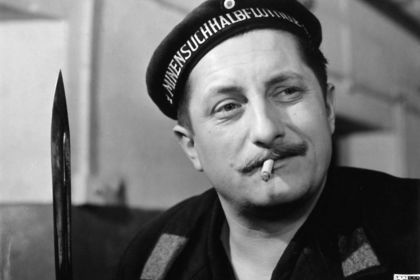 Film Crew
Script

Edith Gorrish
Walter Gorrish

Camera

Günter Ost
Siegfried Mogel (Kameraführung)

Cast

Eberhard Schaletzki (Achim Wolters)
Günter Lupkowski (MG-Schnauze)
Wolfgang Grunz (Bischof)
Joachim Krause (Ratte)
Heidi Liesegang (Renate)
Fred Delmare (Stelzebein)
Heinz Suhr (Pfarrer)
Erik S. Klein (Jupp Wolters)
Jutta Peters (Frau Wolters)
Jutta Hoffmann (Nelly)
Werner Schulz-Wittan (Stenzer)
Günter Ott (Anton)
Lotte Loebinger (Bäckersfrau)
Siegfried Weiß (Polizeioffizier)
Horst Friedrich (Wachtmeister)
Günter Junghans (Matrose)
Peter Reusse (Matrose)
Günter Wolf (Junger Soldat)
Else Wolz (Frieda)
Otto Eduard Stübler (Wampe)
Volkmar Kleinert (Matrose am Bahnhof)
Mary-Edith Schreiber (Arbeiterin)
Elisabeth Kuhn (Arbeiterin)
Wolfgang-Bodo Luther (Bergmann)
Annemarie Collin (Frau am Bahnhof)
Wolf Goette (Kriminalbeamter)
Karl Heuer (Polizist am Viadukt)
Marthe Schild (Alte Frau)
Walter Hunger (Kriminalbeamter)
Günter Pohl (Kriminialbeamter)
Robert Pfeiffer (Feiner Herr)
Michael Pan (Stenzers Sohn)
Peter Trogisch (6-jähriger Junge)
Elisabeth Pommer (Prostituierte)
Helga Scherff (Mollige Dame)
Agnes Kraus (Else)
Günter Quast (Junger Soldat)
Herbert Grass (Polizist im Bordell)
Hans Winzer (Polizist auf dem Markt)
Hannes Raßler (Junge-Ohrfeige)
Elisabeth Boden (Frau im Lebensmittelgeschäft)
Ann Köther (Frau auf dem Markt)
Elionore Danker (Frau auf dem Markt)
Ursula Reise (Frau auf dem Markt)
Heinrich Junge (Polizist in der Fabrik)
Johanna Reiter (Frau in der Fabrik)
Peter Kiwitt (Aufseher)
Nico Turoff (Aufseher)
Sabine Thalbach (Gouvernante)
Ena Ritter (Frau in der Kirche)
Hermann Marquart (Mundharmonikaspieler)
Oswald Foerderer (Aufseher in der Wachstube)
Peter Kalisch (Lehrer)
Wilfried Jahns (Polizeioffizier)
Helmut Schellhardt (Posten)
Friedrich Mokross (Posten)
Günther Schlicht (Posten)
Helmut Böhme (Bergarbeiter)
Ursula Hari-Pape (Arbeiterfrau)
Erich Heimbach (Hansemann)

Make-Up

Erich Haase
Monika Hußmann
Paul Michaelis

Unit Production Management

DEFA Photography

Eberhard (auch: Franz-Eberhard) Daßdorf
Short Summary (German)
November 1918 im Ruhrgebiet. Zu einer verschworenen Gemeinschaft von 13-jährigen gehört Achim Wolters. In einer gemeinsamen Aktion erbeuten die Kinder auf dem Markt Kartoffeln, um Achims Vater, der Heizer auf einem Minensuchboot ist und auf Urlaub kommt, mit einer guten Mahlzeit zu empfangen. Doch der Vater bleibt aus. Ein Spitzel hat den "roten Matrosen" auf dem Bahnhof der Polizei ausgeliefert. Achim hört vom Pfarrer von der Verhaftung und betet auf dessen Anraten für die Freilassung des Vaters. Der gottesfürchtige Junge glaubt dem Tischler Stelzebein nicht, der meint, man könne sich nur selbst helfen. Erst als Achim im Gefängnis die Schikanen gegen den Vater miterlebt und außerdem sieht, wie brutal die kaiserliche Polizei gegen Frauen vorgeht, schlägt er sich mit seinen Freunden auf Stelzebeins Seite. Gemeinsam stehen sie auf den Barrikaden, als die Revolution beginnt.
(Quelle: Das zweite Leben der Filmstadt Babelsberg. DEFA-Spielfilme 1946-1992)
Short Summary (Other Languages)
1918: Una combriccola di tredicenni, fra cui anche Achim Wolters, ruba delle patate al mercato per accogliere il papà di Achim, fuochista su un dragamine, con un pasto sostanzioso. Ma una spia ha consegnato il marinaio comunista alla polizia. Achim apprende dal parroco dell'arresto del padre e prega per la sua liberazione. Il ragazzo, timorato di Dio, non crede al fabbro Stelzebein, convinto che ci si possa aiutare solo da soli. Dopo aver assistito alle angherie contro il padre in prigione e alla brutalità con cui la polizia imperiale tratta le donne, Achim e i suoi amici passano dalla parte di Stelzebein. (Italienisch)