Erscheinen Pflicht
Director: Helmut Dziuba, 75 Min., Color, Feature Film
Deutsche Demokratische Republik (DDR)
DEFA-Studio für Spielfilme, 1983
Film/Video Format

35 mm

Length in m

2055

English Title

Your Presence Is Imperative

Premiere Date

Release Date (for Cinema)

Literary Source

Holtz-Baumert, Gerhard: "Erscheinen Pflicht", Erzählband
Short Summary (English)
Elizabeth, a young woman, grew up in a well-protected atmosphere. Hers was not a world of social problems or financial cares. Her parents are understanding partners, at all times prepared to answer Elizabeth's questions to herself and about life with circumspect. She is an open-minded young person - curious and unbiased. She is sixteen, goes to secondary school and things are really going well, not least because her father; a Party member;
occupies a privileged position.
But then the father suddenly dies. Elizabeth feels lonely and abandoned, all the more so because her brother has long since severed all ties with his father. Their ideas of life were worlds apart, making a separation inevitable. Even Stefan, Elizabeth's friend, as well as the uncompromising teacher; Boltenhagen, view her father with considerable criticism.
She learns how to confront opposing attitudes and to view her father model more discriminately. This makes her grow inside, and strengthens her independence - as well as her sense of duty.
Source: Progress Film-Verleih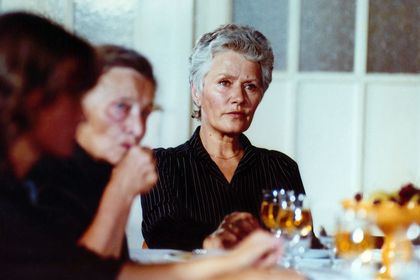 Film Crew
Cast

Vivian Hanjohr (Elisabeth Haug)
Frank Nowak (Stefan Hanisch)
Lissy Tempelhof (Elvira Haug)
Peter Sodann (Boltenhagen)
Alfred Müller (Kratt)
Simone von Zglinicki (Barbara)
Gudrun Ritter (Frau Hanisch)
Gert Gütschow (Schüttler)
Hans-Joachim Hegewald (Martin Haug, Elisabeths Vater)
Helmut Straßburger (Grabsteinmacher)
Jens-Uwe Bogadtke (Bruder Peter)
Uwe Kockisch (Ossi)
Fritz Bartholdt (Der Alte)
Jeanette Dorien (Marga)
Winnie Krüger (Kathi)
Oliver Schulz (Hoffi)
Heiko Pflaum (Gähler)
Jan Gollnick (Danilo)
Jens Knoblauch (Knopi)
Else Sanden (Alte Tante)
Katrin Riemschüssel (Cousine)
Thomas Behrens (Klassenkamerad)
Thomas Runkewitz (Klassenkamerad)
Andreas Goldschmidt (Klassenkamerad)
Ralf Kindler (Klassenkamerad)
Knut Hunold (Klassenkamerad)
Gudrun Mernitz (Klassenkameradin)
Silvia Schölzel (Klassenkameradin)
Andreas Brandenburg (Klassenkamerad)
Anja Saro (Klassenkameradin)
Antje Satory (Klassenkameradin)
Karin Wasl (Klassenkameradin)
Patricia Granzow (Klassenkameradin)
Heidrun Böttcher (Klassenkameradin)
Heike Kempf (Klassenkameradin)
Annett Gocht (Klassenkameradin)
Norbert Heyden (Klassenkamerad)
Dirk Fleischer (Klassenkamerad)
Heidi Pieper (Klassenkameradin)
Christiane Müller (Klassenkameradin)
Annegret Zerbe (Klassenkameradin)
René Richter (Klassenkamerad)
Jeanette Morgenroth (Klassenkameradin)
Semira Block (Klassenkameradin)
Ragna Breetz (Junge in Badewanne)
Susanne Brömsel (Sekretärin)
Renate Usko (Sekretärin)
Ilse Bastubbe (Sekretärin)
Traute Sense (Alte Frau auf der Treppe)

Assistant Camera

Wolfgang Kroffke
Christa Köfer

Sound

Edgar Nitzsche
Christfried Sobczyk (Tonmischung)

Make-Up

Bernhard Schlums
Franziska Berger

Production Management

Erich Albrecht
Erich Albrecht

Unit Production Management

Lutz Wittcke
Karl-Heinz Rüsike
Short Summary (German)
Die 16-jährige Oberschülerin Elisabeth ist als wohlbehütete Tochter eines etablierten Genossen und Kreisratsvorsitzenden aufgewachsen. Durch den plötzlichen Tod des Vaters wird sie aus ihrem gleichmäßigen Lebensrhythmus gerissen und sieht sich Wahrheiten ausgesetzt, die sie das Bild vom Vater, der für sie Vorbild ist, differenzierter betrachten lassen. Elisabeth findet heraus, dass nicht alle ihn so positiv beurteilten, wie sie. Zum Beispiel ihr Freund Stefan, der mit der Behandlung einer Eingabe nicht einverstanden war, oder der kompromisslose Lehrer Boltenhagen, der seine Schwierigkeiten mit ihm hatte. Elisabeth geht den Widersprüchen nach und findet dabei zu einem neuen Selbstverständnis.
(Quelle: Das zweite Leben der Filmstadt Babelsberg. DEFA-Spielfilme 1946-1992)
Short Summary (Other Languages)
Dopo l'improvvisa morte del padre, popolare attivista politico e presidente del consiglio comunale, Elisabeth, cresciuta fino a quel momento nella bambagia, si trova ad affrontare sola la vita. Le esperienze dell'amico Stefan e del professor Boltenhagen mettono in discussione la figura dell'amato genitore. Esaminando meglio queste contraddizioni, la ragazza giungerà a una nuova consapevolezza di sé. (Italienisch)