Es ist eine alte Geschichte
Director: Lothar Warneke, 89 Min., Black-White, Feature Film
Deutsche Demokratische Republik (DDR)
DEFA-Studio für Spielfilme, 1972
Film/Video Format

35 mm

Length in m

2439

Other Title

Fis-Moll; Gruppe fis-moll (Studenten)

English Title

It´s An Old Story

Premiere Date

Release Date (for Cinema)
Short Summary (English)
A classic love triangle is transposed onto the lives of three medical students in Leipzig. Udo loves Tini, his friend Tommy's fiancée. Tini is torn between choosing one man over the other. Meanwhile, Britta has renewed her studies after giving up on acting, and wonders if she has made the right decision. Inspired by a poem from the great Heinrich Heine.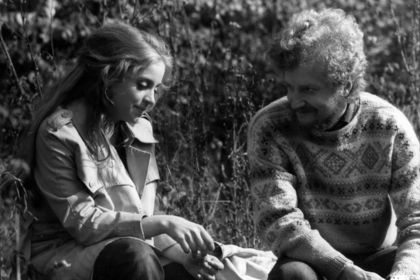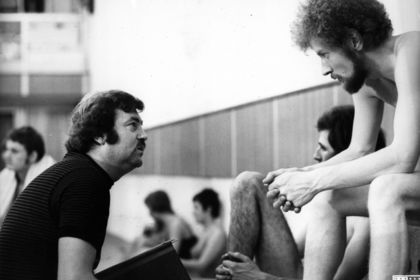 Film Crew
Cast

Katharina Thalbach (Tini)
Cox Habbema (Britta)
Benjamin Besson (Udo)
Christian Steyer (Tommy)
Peter Aust (Dr. Lindenhagen)
Uta Schorn (Dörte)
Claudia Ottmann (Gisa)
Rainer Toporski (Herbert)
Reiner Horst Scheibe (Roland)
Gert Gütschow (Stechapfel)
Walter Bechstein (Lehmann)
Ingeborg Ottmann (Frau Hüttenrauch)
Ruth Kommerell (Tommys Mutter)
Mathias Paarsch (Franz)
Hans-Peter Valenta (Friedrich)
Ekkehard Meißner (Walter)
Bodo Becker (Buchhändler)
Ralf Biok (Student)
Günter Dietze (Ober)
Peter Gärtner (Assistent)
Siegfried Müller (Pfarrer)
Hans Möller (Gast)
Peter Rytz (Student)
Marlis Stecklassa (LKW-Fahrerin)
Angelika Zastrow
Maria Welzig (Auszählerin)

Assistant Camera

Frank Bredow
Peter Gärtner

Sound

Wolfgang Staab
Rosemarie Linde
Gerhard Ribbeck

Musical Performance

Uve Schikora Combo (Musikgruppe)

Make-Up

Bernhard Schlums
Regina Teichmann

Unit Production Management
Short Summary (German)
Der Alltag einer Gruppe von Medizinstudenten der Leipziger Karl-Marx-Universität. Vorlesungen, Prüfungen, persönliche Probleme. Die anderen helfen. Britta, die ihren Schauspielerberuf aufgegeben hat, um noch einmal von vorn anzufangen, fragt sich, ob diese Entscheidung richtig war. Udo liebt Tini, mit der sich sein Freund Tommy verloben will. Und Tini fragt sich, ob Tommy der Richtige ist, oder vielleicht doch Udo. Der läuft vor seinen Problemen davon, trampt an die Ostsee, kommt mit der Einsicht zurück, dass Flucht keine Lösung ist. Er wirbt um Tini, die sich wohl für keinen von beiden entscheiden wird.
(Quelle: Das zweite Leben der Filmstadt Babelsberg. DEFA-Spielfilme 1946-1992)
Short Summary (Other Languages)
Il film racconta la storia di un gruppo di studenti di medicina dell'Università Karl Marx di Lipsia. Britta, che ha rinunciato a fare l'attrice per riprendere a studiare, si chiede se abbia preso la giusta decisione. Udo è innamorato di Tini, che sta per fidanzarsi con il suo amico Tommy. Tini a sua volta si chiede se Tommy sia veramente quello giusto. Udo, per sfuggire ai suoi problemi, arriva in autostop fino al Mar Baltico, dove capisce che fuggire non serve a niente. Rientrato a Lipsia, cerca di conquistare Tini, che non sa quale dei due pretendenti scegliere. (Italienisch)