Floh im Ohr
Director: Kurt Weiler, 12 Min., Color, Animation Film
Deutsche Demokratische Republik (DDR)
DEFA-Studio für Dokumentarfilme, 1970
Film/Video Format

35 mm

Length in m

325

Type of Animation

Puppentrickfilm

Other Title

Konvergenztheorie

English Title

A Head Filled with Ideas

Release Date (for Cinema)

Releases

DVD: absolut MEDIEN GmbH / www.absolutmedien.de
Short Summary (English)
The lion, wolf and fox use modern technologies for producing their food instead of traditional hunting methods. They set up a farm where they fatten up animals and produce prepared meals with the latest technology. One day, the oppressed animals, tired of what is going on, set up their own state and stand up against their dangerous predators.
(source: University of Massachusetts (UMASS) - DEFA Film Library)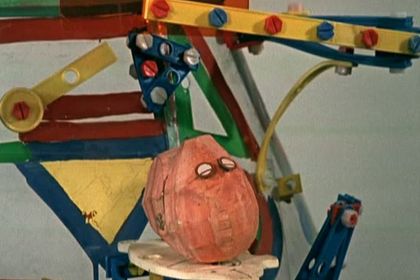 Film Crew
Script

Achim Freyer
Erich Günther
Kurt Weiler

Production Management

Ingeborg Bissert
Karin Peetz
Short Summary (German)
Löwe, Wolf und Fuchs haben die alten Fangmethoden aufgegeben und bedienen sich der neuesten Technik, um ihre Mahlzeiten zu sichern. Auf ihrer Freßfarm werden die Tiere psychologisch fit gemacht, für die Reproduktion gemästet und dann mit Hilfe neuester Technik tafelfertig und hygienisch zubereitet auf den Tisch gebracht. Die Tiere, die das satt haben, gründen eines Tages ihren eigenen Staat, doch Löwe und Wolf versuchen, diesen zu zerstören. Der Fuchs geht schlauer vor und bietet einen Zusammenschluß der Staaten an, doch die friedlichen Tiere bewahren die Existenz ihres Staats neben dem der Raubtiere.
(Quelle: Die Trick-Fabrik. DEFA-Animationsfilme 1955-1990)