Fridolin, der Schmetterling
Director: Helge Leiberg, Alexander Reimann, 10 Min., Color, Animation Film
Deutsche Demokratische Republik (DDR)
DEFA-Studio für Trickfilme, 1982
Film/Video Format

35 mm

Length in m

277

Type of Animation

Flachfigurenfilm

Other Title

Süzwegk

English Title

The Butterfly Fridolin

Release Date (for Cinema)
Short Summary (English)
After a hard day of work, the butterfly Fridolin dreams about beautiful dragonflies who would spoil him. But when he awakes, he holds a snake in his arms! He decides to set out to find the beauties. When he falls into a flower, the dragonflies come and lick the nectar from Fridolin's tender butterfly body...
(source: University of Massachusetts (UMASS) - DEFA Film Library)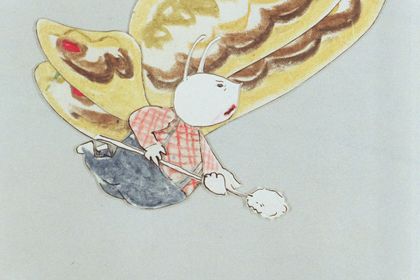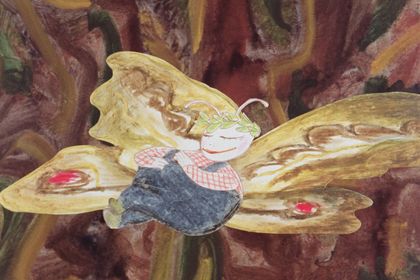 Film Crew
Director

Helge Leiberg
Alexander Reimann

Camera

Hans Schöne
Alexander Reimann

Sound

Horst Philipp
Manfred Mammitzsch

Design

Helge Leiberg (Hintergründe; Figuren; Grafik)
Christa Lau (Psaligraphie)
Rosi Bundesmann (Psaligraphie)
Short Summary (German)
Fridolin träumt nach seiner Tagesarbeit von schönen Libellendamen, die ihn umschwärmen. Aufgewacht, hat er statt dessen eine Schnecke im Arm. Er macht sich auf die Suche nach den Schönen. Dabei fällt er in eine Blüte und lockt die schon verloren geglaubten Damen an. Die Libellen schlecken den Nektar von Fridolin ab, dabei bleibt von dem Schmetterling nichts mehr übrig.
(Quelle: Die Trick-Fabrik. DEFA-Animationsfilme 1955-1990)