Fünf Tage - Fünf Nächte
Director: Lew Arnstam, Heinz Thiel, Anatoli Golowanow, 108 Min., Color, Feature Film
Deutsche Demokratische Republik (DDR), Sowjetunion
Mosfilm / DEFA-Studio für Spielfilme, 1960
Film/Video Format

35 mm

Length in m

2924

Other Title

Dresdener Galerie; Pjat dnej - pjat notschej

English Title

Five Days - Five Nights

Premiere Date

Release Date (for Cinema)

Releases

DVD: ICESTORM Entertainment GmbH / www.spondo.de/defa
University of Massachusetts (UMASS) - DEFA Film Library / www.umass.edu/defa
Short Summary (English)
It is the year 1945, Germany is in ruins: the cities have been destroyed, and especially the city of Dresden has become a sad victim of the war. The German painter, Paul Naumann, who lived through the destruction of Dresden, has fallen into a deep depression because he firmly believes that the end of fascism also means the end of Germany. In his capacity as an artist as well as regarding his self-esteem, Naumann has relinquished all hope - and now he awaits acts of revenge from the Soviet occupying forces. But then Naumann experiences how the Soviet soldiers secure the priceless art treasures, and he even observes how a Soviet soldier sacrifices his life in the course of salvaging the works of art; and in so doing, become new emissaries of hope because despite hunger and appalling material need, the significance of cultural values can be maintained; this experience, along with the love he has for Katrin, gives Naumann a new lease on life and allows him to believe that life can be meaningful once more.
Source: Progress Film-Verleih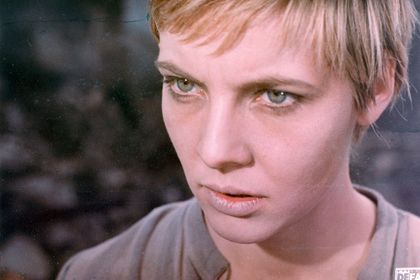 Film Crew
Director

Lew Arnstam
Heinz Thiel
Anatoli Golowanow

Script

Lew Arnstam
Wolfgang Ebeling

Camera

Alexander Schelenkow
Ju Lan Tschen

Cast

Heinz-Dieter Knaup (Paul Naumann)
Wsewolod Safonow (Hauptmann Leonow)
Wsewolod Sanajew (Sergeant Koslow)
Annekathrin Bürger (Katrin)
Jewgenija Kosirjewa (Nikitina)
Marga Legal (Luise Rank)
Wilhelm Koch-Hooge (Erich Braun)
Michael Majorow (General)
Nikolai Sergejew (Schagin)
Nikolai Smortschkow (Soldat Tkatschenko)
Gennadi Juchtin (Soldat Strokow)
Nikolai Pogodin (Soldat Rudakow)
Pjetr Ljubeschkin (Soldat Terentjew)
Wladimir Pizek (Soldat Galkin)
Erich Franz (Vater Baum)
Jochen Bley (Der erste Deutsche)
Andrej Demjanow (Aljoscha)
Oleg Golobizki (Adjutant)

Production Design

Herbert Nitzschke
Alexej Parchomenko

Sound

Bernd Gerwien
Boris Wolski

Musical Performance

Staatliche Filmorchester Moskau (Leitung: Grigori Hamburg)

Costume Design

Nadeshda Busina
Walter Schulze-Mittendorff

Production Manager

Adolf Fischer
Osman Karajew

Consulting

Hans Klering
Konstantin Lichoscherst
Short Summary (German)
(Co-Produktion DDR/Sowjetunion)
8. Mai 1945 in Dresden. In der zerstörten Stadt wird der Maler Paul Naumann von sowjetischen Soldaten aufgefordert, sie zur Gemäldegalerie zu bringen. Hauptmann Leonow hat den Auftrag, die weltberühmten Kunstwerke zu retten. Der seelisch zerstörte Paul kann angesichts des Zusammenbruchs keinen Elan aufbringen, ebensowenig die zwischen den Trümmern sitzende, deprimierte Museumsangestellte Luise Rank. Der Einsatz der Soldaten aber aktiviert die beiden, sich an der Suche nach den ausgelagerten Gemälden zu beteiligen. In einem Bergschacht finden sie die Kunstschätze, doch der Zugang ist vermint. Ein Soldat verliert bei der Bergung sein Leben. Aus der Sowjetunion angereiste Spezialisten beginnen mit der Restauration. Naumann und Luise Rank stellen ihre Kenntnisse zur Verfügung. Und als Paul seine längst totgeglaubte Freundin Katrin, die in einem KZ war, wiederfindet, wird auch für ihn das Ende zu einem neuen Anfang.
Filmtext: Fünf Tage - Fünf Nächte. Von Lew Arnschtam und Wolfgang Ebeling. Gestaltet nach dem ersten gemeinsamen deutsch-sowjetischen Spielfilm. Berlin: Henschelverlag 1961.
(Quelle: Das zweite Leben der Filmstadt Babelsberg. DEFA-Spielfilme 1946-1992)
Short Summary (Other Languages)
L'8 maggio del 1945, alcuni soldati sovietici chiedono al pittore Paul Naumann di accompagnarli alla Pinacoteca di Dresda. Il capitano Leonow è stato incaricato di salvare le rinomate opere d'arte. Paul, psicologicamente molto provato, non riesce a trovare il necessario slancio, così anche Luise Rank, collaboratrice museale costretta a lavorare fra le macerie. L'impegno dei soldati convince entrambi a partecipare alla ricerca dei dipinti, che verranno ritrovati in un rifugio di montagna. Durante le operazioni di recupero, muore un soldato sovietico. Una squadra di specialisti sovietici iniziano a restaurare le opere. Naumann e Luise Rank accettano di fare da consulenti. L'incontro con la fidanzata Katrin, creduta morta in un campo di concentramento, ridarrà a Paul la forza per ricominciare a vivere. (Italienisch)