Gefährliche Fracht
Director: Gustav von Wangenheim, 96 Min., Black-White, Feature Film
Deutsche Demokratische Republik (DDR)
DEFA-Studio für Spielfilme, 1954
Film/Video Format

35 mm

Length in m

2630

Other Title

Kay V, Kai 5; Du musst kämpfen

English Title

Dangerous Freight

Premiere Date

Release Date (for Cinema)
Short Summary (English)
While unloading the cargo vessel "Florida", several West German harbour workers discover napalm bombs instead of the expected high-tech machines aboard. French workers had already refused to discharge the vessel, which then still went by the name of "Chicago" and was apparently deliberately renamed on its way to Germany. Now, the German workers also refuse to discharge the vessel. Among the strikers is Hein Jensen, who is in a difficult position since he just started the job and his family really needs his wages. The Americans try to extort Jensen to change his colleagues' minds - but Jensen sticks to his decision and the strike develops into a large demonstration for peace.
(Quelle: filmportal)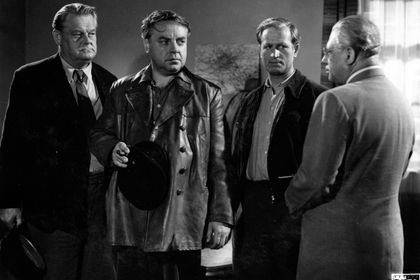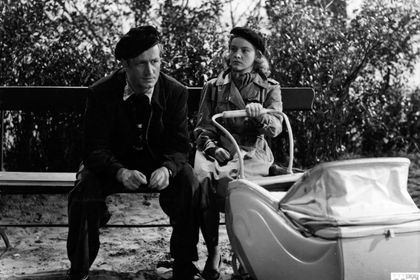 Film Crew
Script

Karl Georg Egel
Kurt Bortfeldt
Walter Jupé (Exposé)

Camera

Karl Puth
Ernst Kunstmann (Trick)

Cast

Willy A. Kleinau (Tetje Köhlermann)
Wilhelm Koch-Hooge (Hein Jensen)
Erika Dunkelmann (Bertha Köhlermann)
Susanne Düllmann (Helga Martens)
Wilhelm Otto Eckhardt (Uhlenboom)
Eduard von Winterstein (Konsul Schröder)
Kurt Oligmüller (Smith)
Theo Shall (General Shaper)
Werner Segtrop (Colonel Lawrence)
Horst Kube (O'Brien)
Harald Mannl (Kettler)
Kurt Jung-Alsen (Harms)
Hans Fiebrandt (Hahn)
Alfred Maack (Martens)
Peter A. Stiege (Petersen)
Horst Drinda (Ahlsen)
Maximilian Larsen (Wittke)
Walter Brandt (Flohr)
Rudolf Ulrich (Schuster)
Albert Hetterle (Stock)
Peter-Paul Goes (Bruns)
Walter Lendrich (Brockwoldt)
Gustav Püttjer (Berndt)
Wolfgang Erich Parge (Dannebach)
Horst Preusker (Hafenkommandant Runge)
Walter Jupé (Tietgen)
Dieter Perlwitz (Fritz)
Frank Michelis (Kröger)
Hans Stetter (Knut)
Karl Block (Brex)
Paul Knopf (Adam)
Hannjo Hasse (Sekretär von Harms)
Karl-Maria Weber (Amerkikanischer Offizier)
Elfriede Florin (Krankenschwester)
Margot Brühling (Sekretärin bei Harms)
Hans-Dieter Schlegel (Otto)
Jack Hillie (Phillips)
Fritz Klippel (1. Offizier)
Hans Linzer (2. Offizier)
Wilhelm Kahlmorgen (Alter Mann im Park)
Helli Ohnesorge (Krankenschwester)
Conrad Pfennig (Amerikanischer Adjutant)
Fritz Schumann (Arbeiter)
Helmuth Bautzmann (Arbeiter)
Manfred Heidel (Reporter)
Harald Moszdorf (Amerikanischer Offizier)
Herbert Scholz (Amerikanischer Offizier)
Wolf Lucas (Amerikanischer Offizier)
Fritz Bohnstedt (Amerikanischer Offizier)
Erich von Dahlen (Senator)
Harro Tenbrook (Senator)
Georg Dücker (Senator)
Friedrich Teitge (Senator)
Toni Meitzen (Senator)
Georg Kröning (Senator)
Günther Ballier (Senator)
Friedrich Schiller (Senator)
Alfred Stein (Senator)
Fredy Schütz (Senator)
Hans Hellenberger (Senator)
Paul Funk

Assistant Director

János Veiczi
Ursula Pohle

Make-Up

Hanns (auch: Hans) Wosnik (auch: Wosnick)
Bernhard Kalisch
Charlotte Stritzke

Unit Production Management

Toni Chudzinski
Heinz Ullrich
Awards
VIII. Internationales Filmfestival Karlovy Vary (1954): Preis des tschechoslowakischen Ausschusses der Friedenskämpfer
Short Summary (German)
Westdeutsche Hafenarbeiter entdecken bei der Entladung des Frachters "Florida" statt der angegebenen Präzisionsmaschinen Napalmbomben - und ein Täuschungsmanöver der amerikanischen Besatzungsmacht: Bereits in Frankreich hatten die Arbeiter die Entladung verweigert, dort trug das Schiff den Namen "Chicago". Es wurde auf der Fahrt nach Deutschland umgespritzt. Auch die deutschen Hafenarbeiter streiken. Unter ihnen Hein Jensen, dem die Beteiligung besonders schwerfällt. Mit Mühe hatte er gerade wieder Arbeit gefunden. Er braucht das Geld, denn er will heiraten. Seine Braut Helga hat gerade entbunden. Als die Amerikaner ihn erpressen wollen, seine Kollegen umzustimmen, weiß er, wo sein Platz ist. Der Streik wird zu einer großen Friedensdemonstration.
(Quelle: Das zweite Leben der Filmstadt Babelsberg. DEFA-Spielfilme 1946-1992)
Short Summary (Other Languages)
Durante lo scarico della nave mercantile americana "Florida", alcuni portuali scoprono delle bombe al napalm e decidono di scioperare. Fra loro anche Hein Jensen, piuttosto riluttante a incrociare le braccia. Ha da poco ripreso a lavorare e i soldi servono per sposarsi e sfamare il figlio appena nato. Di fronte ai ricatti degli americani, che lo pressano perché convinca i suoi colleghi a riprendere a lavorare, Hein capisce da che parte schierarsi: lo sciopero si tramuta in una grande manifestazione di pace. (Italienisch)