Hart am Wind
Director: Heinz Thiel, 81 Min., Color, Feature Film
Deutsche Demokratische Republik (DDR)
DEFA-Studio für Spielfilme, 1969
Film/Video Format

35 mm

Length in m

2235

Other Title

Riffe; Fünf Lords und eine Liebe

English Title

Close To The Wind

Premiere Date

Release Date (for Cinema)

Literary Source

Nach Motiven des Romans 'Riffe' von Johann Wesolek

Releases

DVD: ICESTORM Entertainment GmbH / www.icestorm.de
Short Summary (English)
The electrician Peter Drews is a brigadier at a Baltic Sea dockyard. His men are among the most reliable and diligent workers at the dockyard. Their motivation, however, increasingly suffers from Peter's narcissism and imperiousness. Whenever an important question arises, he is the one who reaches a decision without regarding the rest of them. Even his girlfriend Brigitte who is also a member of the brigade finds it increasingly difficult to accept his behavior. One day, Peter decides that the entire group must enter the navy - just because he has received his conscription call. While four men follow Peter into the navy, Brigitte, who has broken up with Peter, takes over the control of the brigade. During the work at the ship on which Peter is based at she meets the charming lieutenant Asmus. They get romantically involved. Meanwhile, Peter is forced to comprehend that in the army his idea of "leadership" is out of place. Supported by the wise captain Baumert, Brigitte and the refined Peter find back together.
(Quelle: filmportal)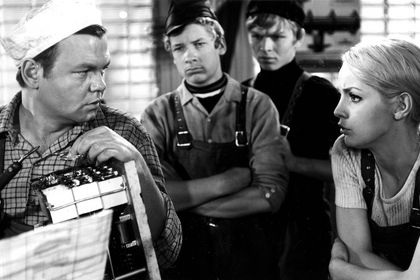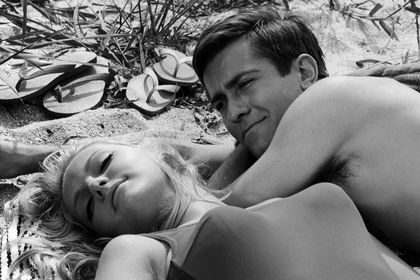 Film Crew
Script

Margot Beichler
Erwin Anders
Bernd Braun
Willi Brückner
Heinz Thiel

Camera

Erwin Anders
Günter Heimann

Cast

Frank Obermann (Peter Drews)
Regina Beyer (Brigitte Jansen)
Klaus-Peter Thiele (Leutnant Werner Asmus)
Dieter Jäger (Atze Boll)
Lutz Dėchant (Karl Karsten)
Ulrich Brehm (Hans Berger)
Norbert Speer (Bernd Winecke)
Ernst-Georg Schwill (Achim Bräse)
Hans-Peter Minetti (Kapitän Baumert)
Rudolf Ulrich (Kapitän Bärwald)
Paul Berndt (Kapitänleutnant Müller)
Roger Zerath (Zugführer)
Klaus Urban (Maat)
Agnes Kraus (Tante Trude)
Uwe Baumgart (Kind Heinz)
Helmut Rossmann (Willi)
Michael Humme (Siegfried)
Ingrid Hille (Rosi)
Carmen Schlenker (Monika)
Hugo Schult (Vater Grothe)
Olaf Polenske (Rolf)
Wilhelm Puchert (Bootswart)
Horst Papke (Kantinenwirt)
Heinrich Banet (Genosse)
Eva Bodnár (Kellnerin)
Winfried Glatzeder (Großer Matrose)
Ulrich Anschütz (Der Andere)
Peter Hladik (Gruppenführer)
Eckhard Bilz (Brigadier)
Hans-Eberhard Gäbel (Kollege)
Renate Siegl (Frau von Kapitän Baumert)
Helga-Maria Gloge (Frau vom Zugführer)
Carin Abicht (Junges Mädchen)
Hans-Peter Zarncke (Kapitänleutnant)
Kurt Priemel (Werftkapitän)
Richard Pohl (Admiral)
Hans Labohn (Smutje)
Helmut Gebhardt (Barkeeper)
Renate Gebhardt (Bardame)
Eva Kölbel (Verkäuferin)
Bernd Braun (Sowjetischer Offizier)
Rolf Martius (Junger Matrose)
Peter Timme (Busfahrer)
Eberhard Deutzer (Matrose)
Jürgen Leinemann (Betrunkener Matrose)

Assistant Director

Bernd Braun (Assistenzregie)
Eva Bodnár

Musical Performance

Frank Schöbel (Gesang)
Die Kolibris (Musikgruppe)
Die Dominos (Musikgruppe)
Tanzorchester des Berliner Rundfunks (Leitung: Günter Gollasch)
DEFA-Sinfonieorchester (Leitung: Manfred Rosenberg)
Georgieff-Band (Musikgruppe)
Georg Plathe (Klavier (Solist))
Werner Pauli (Gitarre (Solist))
Jürgen Kliem (Elektrische Gitarre (Solist))

Make-Up

Margarete Walther
Günter Fehsecke

Unit Production Management

Consulting

Gerhard Larisch (Kapitän)
Hans-Peter Zarncke (Kapitänleutnant)

DEFA Photography

Peter Dietrich
Frank Bredow
Awards
Theodor-Körner-Preis (1971): Theodor-Körner-Preis - Heinz Thiel
Short Summary (German)
Peter Drews ist Brigadier auf einer Volkswerft an der Ostsee. Seine Elektrikerbrigade gehört zu den tüchtigsten. Er liebt Brigitte, die einzige weibliche Mitarbeiterin, und sie mag ihn auch. Die Beziehung wird lediglich durch seine Selbstherrlichkeit getrübt. Peter denkt nicht daran, seine Leute in Entscheidungsfindungen einzubeziehen. Als er den Einberufungsbefehl zur Marine bekommt, verkündet er seinen Beschluss, dass sich die Brigade geschlossen meldet. Brigitte ist empört. Vier Mann rücken mit Peter ein. Brigitte leitet nun den Rest der Brigade, die am selben Schiff arbeitet wie die frischgebackenen Marinesoldaten. Dabei lernt sie den jungen Leutnant Werner Asmus kennen, fühlt sich zu ihm hingezogen. Aber sie kann trotz allem Peter nicht vergessen. Der erfährt inzwischen, dass er mit seinen Methoden bei der Marine nicht durchkommt, gerät auch mit den Freunden in Konflikt. Der erfahrene Kapitän Baumert nimmt sich seiner und Brigittes an und ist am Happy End nicht ganz unbeteiligt.
(Quelle: Das zweite Leben der Filmstadt Babelsberg. DEFA-Spielfilme 1946-1992)
Short Summary (Other Languages)
Peter Drews è capobrigata in un cantiere navale sul Mar Baltico e la sua squadra è una delle migliori. Peter ama Brigitta, unica collaboratrice donna, che contraccambia le sue attenzioni, ma l'amore fra i due non sboccia, per colpa dell'individualismo di lui, incapace di coinvolgere i suoi compagni nelle decisioni. Chiamato a servire in Marina, Peter pretende che tutta la sua squadra lo segua. Brigitte è indignata e rifiuta, continuando a lavorare nel cantiere, dove conosce il giovane tenente Werner Asmus. Nonostante l'attrazione, Brigitte non riesce a scordare Peter. Solo grazie all'aiuto del capitano Baumert i due si ritroveranno. (Italienisch)