Heißer Sommer
Director: Joachim Hasler, 97 Min., Color, Feature Film
Deutsche Demokratische Republik (DDR)
DEFA-Studio für Spielfilme, 1967
Film/Video Format

35 mm

Length in m

2636

Other Title

Heißer Sand; Süße Früchte

English Title

Hot Summer

Premiere Date

Release Date (for Cinema)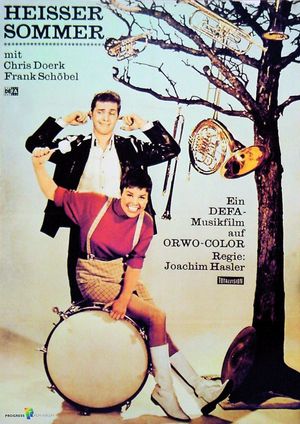 Short Summary (English)
While hitchhiking to the Baltic, a group of twelve girls from Leipzig meets a group of eleven boys from Karl-Marx-Stadt. The two groups bet on who will get to the Baltic first. Naturally, the girls have an advantage over the boys when it comes to hitchhiking, so the boys have to make up for this blow to their egos. When the two groups meet up on a Baltic beach, various encounters and provocations come up, the latter, however, remain harmless.
But there is not much group cohesion: couples form and withdraw from the group. Everybody is intrigued by the "ménage a trois" between Brit, Wolf and Kai. Actually, Brit prefers Kai but she is flattered by Wolf's interest in her after all, he is a whizz at mathematics and has the reputation of being a Casanova. Provoked by her girlfriends, Brit spends half the night with Wolf in the barn...
The next morning, all the girls are against Brit and Wolf is looked at askance. But nobody knows what exactly went on in the barn. Brit. however, says nothing and Wolf's behaviour is so overbearing that Kai fears that something dreadful might happen. A physical fight ensues between Kai and Wolf, Brit almost loses both admirers.
She decides to go back home - but then it turns out that Wolf only recited poetry to her in the barn. So everything had been quite harmless. Nothing can stop a happy ending for Brit and Kai now.
Source: Progress Film-Verleih
Film Crew
Script

Maurycy Janowski
Joachim Hasler

Camera

Joachim Hasler
Roland Dressel

Film Editing

Anneliese Hinze-Sokolow (auch: Sokoloff, Sokolowa, Hinze)

Cast

Chris Doerk (Stupsi)
Frank Schöbel (Kai)
Regine Albrecht (Brit)
Hanns-Michael Schmidt (Wolf)
Georg-Peter Welzel (Schpack)
Hans Mietzner (Schelle)
Norbert Speer (Rechtsanwalt)
Gerd Nordheim (Tom)
Ernst-Jürgen Thede (Transistor)
Günther Lisiecki (Junge)
Hans-Christian Albers (Junge)
Peter Heiland (Junge)
Madeleine Lierck (Thalia)
Urta Bühler (Sybille)
Camilla Hempel (Röschen)
Marlies Räth (Himmlische)
Angelika Schmidt (Himmlische)
Ursula Krahn (geb. Soika) (Bärbel)
Hella Ziesing (Mädchen)
Leonore Kaufmann (Mädchen)
Sylvia von Krshiwoblozki (Mädchen)
Bruno Carstens (Meister Klaus)
Werner Lierck (Abschnittsbevollmächtigter)
Marianne Wünscher (Leiterein des volkseigenen Guts)
Erich Brauer (Fischer)
Hans Flössel (Fischer)
Otto Krieg-Helbig (Fischer)
Ute Zschiedrich (Genossenschaftsbäuerin)
Rosa Lotze (Trude)
Othmar Kessler (Einsilbiger LKW-Fahrer)

Music

Gerd Natschinski
Thomas Natschinski

Sound

Peter Foerster
Gerhard Kossatz (Musiktonmeister)

Musical Performance

Frank Schöbel (Gesang)
Chris Doerk (Gesang)
Gerti Möller (Gesang (Brit))
Ingo Graf (Gesang (Wolf))
Tanzorchester des Berliner Rundfunks (Leitung: Günter Gollasch)
Die Kolibris (Musikgruppe) (Gesang)
Columbia-Quartett (Musikgruppe) (Gesang)
Michaelis-Chor (Musikgruppe) (Gesang)

Make-Up

Bernhard Kalisch
Irmgard Lippmann
Ursula Funk

Unit Production Management

Wolfgang Bertram
Rolf Martius

Design

Gisela Walther (Choreografie)
Manfred Weißpflog (Choreografie)

DEFA Photography

Herbert Kroiss
Detlef Hertelt
Awards
Internationales Filmfestival Phnom Penh (1969): Goldene Aspara
Short Summary (German)
Zwei Gruppen von Oberschülern trampen in den Sommerferien an die Ostsee und kommen sich auf der Autobahn in die Quere. Die elf Mädchen aus Leipzig geben den zehn Jungen aus Karl-Marx-Stadt das Nachsehen. An der See trifft man sich wieder. Die Jungen sind auf Vergeltung aus, führen die Mädchen in eine Mückenhölle. Der Spaß ist größer als der Ärger, und man kommt sich näher. Stupsi, die die Reise ihrer Gruppe organisierte, hat ein Auge auf Kai geworfen. Der jedoch ist hinter der flotten Brit her und kommt deshalb Wolf ins Gehege. Aber auch die kleinen Rivalitäten und so mancher Unfug stören den letztlich gelungenen Urlaub nicht, in dem einige neue Freundschaften geschlossen werden.
(Quelle: Das zweite Leben der Filmstadt Babelsberg. DEFA-Spielfilme 1946-1992)
Short Summary (Other Languages)
La historia nos presenta el viaje y estancia de unos jóvenes en las playas del mar Báltico. El camino de dos grupos , un grupo de chicas y un grupo de chicos, se cruzan frecuentemente en autopista. Los dos grupos se encuentran otra vez en un pequeño pueblo. Los chicos juegan una mala pasada a las chicas. Los amoríos no se hacen esperar. (Spanisch)
Deux groupes d'écoliers font du stop en direction de la mer Baltique lors de leurs vacances d'été. Sur l'autoroute ils se mettent mutuellement des bâtons dans les routes, mais les dix jeunes filles de Leipzig prennent l'avantage sur les dix garçons de Karl-Marx-Stadt. Une fois à la mer, ils se retrouvent. Les jeunes garçons veulent prendre leur revanche et entrainent les filles dans un piège à moustiques. Le rire est plus fort que la colère et ils se rapprochent peu à peu. Stupsi, qui a organisé le voyage de son groupe, a jeté son dévolu sur Kai. Ce dernier s'intéresse à la vive Brit, mais marche sur les plates-bandes de Wolf. Pourtant, même ces petites rivalités et autres bêtises ne troublent pas leur vacances finalement réussies et de nouvelles amitiés se nouent. (Französisch)
Durante le vacanze estive, due gruppi di studenti delle superiori s'incontrano in autostrada per raggiungere il Baltico in autostop. Le undici ragazze di Lipsia dimostrano ai dieci ragazzi di Karl-Marx-Stadt di essere superiori. Arrivati sul Baltico, i due gruppi si ritrovano. I ragazzi, per vendicarsi, fanno uno scherzo alle ragazze. Il divertimento supera il risentimento e i due gruppi fanno amicizia. Stupsi, l'organizzatrice del suo gruppo, ha messo gli occhi su Kai, invaghitosi a sua volta della bella Brit, già adocchiata da Wolf. Ma le stupidaggini e le piccole rivalità non rovineranno la bella atmosfera di una vacanza riuscita, fonte di nuove amicizie. (Italienisch)