Hexen
Director: Helmut Spieß, 99 Min., Black-White, Feature Film
Deutsche Demokratische Republik (DDR)
DEFA-Studio für Spielfilme, 1954
Film/Video Format

35 mm

Length in m

2722

English Title

Witches

Premiere Date

Release Date (for Cinema)
Short Summary (English)
Germany in 1949: The residents of the Thuringian village Hunsdorf are still heavily influenced by archaic superstition and explain unusual events with preternatural powers. The same happens when pigs again and again disappear from different farmyards. The village residents firmly believe that witches are the reason for this mystery. Not even police detective Kühlemann who is sent to Hunsdorf is able to dissuade them from their superstition. Thus, the farmers think his investigation is aimless and they do not support him at all. With a lot of patience and well-made arguments he finally convinces little Peter that there are no witches. Next, Peter's grandfather and teacher Marianne take Kühlemann's side. With their support, the police detective eventually finds out the truth and is able to put a stop to the gang of crooks that had been stealing the pigs.
(Quelle: filmportal)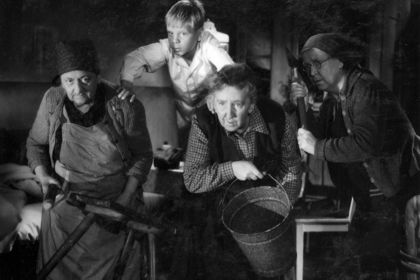 Film Crew
Script

Kurt Barthel (Pseudonym: Kuba)

Cast

Lothar Blumhagen (Werner Kühlemann)
Albert Garbe (Bürgermeister Seidel-Großkopf)
Alfred Maack (August Bast)
Helene Riechers (Milda Bast)
Heinz Triebel (Peter Bast)
Aribert Grimmer (Pfundstüten-Enderlein)
Hans Klering (Hilsenthaler Mann)
Rudi Schiemann (Hinke-Seidel)
Lisa Wehn (Hexenguste)
Ulrich von der Trenck (Dr. Fehlhagen)
Karla Runkehl (Neulehrerin Marianne Paul)
Amy Frank (Stine Matzke)
Wally Fielitz (Emmi Böhm)
Gerd Michael Henneberg (VP Staudten-Enderlein)
Elfriede Boll (Bärbel Bast)
Edith Volkmann (Frau des Pfundstüten-Enderlein)
Toni Meitzen (Seidel-Wirt)
Hans Wehrl (VP-Oberkommissar Meixner)
Fritz Linke (Edward)
Rudolf Fleck (LKW-Chauffeur)
Gertrud Paulun (Krankenschwester)
Manfred Borges (Mann mit Briefen)
Hans Hellenberger (Mann mit Würsten)
Horst Wünsch (Bursche)
Fritz Decho (Bursche)
Edgar Engelmann (Bursche)
Werner Berndt (Bursche)

Make-Up

Gerhard Petri
Gerda Behrendt
Erich Haase

Unit Production Management

Dieter Schönemann
Erich Kühne
Short Summary (German)
Ein thüringisches Dorf - Hunsdorf genannt - im Jahre 1949. Der Aberglaube treibt hier noch immer seine Blüten, und das mysteriöse Verschwinden ihrer Schweine führen die Bauern auf Hexerei zurück. Oberwachtmeister Kühlemann wird nach Hunsdorf beordert, die Vorkommnisse zu untersuchen. Auf Unterstützung kann er kaum rechnen, und so versucht er, wenigstens den kleinen Peter davon zu überzeugen, dass es keine Hexen gibt. Dabei allerdings kommt er Schritt für Schritt der Wahrheit auf den Grund, und es gelingt ihm - wobei er in Peters Großvater August und der Lehrerin Marianne doch noch Mitstreiter findet - eine bestens organisierte Diebesbande zu entlarven.
Filmtext: Hexen. Vergeßt mir meine Traudel nicht. Filmerzählungen von Kuba. Halle/Saale: Mitteldeutscher Verlag 1974.
(Quelle: Das zweite Leben der Filmstadt Babelsberg. DEFA-Spielfilme 1946-1992)
Short Summary (Other Languages)
Nel 1949 a Hunsdorf, un paesino della Turingia, i contadini superstiziosi incolpano le streghe per la misteriosa scomparsa dei loro maiali. Con l'aiuto del piccolo Peter, l'unico che sembra non credere alle streghe, ma anche di suo nonno August e dell'insegnante Marianne, il maresciallo Kühlemann, chiamato a indagare, riesce a smascherare una banda di ladri. (Italienisch)