Hochzeitsnacht im Regen
Director: Horst Seemann, 100 Min., Color, Feature Film
Deutsche Demokratische Republik (DDR)
DEFA-Studio für Spielfilme, 1967
Film/Video Format

35 mm

Length in m

2862

Other Title

Liebe im Galopp

English Title

Wedding Night In The Drizzle

Premiere Date

Release Date (for Cinema)
Short Summary (English)
Gabi, a young hairdresser from the Baltic coast, is bent on becoming a jockey. She packs her belongings, goes to Berlin and pitches up for an interview in Hoppegarten. But the head trainer does not take her on.
Gabi has not taken into account this turn of events which plunges her into a dilemma: she has neither a roof over her head; nor does she know anyone. In this desperate situation, she meets likeable Freddy, who comes to her aid and whom she marries overhastily. However, he can only offer her a tent at a camping site. What's more, he doesn't like the idea that Gabi wants to become a jockey at all. But Gabi doesn't give up - she succeeds in convincing the good-natured riding master in Hoppegarten to let her train secretly.
Freddy becomes more and more understanding. Indeed, he even sells his motorbike to enable Gabi's participation in an international race with up-and-coming jockeys in Budapest. Unsurprisingly. Gabi is the winner and a magnificent wedding belatedly takes place in Budapest.
Source: Progress Film-Verleih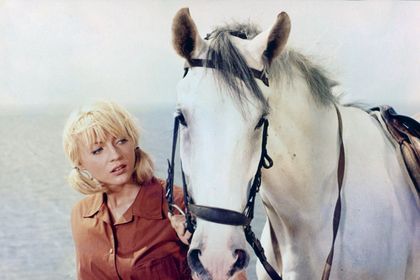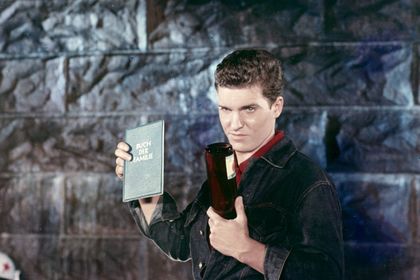 Film Crew
Script

Karl-Heinz Lennarz
Horst Seemann

Cast

Traudl Kulikowsky (Gabi)
Frank Schöbel (Freddy)
Gerhard Bienert (Futtermeister)
Günter Junghans (Der Verlobte)
Elke Rieckhoff (Die Verlobte)
Herbert Köfer (Cheftrainer)
Gerd Ehlers (Wirt)
Peter Reusse (Fritz)
Dietmar Obst (Hans)
Axel Dietrich (Kalle)
Ina Martel (2. Verlobte)
Hans-Dieter Tyrock (Der Kleine)
Gerd E. Schäfer (Quizmeister)
Evamaria Bath (Standesbeamtin)
Gina Presgott (Ältere Berlinerin)
Edgar Külow (Reitausbilder)
Egon Czaplewski (Jockey)
Agnes Kraus (Frau Müller)
Horst Kube (Herr Meier)
Otto Stark (Arzt)
Axel Triebel (Friseurmeister)
Hannes Vohrer (Der Lange)
Peter Dommisch (1. Junger Mann am Alex)
Willi Schrade (2. Junger Mann)
Ernst-Georg Schwill (3. Junger Mann)
Nico Turoff (Krankenwärter)
Günter Rüger (Krankenwärter)
Horst Papke (Reichsbahnangestellter)
Gustav Stähnisch (Hotelangestellter)
Manfred Otto (Egon)
Lilo Grahn (Sekretärin)
Ursula Genhorn (Sekretärin)
Gianina Gilde (Junge Braut)
Elke Leschnik (3. Verlobte)
Berndt Stübner (Mitglied der GST-Motorradgruppe)
Lothar Hanff (Mitglied der GST-Motorradgruppe)
Dietmar Seyffert (Mitglied der GST-Motorradgruppe)
Peter Berger (Mitglied der GST-Motorradgruppe)
Klaus Sehmisch (Mitglied der GST-Motorradgruppe)
István Farkas (Mitglied der GST-Motorradgruppe)
Jörg Hennes (Mitglied der GST-Motorradgruppe)
Veronika Axmann (Bardame)
Christa Schmollack (Mannequin)
Erika Grüneberg (Mannequin)
Inge Otto (Mannequin)
Renate Lülsdorf (Mannequin)
Hans-Dieter Höricke (Kurt)
Klaus Richter (Benno)
Lothar Hauff (Piefke)
Siegfried Alack (Landsknecht)
Winfried Mank (Rokoko)
Artur Wandtke (Spießbürger)
Hans-Ulrich Langendorf (Liftboy)
Herta Scholler (Bäuerin)
Rainer Olbrich (Jockey)
Erich Glasow (Jockey)
Burghard Leopold (Jockey)
Lutz Höhl (Jockey)
Lutz Meier (Jockey)
Horst Dietze (Jockey)
Siegfried Rocher (Jockey)
Cornell Ripperger (Reiter)
Christiane Utesch (Reiterin)
Dieter Straube (Reiter)
Harald Siegeris (Reiter)
Stefanie Büttner (Tanzdoubel Gabi)
Barbara Fürstenau (Reitdoubel Gabi)

Music

Wolfram Heicking (und musikalische Leitung)
Klaus Hugo
Gerhard Siebholz
Klaus Lenz
Jürgen Hermann
Thomas Natschinski

Sound

Hans-Ulrich Langendorf
Klaus Wolter

Musical Performance

Frank Schöbel (Gesang)
Chris Doerk (Gesang (Gabi))
Ruth Homann (Gesang)
Manfred Krug (Gesang)
Gina Presgott (Gesang)
Vera Schneidenbach (Gesang)
Horst Krüger (Gesang)
Traudl Kulikowsky (Gesang)
Die Kolibris (Musikgruppe) (Gesang)
Columbia-Quartett (Musikgruppe) (Gesang)
Das Domino-Quartett (Musikgruppe) (Gesang)
Michaelis-Chor (Musikgruppe) (Gesang)
Tanzorchester des Berliner Rundfunks (Leitung: Günter Gollasch)
Das Estradenorchester des Deutschlandsenders (Leitung: Robert Hanell)
Orchester Günther Kretschmar
Klaus-Lenz-Sextett (Musikgruppe)

Make-Up

Horst Schulze
Margot Friedrichs

Unit Production Management

Design

Josef Koniček (Choreografie)
Gisela Walther (Choreografie)
Horst Seemann (Choreografie)
Short Summary (German)
Die junge Friseurin Gabi von der Ostseeküste möchte unbedingt Jockey werden. Sie packt ihre Sachen, fährt nach Hoppegarten - und bekommt vom Cheftrainer eine Absage. Aufgeben will sie nicht, und um wenigstens ein Dach überm Kopf zu haben, heiratet sie überstürzt den sympathischen Freddy. Zweiter Reinfall. Freddy kampiert auf dem Zeltplatz, und dass sie Jockey werden will, gefällt ihm auch nicht. Erster Lichtblick: Der Stallmeister in Hoppegarten hat ein gutes Herz und lässt sie heimlich trainieren. Nun zeigt auch Freddy Einsicht, verkauft sein Motorrad, um Gabi die Teilnahme an einem internationalen Nachwuchsrennen in Budapest zu finanzieren. Natürlich siegt sie, und aus Freude darüber findet die nachträgliche Hochzeitsfeier in Budapest statt.
(Quelle: Das zweite Leben der Filmstadt Babelsberg. DEFA-Spielfilme 1946-1992)
Short Summary (Other Languages)
Gabi, una giovane parrucchiera, vuole a tutti i costi diventare fantino. Decide così di trasferirsi a Hoppegarten, ma l'allenatore le dice di no. Non dandosi per vinta, Gabi sposa precipitosamente il simpatico Freddy, che vive in tenda e, in un primo momento, non vuole saper nulla delle aspirazioni della moglie. Un generoso stalliere permette a Gabi di allenarsi. Freddy vende la sua moto per permetterle di partecipare a un concorso internazionale a Budapest. La ragazza, prima classificata, festeggerà la vittoria e le sue nozze nella capitale ungherese. (Italienisch)