Hut ab, wenn du küsst!
Director: Rolf Losansky, 86 Min., Color, Feature Film
Deutsche Demokratische Republik (DDR)
DEFA-Studio für Spielfilme, 1971
Film/Video Format

35 mm

Length in m

2373

Other Title

Des Widerspenstigen Zähmung

English Title

Hat Off When You Kiss

Premiere Date

Release Date (for Cinema)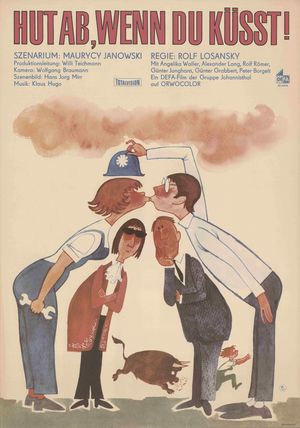 Short Summary (English)
Fred works as an engineer and a test driver at a car company. His girlfriend Petra is a car mechanic - actually an ideal combination. However, the old-fashioned Fred is less than thrilled about his girlfriend's "male profession". In his opinion, the masculine job damages her femininity. Since Petra is unwilling to give up her beloved job for such stupid concerns, there is a lot of friction between them. It is not until Petra turns the heads of all the men at a fair that Fred realizes how absurd his objections really are. Fortunately for him, Petra loves him very much and still wants to be with him.
(Quelle: filmportal)
Film Crew
Film Editing

Christa Helwig (geb. Stritt)

Cast

Angelika Waller (Petra)
Alexander Lang (Fred)
Rolf Römer (auch: Rolf Specht) (Juan)
Günter Junghans (Horst)
Günter (auch: Günther) Grabbert (Onkel Valeraz)
Peter Borgelt (Oskar)
Gerd E. Schäfer (Blütenrein)
Bruno Carstens (Direktor Waltershausen)
Johannes Maus (Meister)
Carola Braunbock (Tante)
Axel Triebel (Parkplatzwächter / Pförtner / Radfahrer / Herr im Waschraum)
Heide Kipp (Gabi)
Helga Sasse (Moni)
Ulrich Anschütz (Fritz)
Siegfried Pappelbaum (Hagerer Mann)
Rolf Ripperger (Volkspolizist)
Günter Ott (Hausbewohner)
Hans-Robert Wille (Kräftiger Mann)
Klaus Drescher (Kräftiger Mann)
Angelika Krüger (Hostess)
Marlies Reusche (Dame am Mittelstreifen)
Prince Baba (Wadi)
Ulrich Müller (Boy)
Andreas Philipp (Boy)
Johannes Walsinger (Assistent des Werkdirektors)
Thomas Langhoff (Trabantfahrer)
Gabriele Neuenhahn (Beifahrerin)
Horst Papke (Herr im Waschraum)
Lothar Lippmann (Ober)

Sound

Hans-Joachim Kreinbrink
Klaus Wolter
Harry Fuchs

Costume Design

Barbara Braumann (geb. Müller)

Make-Up

Klaus Grobbecker
Christa Eifler

Unit Production Management

DEFA Photography

Richard Günther
Alexander Schittko
Short Summary (German)
Der Ingenieur und Testfahrer Fred kann sich mit dem Beruf seiner Freundin Petra nicht abfinden. Sie ist Automechanikerin und er der Meinung, dies schade ihrer Weiblichkeit. Da Petra ihre Arbeit liebt und nicht bereit ist, sie gegen eine "weibliche" einzutauschen, kommt es ständig zu Streit - bis der Trubel der Leipziger Messe, auf die Petra unversehens gerät, der anachronistischen Einstellung Freds ein Ende bereitet. Und zwar durch Eifersucht. Er muss erleben, dass der zauberhaft aussehenden Freundin die Männer scharenweise den Hof machen. Und wäre Petras Liebe zu ihm nicht so groß, dann hätte seine späte Einsicht auch nichts genützt.
(Quelle: Das zweite Leben der Filmstadt Babelsberg. DEFA-Spielfilme 1946-1992)
Short Summary (Other Languages)
L'ingegnere e collaudatore Fred non accetta che la sua compagna Petra faccia il meccanico. La ragazza, invece, ama il suo lavoro e si rifiuta di esercitare una professione più femminile. Alla fiera di Lipsia Fred deve ricredersi: nonostante la sua fidanzata sia corteggiata da tutti, lei non cede a nessuno, perché innamorata del suo Fred. (Italienisch)