Ich liebe dich - April! April!
Director: Iris Gusner, 86 Min., Color, Feature Film
Deutsche Demokratische Republik (DDR)
DEFA-Studio für Spielfilme, 1987
Film/Video Format

35 mm

Length in m

2348

English Title

I Love You - April Fool

Premiere Date

Release Date (for Cinema)

Literary Source

Kramer, Jochen: "Ich liebe dich - April! April!", Theaterstück

Releases

DVD: ICESTORM Entertainment GmbH / www.icestorm.de
Short Summary (English)
The law student Caroline and the assistant professor Tom are husband and wife, but they keep their marriage a secret. While Caroline is afraid of annoying her mother Hella who ever since her divorce twenty years ago distrusts men in general, Tom dreads the criticism of his professor, a family law specialist who objects to the concept of marriage. By chance, Caroline gets hold of some juicy information: Her mother and the professor used to be a couple and she is their child. With almost missionary zeal she addresses herself to the task of convincing the two grown-ups to get back together. In the process, however, she steers both her academic studies and her own marriage into a crisis.
(Quelle: filmportal)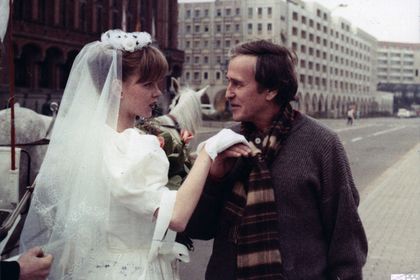 Film Crew
Cast

Cornelia Schmaus (Hella)
Jan Nowicki (Prof. Bertram Schneider)
Amina Gusner (Caroline)
Slawomir Józwik (Tom)
Jaecki Schwarz (Toni)
Siegrid Reintsch (Karla)
Jürgen Haase (Benni)
Gertraud (auch: Trude) Kreißig (Frau Heinrich)
Gerd Michael Henneberg (Prof. Stein)
Ursula Werner (Ärztin)
Eva Schäfer (Ärztin)
Eckhard Müller (Taxifahrer)
Katrin Martin (Freundin Anita)
Walter Focke (Alter Mann)
Hilmar Baumann (Klaus)
Swetlana Schönfeld (Optikerin)
Joachim Pape (Hausmeister Willi)
Angelika Ritter (Rezeptionsdame)
Evelyn Fuchs (Rezeptionsdame)
Erika Köllinger (Bardame Petra)
Henriette Paetz (Kind Anne)
Ute Boeden (Ingrid)
Barbara Frank (Erika)
Gerit Kling (Studentin Gaby)
Anette Straube (Studentin Heike)
Frank Büttner (Frank)
Maria Gyarmati (Studentin Fanny)
Inge Noack (Frau im Café)

Assistant Camera

Lothar Marten
Christa Köfer

Scenario

Jochen Kramer
Iris Gusner

Sound

Wolfgang Staab
Christfried Sobczyk (Tonmischung)

Make-Up

Klaus Petzold
Christine Steinfelder

Unit Production Management

Klaus Preissel (auch: Preißel)
Bernd Marx

Dubbing (Dubbing Actor)

Gottfried Richter (Prof. Bertram Schneider)
Walter Jäckel (Tom)
Short Summary (German)
Die Jurastudentin Caroline ist mit Tom, dem Assistenten ihres Professors, heimlich verheiratet. Sie hat Angst, ihrer Mutter Hella die Ehe einzugestehen, da diese seit zwanzig Jahren geschieden und Männern gegenüber skeptisch ist. Tom hat Angst vor Professor Schneider, der als Familienrechtler nichts von der Ehe hält. Hella weigert sich, der Tochter den Namen des Vaters zu nennen. Durch Zufall erfährt Caroline, dass es Professor Schneider ist, und sie versucht, die Eltern wieder zusammenzubringen. Darüber vernachlässigt sie sowohl ihr Studium als auch ihren Mann Tom - während die Eltern ihre Einmischung gar nicht brauchen.
(Quelle: Das zweite Leben der Filmstadt Babelsberg. DEFA-Spielfilme 1946-1992)
Short Summary (Other Languages)
Caroline, studentessa di giurisprudenza, è segretamente sposata con Tom, l'assistente del suo professore. Nessuno deve sapere della loro unione: la madre di lei, divorziata da 20 anni, è piuttosto scettica riguardo agli uomini e il Professor Schneider, esperto di diritto famigliare, non ha una grande opinione dei matrimoni. Casualmente, Caroline scopre che quest'ultimo è suo padre e cerca di riavvicinare i genitori, a discapito dello studio e di suo marito. (Italienisch)