Im Himmel ist doch Jahrmarkt
Director: Rolf Losansky, 79 Min., Color, Feature Film
Deutsche Demokratische Republik (DDR)
DEFA-Studio für Spielfilme, 1968
Film/Video Format

35 mm

Length in m

2196

Other Title

Spring, wenn du kannst; Hochzeit in den Wolken

English Title

Fair Times In The Skies

Premiere Date

Release Date (for Cinema)

Releases

DVD: ICESTORM Entertainment GmbH / www.icestorm.de
Short Summary (English)
Five young, pretty female athletes are training for an international skydiving contest. From heaven they basically fall straight into the arms of five charming young men. Their coach is less than thrilled about the flirtation and urges his athletes to concentrate on the contest. He is convinced that love-making will put the victory to risk and asks them for sexual abstinence. The power of love turns out to be stronger, however, and soon the first love couples find each other. Eventually, the coach is happy, too: Despite their turbulent emotional life, his protégées turn out to be successful contesters.
(Quelle: filmportal)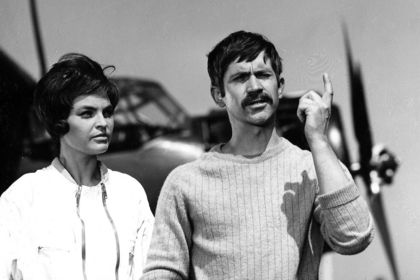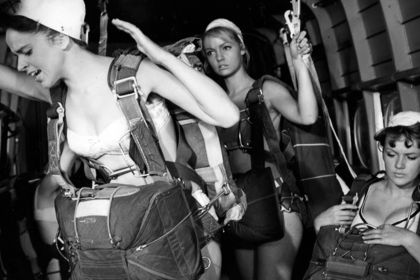 Film Crew
Script

Günter Mehnert
Ulrich Speitel

Camera

Helmut Grewald
Felix Pawlowitsch Neimark (Sprung-Kamera)

Cast

Regina Beyer (Gitta)
Christel Bodenstein (Isot)
Angelika Waller (Eva)
Heidrun Schwarz-Polack (Barbara)
Gesine Rosenberg (Maria)
Ingolf Gorges (Thomas)
Siegfried Höchst (Hannes)
Günter Junghans (Ede)
Peter Pollatschek (Lutz)
Klaus Bamberg (Adam)
Berko Acker (Peter)
Bruno Carstens (Uhrmacher)
Hubert Hoelzke (Pilot)
Eva Kárpáti (Pianistin)
György Karpati (Reporter)
Agnes Kraus (Schwiegermutter)
Ingeborg Naß (auch: Nass) (Schloßherrin)
Gerd E. Schäfer (Psychiater)
J. Telessy (Telefonistin)
Eberhard Cohrs (Kahnführer)
Georgia Kalla (Zwillingsmutter)
Ervin Kibédy (Veranstalter)
Ruth Kommerell (Lehrerin)
Werner Lierck (Polizist)
Benno Mieth (Brigadier)
Carl-Hermann Risse (Bauarbeiter)
Ernst-Georg Schwill (Funker)
Axel Triebel (Badewärter)
Klaus Hartmann (Junger Mann)
Eva Schäfer (Üppige Frau)
Gert Hänsch (Erich)
Karl-Ernst Sasse (Geiger)
Johannes Maus (Starter)
Walter E. Fuß (Starter)
Albert Zahn (Kahnbesatzung)
Christel Fischer (Kahnbesatzung)
Irmelin Krause (Kahnbesatzung)
Horst Papke (PKW-Fahrer)
Willi Neuenhahn (Bauarbeiter)
Manfred Sachse (Bauarbeiter)
Heide Kipp (Krankenschwester in der Klinik für Psychiatrie)
Carmen Pioch ("Mücke")
Ulrike Mehnert (Ganz Kleine)

Sound

Wolfgang Höfer
Eberhard Mierke

Costume Design

Barbara Braumann (geb. Müller)

Production Management

Fried Eichel
Anni von Zieten

Unit Production Management

Waldemar Döring
Dieter Anders
Herbert Ambach
Wolfgang Rennebarth
Short Summary (German)
Amor spielt eine gewichtige Rolle in dieser Geschichte um fünf junge, hübsche Sportlerinnen, die vom Himmel fallen - sozusagen direkt in die Arme netter junger Männer. Dem Trainer der Fallschirmspringerinnen ist das gar nicht recht, da ein bevorstehender internationaler Leistungsvergleich die ganze Kraft seiner Schützlinge fordert. Er verlangt Enthaltsamkeit in der Liebe. Dennoch gelingt es den Männern nach allerlei Abenteuern, die Mädchen zu erobern. Am Ende ist auch der Trainer zufrieden, denn seine Mädchen erreichen im Sport ihr Ziel.
(Quelle: Das zweite Leben der Filmstadt Babelsberg. DEFA-Spielfilme 1946-1992)
Short Summary (Other Languages)
Cinque giovani e avvenenti sportive cadono letteralmente dal cielo fra le braccia di cinque simpatici ragazzi, ma un'importante gara internazionale che richiede tutta la forza e la concentrazione delle paracadutiste, spinge l'allenatore a pretendere che le ragazze si astengano da qualsiasi relazione amorosa. Dopo mille disavventure, i ragazzi conquisteranno comunque le ragazze, che non mancheranno all'impegno sportivo, per la gioia del loro allenatore. (Italienisch)