Im Zirkus
Director: Hans-Ulrich Wiemer, Color, Animation Film
Deutsche Demokratische Republik (DDR)
DEFA-Studio für Trickfilme, 1968 - 1969
Film/Video Format

35 mm

Length in m

364

Type of Animation

Zeichentrickfilm

Other Title

Serie: Mäxchen Pfiffig

English Title

At the Circus

Release Date (for Cinema)

Releases

DVD: ICESTORM Entertainment GmbH / www.spondo.de/defa
Short Summary (English)
Clever little Max and Tüte visit the animal show at the circus. They try to feed the lion toffee, but they only aggravate him, making him very angry. He escapes his cage and chases Tüte, who hides in a box. Unforunately, the box is moved to the arena for the wild animal act. It turns out that the sticky candies have glued the lion's jaws and he can't perform. All hell breaks loose when the lion discovers the boy in the box and little Max has to rescue his friend. In the end, everything works out and the lion gets his applause. But the two boys are kicked out of the circus.
(Source: Die Trick-Fabrik. DEFA-Animationsfilme 1955-1990)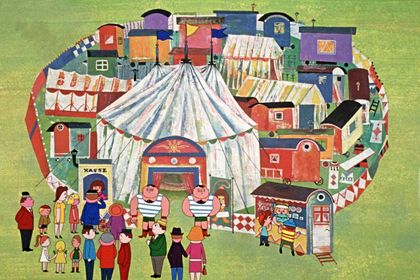 Film Crew
Scenario

Gottfried Jürgas
Helmut Barkowsky
Hans-Ulrich Wiemer

Composer

Manfred Pieper
Addy Kurth (Musikbearbeitung)

Production Manager

Inge Gruber
Marianne Fritzsche
Eberhard Wiedrich

Design

Heinz Drache (Hintergründe)
Walter Rehn (Hintergründe)

Animation

Christian Biermann
Lothar Friedrich
Hans-Ulrich Wiemer
Heinz Günther
Gertraude Müller
Herbert Kneschke
Short Summary (German)
Mäxchen Pfiffig und Tüte besuchen den Zirkus. In der Tierschau will Tüte den Löwen mit Sahnebonbons füttern, reizt ihn aber damit derartig, daß er aus dem Käfig ausbricht und Tüte verfolgt. Der versteckt sich in einer Kiste, die unglücklicherweise für die Raubtiernummer in die Arena gebracht wird. Dem Löwen haben Tütes Bonbons den Rachen verklebt. Er kann seine Nummer nicht vorführen. Nun entdeckt er auch noch Tüte in der Kiste. Die Situation ist so bedrohlich, daß Mäxchen seinem Freund zu Hilfe eilt. Schließlich endet alles gut, der Löwe erhält seinen Applaus und Mäxchen und Tüte werden aus dem Zirkus hinausexpediert.
(Quelle: Die Trick-Fabrik. DEFA-Animationsfilme 1955-1990)