Jakob der Lügner
Director: Frank Beyer, 101 Min., Color, Feature Film
Deutsche Demokratische Republik (DDR)
DEFA-Studio für Spielfilme / Fernsehen der DDR, 1974
Film/Video Format

35 mm

Length in m

2743

Other Title

Jakob le menteur (Französisch)

English Title

Jacob the Liar

Premiere Date

Release Date (for Cinema)

Premiere Air Date (for TV)

Literary Source

Becker, Jurek: "Jakob der Lügner", Roman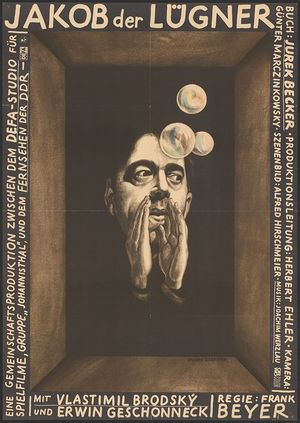 Short Summary (English)
Jacob invents news stories about impending Nazi defeat to bolster the spirits of the other Jews living in his Jewish ghetto. Jacob the Liar is a story about the importance of fantasy and hope for human dignity, nominated for an Academy Award for Best Foreign Film in 1977. A Hollywood adaptation of the film was released in 1999, again featuring Armin Mueller-Stahl, Frank Beyer's film explores the antifascists' dilemma of balancing organizational discipline with human values.
Source: DEFA Film Library - Shadows and Sojourners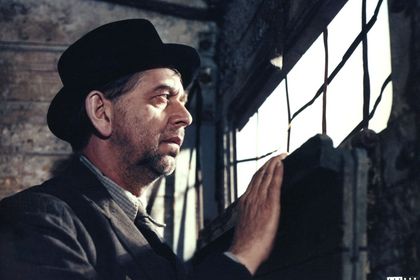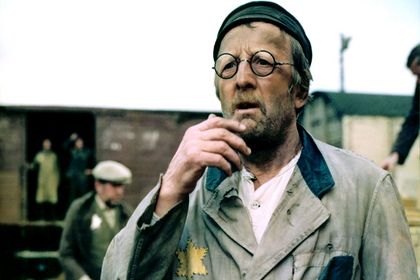 Film Crew
Cast

Vlastimil Brodský (Jakob)
Erwin Geschonneck (Kowalski)
Henry Hübchen (Mischa)
Blanche Kommerell (Rosa)
Manuela Simon (Lina)
Margit Bara (Josefa Litwin)
Dezső Garas (Herr Frankfurter)
Zsuzsa Gordon (Frau Frankfurter)
Reimar Johannes Baur (Herschel Schtamm)
Hermann Beyer (Wachhabender)
Klaus Brasch (Najdorf)
Jürgen Hilbrecht (Schwoch)
Paul Lewitt (Horowitz)
Fritz (auch: Friedrich) Links (Fajngold)
Edwin Marian (Abraham)
Armin Mueller-Stahl (Roman Schtamm)
Hans-Peter Reinecke (Soldat vor Latrine)
Friedrich Richter (Professor Kirschbaum)
Helmut Schellhardt (Eisenbahner)
Peter Sturm (Schmidt)
Klausjürgen Steinmann (Zivilist im Revier)
Erich Petraschk (Chaim Balabusne)
Fred Ludwig (Awrom Minsch)
Jarmila Karlovská (Mischas Nachbarin)
Wilfried Zander (Schlittenkutscher)
Gabriele Gysi (Larissa)
Josef Englicki (Mann in Kowalis Zimmer)
Josef Kornstreicher (Mann in Kowalis Zimmer)
Peter Pauli (Arbeiter)
Alfred Lux (Arbeiter)
Julius Koci (Alter Mann im Kaftan)
Harry Lehnert (Polizist)
Harald Fischer (Turmposten)
Eckhard Bilz (Soldat im Giebelfenster)
Rudolf Schindler (Unteroffizier)
Joachim Lukas (Soldat)
Harald Henke (Soldat)
Henry Zschoge (Soldat)
Peter Bausch (Soldat)
Bernhard Schauder (Torposten)
Otto Hostmann (sowjetischer General)
Wilhelm Jordan (sowjetischer General)
Gerhard Brieger (sowjetischer General)
Pavel Vancura (Rafael)
Karel Kalita (Siegfried)

Assistant Director

Harald Fischer (Assistenzregie)
Günter Hoffmann

Sound

Horst Mathuschek
Gerhard Ribbeck

Musical Performance

Siegfried Krause (Violinsolo)

Make-Up

Günter Hermstein
Inge Merten
Monika Mörke

Unit Production Management

Werner Teichmann
Gerd Zimmermann

Narrator

Horst Preusker (Nachrichten)

Dubbing (Dubbing Actor)

Norbert Christian (Jakob)
Gerda-Luise Thiele (Josefa Litwin)
Wolfgang Dehler (Herr Frankfurter)
Ruth Kommerell (Frau Frankfurter)
Awards
Nationalpreis II. Klasse (1975): Nationalpreis II. Klasse - Gerd Gericke
Nationalpreis II. Klasse (1975): Nationalpreis II. Klasse - Vlastimil Brodský
Nationalpreis II. Klasse (1975): Nationalpreis II. Klasse - Frank Beyer
Nationalpreis II. Klasse (1975): Nationalpreis II. Klasse - Erwin Geschonneck
Nationalpreis II. Klasse (1975): Nationalpreis II. Klasse - Günter Marczinkowsky
XXV. Internationale Filmfestspiele Westberlin (1975): Preis für besten Darsteller - Vlastimil Brodský
Berlinale (1975): Nationalpreis II. Klasse - Günter Marczinkowsky
The 49th Academy Awards (Oscar) (1977): Nominierung für den besten fremdsprachigen Film
Short Summary (German)
(Koproduktion mit dem Fernsehen der DDR)
Ein osteuropäisches jüdisches Ghetto im Jahre 1944. Jakob Heym wird wegen angeblicher Überschreitung der Ausgangssperre von einem Posten zum Gestapo-Revier geschickt. Durch Zufall kommt er mit dem Leben davon, und zufällig hat er dort im Radio eine Meldung über den Vormarsch der Roten Armee gehört. Er möchte die Nachricht an seine Leidensgefährten weitergeben, um ihnen Hoffnung zu machen, hat aber Angst, man würde ihn wegen seiner "Verbindung" zur Gestapo für einen Spitzel halten. So greift er zu einer Lüge, gibt vor, ein Radio versteckt zu haben. Die Menschen im Ghetto schöpfen neuen Lebensmut, es gibt keine Selbstmorde mehr, und man möchte von Jakob immer neue Informationen über den Vormarsch. Er muss weiterlügen, damit die Hoffnung bleibt. Sein Freund Kowalski hilft, die Nachrichten zu verbreiten, lässt sich sogar von einem Wachposten zusammenschlagen, um Jakob zu schützen, als der auf der Toilette aus Zeitungsfetzen der Nazis wahre Nachrichten zu finden sucht. Ein kleines Mädchen entdeckt kurz vor der Deportation, dass Jakob kein Radio hat, aber seine Lüge und mit ihr die Hoffnung erweisen sich stärker als die Realität.
(Quelle: Das zweite Leben der Filmstadt Babelsberg. DEFA-Spielfilme 1946-1992)
Short Summary (Other Languages)
1944, un ghetto en Europe de l'Est. Jakob Heym, faisant croire qu'il a récupéré une radio, y propage de fausses bonnes nouvelles. (Französisch: Cinémathèque française 2003)
Le ghetto juif de Varsovie, pendant la Seconde Guerre. Un soir qu'il a transgressé le couvre-feu, Jakob atterrit dans le bureau d'un officier nazi, où il surprend un bulletin radio annoncant l'approche des troupes soviétiques. Il est le premier surpris d'en sortir vivant. Quelques instants plus tard, en rentrant chez lui, il rencontre une fillette, Lina, dont les parents ont été déportés et qui s'accroche à lui. Le lendemain, Jakob tente d'annoncer la "bonne nouvelle" à son ami Mischa. Mais qui peut croire qu'il ait pu survire à sa "visite" à la Kommandatur? Comment expliquer qu'il ait entendu ce qu'il n'aurait jamais du entendre? Jakob décide finalement de mentir en prétendant avoir une radio chez lui... (Französisch: Maison Heinrich Heine / 60 Jahre DEFA)
Nel 1944, in un ghetto ebraico dell'Europa orientale, Jakob Heym, accusato di aver violato il coprifuoco, viene portato al distretto della Gestapo, dove casualmente apprende dell'avanzata dell'Armata Rossa. Vorrebbe comunicarla ai suoi compagni di sventura, ma teme che lo credano un informatore della Gestapo. Con la scusa di essere riuscito a nascondere una radio, fa coraggio alle persone del ghetto, che gli chiedono sempre nuove informazioni. Aiutato dal suo amico Kowalski, inizia così a mentire, per non deludere le speranze. Poco prima di essere deportata, una bambina scopre che Jakob non ha alcuna radio, ma le sue menzogne e la speranza sono state più forti della realtà. (Italienisch)