Jörg Ratgeb, Maler
Director: Bernhard Stephan, 99 Min., Color, Feature Film
Deutsche Demokratische Republik (DDR)
DEFA-Studio für Spielfilme, 1977
Film/Video Format

35 mm

Length in m

2715

English Title

Joerg Ratgeb, Painter

Premiere Date

Release Date (for Cinema)

Releases

DVD: ICESTORM Entertainment GmbH / www.icestorm.de
Short Summary (English)
The painter, Jörg Ratgeb, is in the midst of a crisis: he can't manage to find a convincing and honest approach to the Christ figure that he is trying to paint. Ratgeb sets off on a journey to find the reasons for his artist's block. During the course of his travels, Ratgeb inevitably comes face-to-face with the most important social conflicts of his day.
The leader of the alliance of rebellious peasants, Joß Fritz, forcefully tries to convince Ratgeb that he should be an active supporter of the peasants, but the artist refuses to heed Fritz's impassioned appeal. And now Ratgeb is caught in the crossfire.
The artist meets the deaf and dumb vagabond, Barbara, and tries to explain his conception of morality to her. However, the girl can make neither head or tail of what the he is trying to tell her, and she eventually dies.
Before he meets up with the peasants once more, Ratgeb has many bitter experiences. One day, he observes how the cheerful and light-hearted peasants make their way to a fair. There they are, however, set upon by mercenaries and accused of instigating a revolt. After witnessing how every second peasant is randomly chosen to be hanged, the artist now openly declares himself to be a supporter of the peasant rebellion.
These terrible experiences have helped to mature Ratgeb as a painter. His portrait of Christ for the Herrenberg Altar not only shows the crucified Christ as a victim, a spirit of righteous rebellion is also depicted. Joß Fritz, who is on the run from the authorities, pauses for a brief rest with Ratgeb. Fritz sees the altar portrait as symbolizing the just cause of the peasant rebellion.
Source: Progress Film-Verleih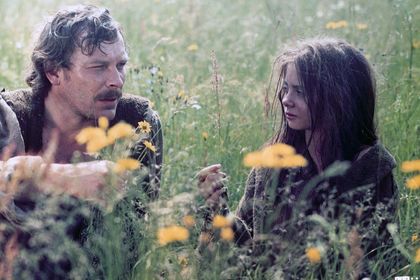 Film Crew
Camera

Otto Hanisch
Dietram Kleist

Cast

Alois Svehlik (Jörg Ratgeb)
Margrit Tenner (Barbara)
Olgierd Lukaszewicz (Bischof)
Günter Naumann (Joß Fritz)
Malgorzata Braunek (Junge Bäuerin)
Henry Hübchen (Thomas Niedler)
Rolf Hoppe (Gaukler)
Martin Trettau (Albrecht Duerer)
Helga Göring (Agnes Duerer)
Hilmar Baumann (Der Vogt)
Thomas Neumann (Enderlin)
Marylu Poolman (Frau des Gauklers)
Günter Rüger (Fiedler)
Giso Weißbach (Kommandeur)
Monika Hildebrand (Ratgebs Frau)
Bodo Krämer (Landsknecht)
Ursula Werner (Junge Bäuerin)

Scenario

Manfred Freitag
Joachim Nestler

Sound

Bernd-Dieter Henning
Christfried Sobczyk
Günter Witt

Make-Up

Ursula Funk
Jürgen Holzapfel
Axel Wagner

Production Management

Helmut Klein
Rolf Martius

Unit Production Management

Horst Schmidt
Helmut Andert
Short Summary (German)
Am Vorabend des Bauernkrieges ist der Maler Jörg Ratgeb auf der Suche nach einem Christus-Modell. Er findet niemanden, der seinen Vorstellungen entspricht. An sich selbst zweifelnd, verläßt der Mittdreißiger Frau und Kinder und macht sich auf den Weg zu seinem Vorbild Albrecht Dürer. Bisher hatte er sich aus den politischen Kämpfen herausgehalten, sich auch von den Bundschuhleuten, denen er eine Fahne malen sollte, nicht vereinnahmen lassen. Die Erlebnisse der Reise, auf der ihm überall Gewalt begegnet, ziehen ihn in den politischen Kampf hinein. Er sieht, wie die stumme Barabara, die ihm das Leben rettete, von einem Bischof in den Tod getrieben wird. Ein Bauernbursche, der ihm Christus-Modell sein soll, wird zum Henker und dann selbst gehängt. Ein Gaukler muß die Verkündung der Wahrheit mit dem Leben bezahlen. Ratgeb malt nun, wie er die Dinge sieht. Die Gewalt verabscheuend, wird er dennoch zu einem Führer der Aufständischen und 1526 hingerichtet.
(Quelle: Das zweite Leben der Filmstadt Babelsberg. DEFA-Spielfilme 1946-1992)
Short Summary (Other Languages)
Alla vigilia della Guerra dei contadini, il pittore Jörg Ratgeb è alla ricerca di un modello per il personaggio di Cristo. Non trovando nessuno che corrisponda alla sua idea, lascia moglie e figli per recarsi dal suo idolo, Albrecht Dürer. Benché fino a quel momento si fosse sempre tenuto fuori dalle questioni politiche, le esperienze vissute durante il suo viaggio gli fanno cambiare idea: Barbara, una ragazza muta che gli salva la vita, viene condannata a morte da un Vescovo. Il contadinello, che Ratgeb ha scelto come modello, è prima il suo carnefice, poi anch'egli vittima. E un acrobata viene ucciso per aver detto la verità. Ratgeb inizia a dipingere ciò che vede. Sebbene ripudi la violenza, diventerà il capo dei rivoltosi, ma pagherà questa scelta con la vita. (Italienisch)