Johannes Kepler
Director: Frank Vogel, 95 Min., Color, Feature Film
Deutsche Demokratische Republik (DDR)
DEFA-Studio für Spielfilme, 1974
Film/Video Format

35 mm

Length in m

2578

English Title

Johannes Kepler

Premiere Date

Release Date (for Cinema)
Short Summary (English)
Europe, the year 1620: The well-known astronomer and mathematician Johannes Kepler, who teaches as a professor in Linz, receives the message that his mother is prosecuted as a witch in Württemberg. The truth behind the allegations is rather simple: His mother has been denunciated by a former friend after an argument with the authorities. Kepler tries desperately to convince the prosecutors of the absurdity of their allegations with rational arguments. But it is the time of the Thirty Years' War, and the witch hunters utilize the loss of the Protestants in the battle of Prague to further fuel the mob's temper. Finally, Kepler manages to save his mother from burning at the stake with the help of an old university friend who in the meantime joined the order of the Jesuits.
(Quelle: filmportal)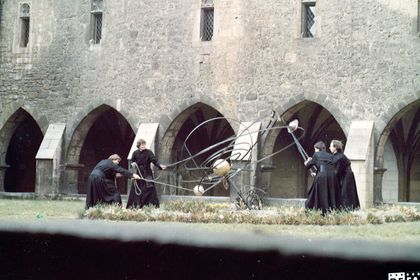 Film Crew
Cast

Reimar Johannes Baur (Johannes Kepler)
Gertrud (auch: Trude) Bechmann (Keplers Mutter)
Kurt Böwe (Tycho Brahe)
Karin Gregorek (Keplers Schwester Margarete)
Dieter Franke (Pfarrer Binder)
Katharina Thalbach (Ursula Haller)
Arno Wyzniewski (Vogt Aulber)
Martin Trettau (Pater Guldin)
Günter (auch: Günther) Grabbert (Gabelkofer)
Rolf Hoppe (Rudolf II.)
Manfred Zetzsche (Ernst von Köln)
Friedo Solter (Lucas Leyser)
Friedrich Richter (Mästlin)
Käthe Reichel (Frau Haller)
Eva-Maria Hagen (Reinboldin)
Barbara Dittus (Stadtwächterfrau)
Günter Schubert (Stadtwächter)
Gerd Ehlers (Verteidiger Rueff)
Fred Delmare (Beutelsbacher)
Erik S. Klein (Vogt Einhorn)
Carl Heinz Choynski (Herr Schmidt)
Gert Gütschow (Kammerdiener Lange)
Hannjo Hasse (Oberkontrolleur)
Jörg Panknin (Zweiter Stadtknecht)
Thomas Langhoff (Dr. Jessenius)
Hartmut Beer (Älterer Stadtknecht)
Sadegh Shabaviz (Katholischer Hauptmann)
Heinz Hupfer (Goldschmied)
Mary-Edith Schreiber (Frau vom Goldschmied)
Jan Bereska (Gerichtsknecht)
Jörg Knochée (auch: Knoche) (Gerichtsschreiber)
Carmen-Maja Antoni (Gerichtsmagd)
Günter Junghans (Longomontanus)
Thomas Wolff (Tengnagel)
Hellena Büttner (Dänische Magd Ulla)
Karla Runkehl (Tychos Frau)
Sybille Schmidt (Tychos Tochter Elisabeth)
Werner Dissel (Richter)
Anja Scheinert (Frau Schmidt)
Peter Hill (Schreiber von Gabelkofer)
Axel Werner (Wächter (Burg))
Gerd Funk (Jost Bürgi)
Michael Gerber (Unterkontrolleur)
Jan Spitzer (Ursinus)
Marietta Grünwald (Schöne Frau)
Kiryl Popow (Reiteroberst)
Jörg Gillner (Junger Jesuit)
Alfred Lux (Narr)
Otto Lang (Jakob Wangelin)
Wolfgang Greese (Andreas Schnabel)
Johannes Wieke (Philipp Nicolai)
Kurt Goldstein (Mathäus Höpf)
Erich Petraschk (Kirchendiener)
Max Ruda (Schreiber)
Klaus-Rudolf Weber (Schreiber)
Wolf Dietrich Voigt (Pater Plavius)
Helmut Bez (Graubärtiger Pater)
Mathis Schrader (Jüngerer Pater)
Manfred Bendick (Novize)

Scenario

Manfred Freitag
Joachim Nestler

Production Design

Hans Poppe
Jochen (auch: Joachim) Keller

Script Editing

Christel Gräf
Günter Karl

Make-Up

Bernhard Schlums
Regina Teichmann

Unit Production Management

Dieter Anders
Manfred Bendick

DEFA Photography

Detlef Hertelt
Waltraut Pathenheimer
Short Summary (German)
Im Jahre 1620 reist der berühmte Astronom und Mathematiker Johannes Kepler, Hochschullehrer in Linz, nach Württemberg, um seine als Hexe angeklagte Mutter zu retten. Aufgrund einer Denunziation durch eine frühere Freundin, mit der sie sich zerstritten hat, wird ihr nun der Prozess gemacht. Zur selben Zeit, es herrscht der Dreißigjährige Krieg, verlieren die Protestanten bei Prag eine entscheidende Schlacht, was der Ankläger nutzt, die Pogromstimmung anzuheizen. Kepler versucht, Unterstützung bei der protestantischen Obrigkeit zu erhalten, die ihm jedoch verweigert wird. Ein Jesuit, ehemaliger Studienfreund Keplers, macht nun seinen Einfluss bei der Inquisition geltend. Das aussichtslos Scheinende gelingt nach langem Streit: Keplers Mutter kommt frei. Episoden des Kampfes Keplers für die Durchsetzung seiner wissenschaftlichen Erkenntnisse und Begegnungen mit anderen berühmten Persönlichkeiten, wie mit seinem Förderer Tycho Brahe, sind als Erinnerungen in die Handlung eingeflochten.
(Quelle: Das zweite Leben der Filmstadt Babelsberg. DEFA-Spielfilme 1946-1992, S. 462)
Short Summary (Other Languages)
Nel 1620 Giovanni Keplero, noto astronomo e matematico, professore a Linz, si reca nel Württemberg per salvare sua madre, accusata da un'ex amica, con cui lo scienziato ha litigato, di stregoneria. Proprio in quel periodo, in piena Guerra dei Trent'Anni, i protestanti perdono un'importante battaglia nei pressi di Praga, contribuendo a un inasprimento della situazione. Keplero chiede dunque aiuto a un suo ex compagno di studi gesuita, che, dopo una lunga disputa con la Santa Inquisizione, riporta la madre in libertà. (Italienisch)