Julia lebt
Director: Frank Vogel, 83 Min., Black-White, Feature Film
Deutsche Demokratische Republik (DDR)
DEFA-Studio für Spielfilme, 1963
Film/Video Format

35 mm

Length in m

2262

Other Title

Morgen vielleicht

English Title

Juliet Is Still Alive

Premiere Date

Release Date (for Cinema)
Short Summary (English)
GDR border guard Gunter Rist is a young man from humble homes. During a swimming competition he meets Penny, a professor's daughter from a good family, and they fall in love. However, their different social backgrounds get in the way of their happiness: Penny's friends make it obvious that they are not willing to accept Gunter in their group. Although Penny takes Gunter's side, she doubts if love can overcome all obstacles. In this state, she falls for the advances of her ex-boyfriend Bob and joins him on vacation. In the meantime, Gunter has an accident and is hospitalized. In the hospital, he meets the nurse Li who seems to be perfect for him. They are happy for a while, but then one day Penny reappears and asks Gunter to come back to her, claiming that she needs him. Although Li is pregnant with his child, she lets the young soldier go. Gunter, however, is refused the chance to make a final decision between Penny and Li. He is struck by a hostile bullet while on duty.
(Quelle: filmportal)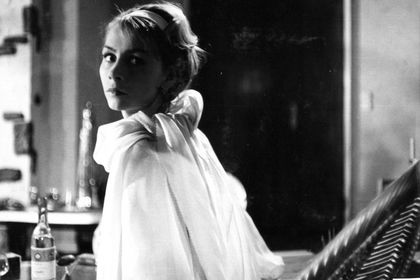 Film Crew
Script

Konrad Schwalbe
Manfred Freitag
Joachim Nestler

Camera

Werner Bergmann
Peter Brand

Cast

Jutta Hoffmann (Penny Berger)
Angelica Domröse (Li)
Peter Sindermann (Gunter Rist)
Heinz-Dieter Knaup (Bob Hasslinger)
Günter Junghans (Struppel)
Erik S. Klein (Oberleutnant)
Martin Flörchinger (Prof. Berger)
Peter Reusse (Kalle)
Herbert Graedtke (Helmut)
Hans-Peter Reinecke (Zatopek)
Ruth Kommerell (Lis Mutter)
Fred Thomalla (Macky)
Fred Staglies (Bert)
Rosemarie Funk (Rosi)
Karla Kersten (Blondine)
Maria Besendahl (Oberschwester)
Doris Thalmer (Himmel)
Manfred Ott (Unteroffizier)
Maika Joseph (Alte Schwester)
Irene Ullrich (Verkäuferin)
Hans Hardt-Hardtloff (Parkwächter)
Manfred Pilz (Trainer)
Kleinke (Arzt)

Make-Up

Otto Banse
Monika Lüscher

Unit Production Management
Short Summary (German)
Auf einem Schwimmfest lernt der Soldat Gunter Rist die Professorentochter Penny kennen. Aus dem einfachen Jungen und dem verwöhnten Mädchen wird ein Liebespaar. Gunter jedoch passt nicht in ihre Kreise, wird von Pennys versnobten intellektuellen Freunden brüskiert. Penny ödet diese Art und ihr bisheriger Lebensstil an, dennoch ist sie ihm verhaftet und traut ihrer Liebe zu Gunter nicht. Schließlich fährt sie mit ihrem alten Verehrer Bob in den Urlaub. Gunter, der nach einem Unfall im Krankenhaus liegt, begegnet dort der Krankenschwester Li. Sie verstehen sich gut. Doch als Penny nach Gunter ruft, weil sie ihn braucht, geht er zu ihr zurück. Li ist schwanger, aber versucht nicht, ihn zu halten. Da wird der Grenzsoldat Gunter von feindlichen Schüssen schwer verletzt.
(Quelle: Das zweite Leben der Filmstadt Babelsberg. DEFA-Spielfilme 1946-1992)
Short Summary (Other Languages)
Durante una festa il soldato Gunter Rist s'innamora di Penny, figlia di un professore. Di bassa estrazione sociale, Gunter viene bistrattato dagli amici snob e intellettuali di lei. Benché Penny ripudi questo modo di fare, proprio come il suo stile di vita, si sente vincolata e preferisce andare in vacanza con Bob, suo ex spasimante. A seguito di un incidente, Gunter finisce in ospedale, dove incontra l'infermiera Li. Nonostante i due vadano molto d'accordo e Li sia incinta di Gunter, il giovane soldato di frontiera tornerà da Penny, ma verrà gravemente ferito. (Italienisch)