Jungfer, Sie gefällt mir
Director: Günter Reisch, 104 Min., Color, Feature Film
Deutsche Demokratische Republik (DDR)
DEFA-Studio für Spielfilme, 1968
Film/Video Format

35 mm

Length in m

2855

Other Title

Nachts sind alle Kater grau; Aus dem Regen in die Traufe

English Title

Maiden, You Please Me

Premiere Date

Release Date (for Cinema)

Literary Source

Kleist, Heinrich von: "Der zerbrochne Krug", Lustspiel

Releases

DVD: ICESTORM Entertainment GmbH / www.icestorm.de
Short Summary (English)
The setting: a Saxon village in the late summer of 1792. Adam, the village judge, likes to play the big shot and bully It is especially young Ruprecht - who wants to marry the maiden Ev - he has it in for." Adam himself has cast an eye on her. One night he tries to climb into her small bedroom but his plan is thwarted by Ruprecht who smashes a jug over the judge's head. Marthe, Ev's mother.
wants to go to court on account of the jug - her precious piece. A trial ensues.
Ruprecht did not recognize the culprit and Marthe accuses him of the crime. Adam is to conduct the trial but he cannot find his wig and the bruises on his head cause him much embarrassment, especially since Walter. The Counsellor of Justice, has already arrived on the scene to observe the court session. Adam resorts to all kinds of tricks and ruses to silence Ev and to have Ruprecht enlisted into the army. The truth, however. is brought to light.
Finally, Walter intervenes and sentences Ruprecht to imprisonment on a charge of causing bodily harm. Walter himself, however, wants to equal Adam's caprices - but a repeat of events follows: the Counsellor of Justice gets his head knocked severely in Ev's room. A group of soldiers blow Adam's cover - he is unmasked as a thief and arrested. After a spell of turmoil and excitement, calm reigns again in the village and Ruprecht can now marry his Ev.
Source: Progress Film-Verleih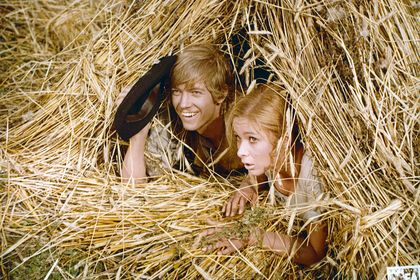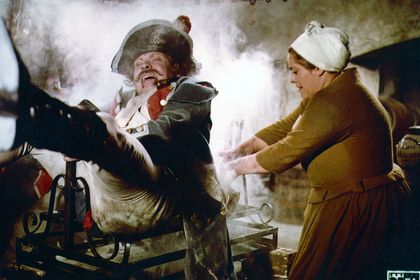 Film Crew
Script

Jurek Becker
Günter Reisch

Cast

Wolfgang Kieling (Adam)
Monika Gabriel (Ev)
Jan Spitzer (Ruprecht)
Rolf Ludwig (Schreiber Licht)
Marianne Wünscher (Marthe)
Herbert Köfer (Hauptmann)
Horst Schulze (Justizrat Walter)
Ingeborg Naß (auch: Nass) (Anabella, Frau Justizrat)
Joachim Zschocke (Wachtmeister Kroll)
Nico Turoff (Büttel)
Elsa Grube-Deister (Grete)
Agnes Kraus (Liese)
Rolf Hoppe (Reitender Bote)
Otto-Erich Edenharter (Wirt)
Albert Garbe (Töpfermeister)
Wilhelm Burmeier (Perückenmacher)
Hans Lucke (Feldwebel)
Georgi Kissimow (Goldschmied)
Renné Berndt (Soldat)
Paul Berndt (Soldat)
Horst Kube (Soldat)
Alexander Wikarski (Soldat)
Michael Gwisdek (Soldat)
Günter Zschäckel (Soldat)
Klaus Ebeling (Soldat)
Wolfgang Müller-Dhein (Soldat)
Bernd Bayer (Soldat)
Horst Papke (Soldat)
Werner Pfeifer (Soldat)
Dieter Korthals (Soldat)
Dieter Montag (Soldat)
Burkhard Plettau (Soldat)
Claus Franke (Soldat)
Wolfgang Pampel (Junger Bauer)
Fredy Barten (Pastor)
Oskar Fritzler (General)
Ilse Voigt (Alte schwerhörige Bäuerin)
Ursula Braun (Schwangere Bäuerin)
Richard Hilgert (Bauer Voss)
Gertrud Brendler (Frau von Bauer Voss)
Renate Reinecke (Mädchen mit tiefem Ausschnitt)
Erdmute Schmid (Mädchen mit tiefem Ausschnitt)
Hans-Rudolf Schwarze (Feldwebel)
Dieter Brückner (Segeant)
Rudolf Woschick (Werbeoffizier)
Eduard Müller (Bauer Rudolf)
Max Klingberg (Bauer)
Joachim Schönitz (Bauer)
Jürgen Klauß (Bauer)
Gerhard Schulz (Bauer)
Heinz Laggies (Bauer)
Richard Wentzel (Bauer)
Eckhard Becker (Bauer)
Winfried Glatzeder (Bauer)
Gisbert-Peter Terhorst (Bauer)
Annedore Zimmermann (Bäuerin)
Felicitas Ritsch (Schwangere Bäuerin Schulzen)
Manuela Marx (Junges Mädchen)
Heidemarie Schneider (Junges Mädchen)
Hellmuth Knoch (Baron)
Michael Dejak (Bauer)
Harry Spitzki (Bauer)
Egon Hoffmann (Bauer)
Otto Klewe (Bauer)
Karl Grahn (Bauer)
Martin Stitzer (Bauer)
Jürgen Sieg (Bauer)
Wilhelm Richter (Bauer)
Hermann Kirstein (Musiker (Hirtenflöte))
Rudolf Brünich (Musiker (Flöte/Teufelsgeige))
Georg Galle (Musiker (Horn))
Willi Wantke (Musiker (Bass))
Brigitte Stahr (Musikerin (Geige))
Helmut Karow (Musiker (Dudelsack))
Hans Krüger (Musiker (Hirtenflöte))
Rainer Barthel (Musiker (Trommel))
Willi Hornemann (Musiker (Geige))

Assistant Director

Siegfried Kühn (Assistenzregie)
Hanna Georgi (Assistenzregie)

Musical Performance

Ernst-Hermann-Meyer-Ensemble der Humboldt-Universität Berlin (Tanz)

Make-Up

Bernhard Kalisch
Irmgard Lippmann

Unit Production Management

Wolfgang Bertram
Rolf Martius

Design

Willi Hinzert (Choreografie)
Inka Unverzagt (Choreografie)

DEFA Photography

Peter Schlaak
Herbert Kroiss
Short Summary (German)
1792 im Sächsischen. Dorfrichter Adam hat es auf Jungfer Ev abgesehen, und deshalb ist ihm der Schmied Ruprecht, der sie heiraten will, ein Dorn im Auge. Beim nächtlichen Fensterln wird er von Ruprecht überrascht, bekommt zwar von diesem einen Krug auf den Kopf, kann aber unerkannt entkommen. Evs Mutter verklagt Ruprecht wegen des zerbrochenen Krugs beim Richter Adam, der in arge Verlegenheit gerät. Trotz seiner Intrigen kommt die Wahrheit an den Tag. Justizrat Walter aus Dresden rettet das Ansehen der Obrigkeit und sperrt Ruprecht wegen Körperverletzung ein. Da er es aber auch auf Ev abgesehen hat, geht auf seinem Kopf ebenfalls ein Krug zu Bruch, während Adam von durchziehenden preußischen Soldaten als einstiger Dieb ihrer Regimentskasse wiedererkannt und festgesetzt wird.
(Quelle: Das zweite Leben der Filmstadt Babelsberg. DEFA-Spielfilme 1946-1992)
Short Summary (Other Languages)
Adam, il giudice del villaggio, innamorato della giovane Ev, tenta una notte di sedurla, ma viene colpito con una brocca dal fabbro Ruprecht, anch'egli determinato a sposare la ragazza. La madre di Ev denuncia Ruprecht per averle rotto la brocca. Il consigliere di giustizia Walter, anch'egli innamorato della ragazza, lo fa rinchiudere in prigione, prima di essere a sua volta colpito da una brocca. Nel frattempo dei soldati prussiani riconoscono in Adam il ladro del tesoro del loro reggimento e lo arrestano. (Italienisch)