Kafkas Traum
Director: Sieglinde Hamacher, Color, Animation Film
Deutsche Demokratische Republik (DDR)
DEFA-Studio für Trickfilme, 1989 - 1990
Film/Video Format

35 mm

Length in m

224

Type of Animation

Zeichentrickfilm

Other Title

Kafka

English Title

Kafka's Dream

Releases

DVD: ICESTORM Entertainment GmbH / www.icestorm.de
Short Summary (English)
Kafka watches a waitress nibbling from a little pot that she has to serve to somebody. Kafka is outraged and complains about it. The girl gets sentenced to stoning and he complains again and regrets what he has done befoe. When he is not able to stop people throwing stones at her, he committs suicide. However, people help the girl to get up and she continues her usual work.
(source: University of Massachusetts (UMASS) - DEFA Film Library)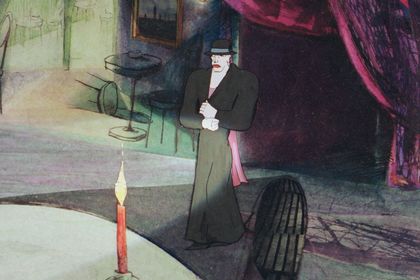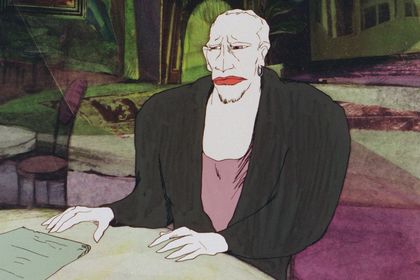 Film Crew
Animation

Barbara Atanassow
Holger Havlicek
Rüdiger Scholz
Short Summary (German)
Kafka sieht, wie ein Serviermädchen aus einem Töpfchen nascht, das sie im nächsten Moment aufzutragen hat. In heftiger Empörung beklagt er sich darüber. Der Beschwerde wird stattgegeben, das Mädchen zur Steinigung verurteilt. Kafka wehrt ab, das hat er nicht auslösen wollen, doch um so emsiger wirft man Steine nach der Serviererin. Kafka, ohnmächtig gegen die in Gang gekommene Maschinerie, nimmt sich das Leben. Das Mädchen wird indessen wiederhergerichtet und erneut mit dem Töpfchen zum Auftragen geschickt.
(Quelle: Die Trick-Fabrik. DEFA-Animationsfilme 1955-1990)