Karriere in Paris
Director: Georg C. Klaren, Hans-Georg Rudolph, 96 Min., Black-White, Feature Film
Deutsche Demokratische Republik (DDR)
DEFA-Studio für Spielfilme, 1951
Film/Video Format

35 mm

Length in m

2605

Other Title

Vater Goriot

English Title

Career In Paris

Premiere Date

Release Date (for Cinema)

Literary Source

de Balzac, Honoré: "Vater Goriot", Roman

Releases

DVD: Fernsehjuwelen GmbH / www.filmjuwelen.de
Short Summary (English)
France at the time of the Restoration. The young aristocrat Eugen von Rastignac moves to Paris in order to study and takes up humble lodgings. Father Goriot, shamefully treated and, moreover, fleeced by his daughters, lives in the same boarding-house.
Rastignac, almost penniless, tries very hard to gain entry to aristocratic circles in Paris. To reach this goal as fast as possible, he takes (following his cousin's advice) Delphine Nucingen, a wealthy banker's wife - as his mistress. But, at the same time, he falls in love with Yvette, a washerwoman. He is undecided as to which of the two women he should choose. A third option presents itself: to marry Victorine, the disinherited daughter of a millionaire, to kill her brother in a duel, and then to bag the whole inheritance. But this cleverly schemed intrigue does not work out and Rastignac ends up in the gutter.
Source: Progress Film-Verleih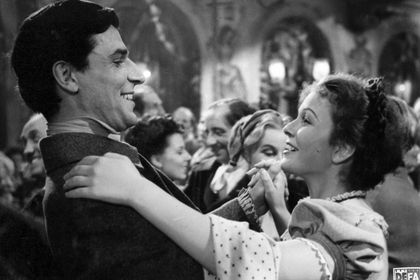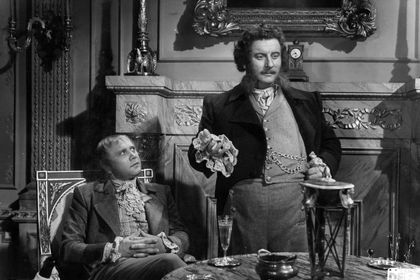 Film Crew
Director

Georg C. Klaren
Hans-Georg Rudolph

Script

Joachim Barckhausen
Alexander Graf Stenbock-Fermor (Pseudonym: Peter Lorenz)

Cast

Ernst Legal (Vater Goriot)
Joachim Hildebrandt (Eugén von Rastignac)
Ursula Burg (Anastasie Gräfin Restaud)
Klaramaria Skala (Delphine Nucingen)
Ruth Hausmeister (Gräfin Beauséant)
Erika Gläßner (Herzogin von Meaufraigneuse)
Wolfgang Kühne (Graf Restaud)
Albert Garbe (Bankier Nucingen)
Hans-Peter Thielen (Maxime von Traillers)
Hans von Uslar (Graf d'Adjuda-Pinto)
Erna Sellmer (Madame Vauquer)
Willy A. Kleinau (Vautrin)
Ursula von Manescul (Yvette)
Arthur Wiesner (Christoph)
Friedrich Maurer (Poiret)
Ilse Nürnberg (Victorine Taillefer)
Senta Esser (Madame Couture)
Werner Peters (Der junge Taillefer)
Karl Kendzia (Gobseck)
Martin Rosen (Theaterbesitzer)
Paul-Joachim Schneider (Polizeipräsident)
Heinz Hinze (Polizeiagent)
Herbert Bendey (Herr im Spielsaal)
Theodor Rocholl (Arzt)
Heino Winkler (Lakai von Beauséant)
Friedrich Teitge (Lakai von Restaud)
Hugo Kalthoff (Diener von Nucingen)
Friedrich Schrader (Katholischer Priester)
Günther Ballier (Herr im Ballsaal)
Helmuth Bautzmann (Lakai von Victorine)
Maria Köhler (Halbweltdame)
Viola Recklies (Wäscherin)
Susanne Düllmann (Wäscherin)
Marianne Fahl (Zofe bei Nucingen)
Erwin Mosblech (Croupier im Spielsaal)
Edmund Pouch (Croupier im Spielsaal)
Toni Meitzen (Croupier im Spielsaal)
Käthe Scharf (Aufgetakelte Dame)
Eduard Bornträger (Alter Herr im Spielsaal)
Carlo Kluge (Herr im Spielsaal)
Herwart Grosse (Polizeioffizier)
Arthur Hillmer (Stallknecht)
Wilhelm Kaiser-Heil (Haushofmeister)
Helmuth Jörger (Herr im Ballsaal)
Georg Kröning (Kartenspieler im Ballsaal)
Paul Lipinski (Kartenspieler im Ballsaal)
Richard Bellach (Kartenspieler im Ballsaal)
Hilde Sonntag (Verkäuferin)
Walter Weinacht (Blinder Bettler)
Albert Venohr (Aufseher in der Wäscherei)
Friedrich Kühne (Alter Invalide)
Wolf Kaiser (Herr im Spielsaal)
Bruno Lopinski (Spieler)
Ludwig Sachs (Spieler)
Claudia Witt
Nico Turoff

Costume Design

Walter Schulze-Mittendorff

Make-Up

Marian Babiuch
Hanns (auch: Hans) Wosnik (auch: Wosnick)

Unit Production Management

Horst Lockau
Heinz Walter
Short Summary (German)
Frankreich zur Zeit der Restauration. Der junge Landedelmann Rastignac kommt nach Paris, um zu studieren. Er quartiert sich in einer ärmlichen Pension ein, in der auch der von seinen Töchtern ausgenommene Vater Goriot lebt. Der mittellose Rastignac ist bestrebt, in der vornehmen Pariser Gesellschaft Fuß zu fassen. Seine Cousine rät ihm, sich die reiche Bankiersfrau Delphine, eine Tochter Goriots, zur Geliebten zu nehmen, was er auch tut. Zur gleichen Zeit verliebt er sich aber in die Wäscherin Yvette. Er kann sich nicht entscheiden, da schlägt ihm der Pensionsgast Vautrin eine dritte Möglichkeit vor: Victorine, die enterbte Tochter eines Millionärs, zu heiraten und deren Bruder im Duell zu töten, um doch noch an das Erbe zu kommen. Rastignac willigt ein. Das ist sein Untergang. Statt in der höheren Gesellschaft landet er in der Gosse.
(Quelle: Das zweite Leben der Filmstadt Babelsberg. DEFA-Spielfilme 1946-1992)
Short Summary (Other Languages)
Ai tempi della Restaurazione, Restignac, nobile terriero, giunge a Parigi per studiare. Per entrare nell'alta società parigina, sua cugina gli consiglia di prendersi un'amante, meglio se Delphine, ricca moglie di un banchiere. Contemporaneamente il ragazzo s'innamora di Yvette, la lavandaia. Non sapendo scegliere, un amico gli suggerisce una terza opzione: sposare Victorine, figlia diseredata di un milionario, e poi uccidere suo fratello per accaparrarsi la sua eredità. Rastignac accetta, ma questa sarà la sua fine. Anziché entrare nell'alta società, finirà nella fossa. (Italienisch)