Knurri und der Eierdieb
Director: Jörg d'Bomba, Color, Animation Film
Deutsche Demokratische Republik (DDR)
DEFA-Studio für Trickfilme, 1980 - 1981
Film/Video Format

35 mm

Length in m

277

Type of Animation

Puppentrickfilm

Other Title

Serie: Knurri, Folge 2 - Weil er die Blumen liebte

English Title

Knurri the Egg Thief

Release Date (for Cinema)

Releases

DVD: ICESTORM Entertainment GmbH / www.icestorm.de
Short Summary (English)
Knurri, the little rabbit, and his family want to sell eggs at the market. Knurri takes his sweet time and discovers too late that he lost some eggs to the hungry badger. Nobody wants to buy eggs from the rabbit family. Only when Knurri suggests to color the eggs does business takes off and everybody is happy.
(source: University of Massachusetts (UMASS) - DEFA Film Library)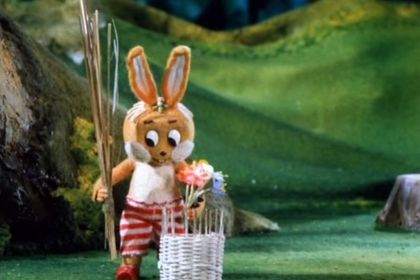 Film Crew
Production Design

Ulrike Röhricht
Eberhard Wiedrich

Design

Ulrike Röhricht (Puppengestaltung)

Animation

Jörg d'Bomba (Puppenführung)
Angela Klemm (Puppenführung)
Short Summary (German)
Knurri, der kleine Hase, und seine Familie wollen Eier auf dem Markt verkaufen. Auf dem Weg dahin bummelt Knurri und entdeckt erst spät, daß er Eier verloren hat. Ein gefräßiger Dachs verschlingt sie. Auf dem Markt will niemand der Hasenfamilie Eier abkaufen. Erst als Knurri hinzukommt und vorschlägt, die Eier mit Blumenfarbe bunt zu malen, kommt das Geschäft in Gang und alle freuen sich.
(Quelle: Die Trick-Fabrik. DEFA-Animationsfilme 1955-1990)