Königskinder
Director: Frank Beyer, 85 Min., Black-White, Feature Film
Deutsche Demokratische Republik (DDR)
DEFA-Studio für Spielfilme, 1962
Film/Video Format

35 mm

Length in m

2435

Other Title

Es waren zwei Königskinder; 6 Stunden

English Title

Star-Crossed Lovers

Premiere Date

Release Date (for Cinema)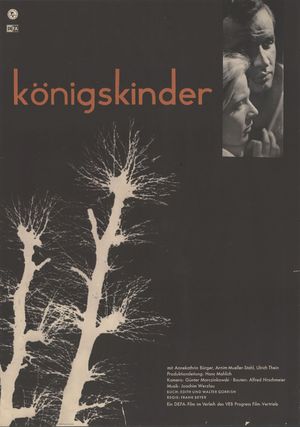 Short Summary (English)
Magdalena and Michael have loved each other since they were children. But when the Nazis come to power, Michael rebels against the regime and is sentenced to fifteen years in a concentration camp. Magdalena, meanwhile, goes underground with the help of a friend and later immigrates to the Soviet Union. Michael, who has joined the Red Army, discovers on the way to Moscow that Magdalena is staying there. But when his plane lands, she is already on her way back to Germany. Michael hopes that one day, he and Magdalena will be reunited.
Film Crew
Script

Edith Gorrish
Walter Gorrish

Camera

Günter Marczinkowsky
Karl Drömmer (2. Kamera)

Cast

Annekathrin Bürger (Magdalena)
Armin Mueller-Stahl (Michael)
Ulrich Thein (Jürgen)
Martina Noack (Magdalena als Kind)
Bernd Meding (Michael als Kind)
Joachim Scheyer (Jürgen als Kind)
Marga Legal (Mutter Seifert)
Charlotte Küter (Hanna Bartels)
Monika Lennartz (Katja)
Gertraud (auch: Trude) Kreißig (Lehrmädchen Ursula)
Natalja J. Iljina (Wera)
Talla S. Nowikowa (Pilotin)
Leonid P. Swetlow (Soldat Sascha)
Nikolai J. Lukinow (Sowjetischer Major)
Walter Lendrich (Schröter)
Günter Naumann (Soldat Herbert)
Fred Delmare (Soldat Albert)
Erik Veldre (Soldat Hans)
Manfred Krug (Hauptmann)
Erich Brauer (Röder)
Johannes Maus (Soldat Anton)
Waldemar Jacobi (Schuster)
Horst Jonischkan (Junger Soldat)
Senta Cordel (Frau auf dem Rummel)
Heinz Damaske (Kellner)
Paul Funk (Wirt im SA-Lokal)
Hans Flössel (Fahrgast)
Kurt Großer (Landser)
Klaus Gehrke (Landser / SA-Mann)
Freimut Götsch (Landser)
Peter Hill (Landser)
Maximilian Larsen (Chauffeur)
Gerhard Lah (Polizist)
Fred Ludwig (Soldat)
Rolf Losansky (Bayerischer Soldat)
Horst Lommatzsch (Fahrgast)
Heinz-Walter Mörke (Unteroffizier)
Frank Michelis (Mann auf dem Güterbahnhof)
Hans-Jürgen Plust (Junger Bursche)
Hans Sievers (Fahrgast)
Harald Quast (Stelzenläufer)
Hans-Günter Schmidt (SA-Mann)
Albert Zahn (SA-Mann)
Nico Turoff (Schiffsschaukelbesitzer)

Sound

Werner Blass (auch: Blaß)

Musical Performance

Thomanerchor, Leipzig (Lied: "Es waren zwei Königskinder", Leitung: Prof. Erhard Mauersberger)

Make-Up

Lothar Stäglich
Rosemarie Stäglich

Unit Production Management

Fried Eichel
Oskar Ludmann
Awards
XIII. Internationales Filmfestival Karlovy Vary (1962): Anerkennungsmedaille
Short Summary (German)
Magdalena und Michael, die "'Königskinder', die zusammen nicht kommen können", sind zwei Arbeiterkinder aus Berlin. Sie haben sich ewige Treue geschworen. Mit der Machtergreifung der Nazis wird ihre Liebe auf eine lange, harte Probe gestellt. Michael, der junge Maurer und Kommunist, der sich den Faschisten nicht beugt, wird zu 15 Jahren Zuchthaus verurteilt. Magdalena, die seine politischen Aktivitäten immer ängstlich betrachtet hat, tritt nun an seine Stelle. Als auch sie in Gefahr gerät, rettet Jürgen sie, ein ehemaliger Freund, der sich auf die Seite der SA geschlagen, aber sein Gewissen nicht verloren hat. Als Michael aus dem Lager in ein Strafbataillon gesteckt wird, trifft er Jürgen wieder, der es zum Unteroffizier gebracht hat. Gemeinsam liegen sie in den Schützengräben des Zweiten Weltkrieges, gemeinsam laufen sie zur Roten Armee über. Eines Tages, so hofft Michael, wird er Magdalena wiedersehen.
(Quelle: Das zweite Leben der Filmstadt Babelsberg. DEFA-Spielfilme 1946-1992)
Short Summary (Other Languages)
Magdalena e Michael, i "figli di re", sono due bambini di Berlino, figli di operai, che si sono giurati eterna fedeltà. L'avvento al potere dei nazisti mette a dura prova il loro amore. Michael, giovane muratore comunista, non piegandosi ai fascisti, viene condannato a 15 anni di prigione. Magdalena, che fino a quel momento aveva guardato con timore il suo attivismo politico, prende il posto di Michael. Di fronte al pericolo, la ragazza viene salvata da Jürgen, un vecchio amico entrato nelle SA ma senza perdere il buon senso. Jürgen, diventato sottoufficiale, e Michael s'incontrano al fronte. Michael spera di rivedere presto Magdalena. (Italienisch)