Küßchen und der General
Director: Wolfgang Bartsch, 69 Min., Black-White, Feature Film
Deutsche Demokratische Republik (DDR)
DEFA-Studio für Spielfilme, 1961
Film/Video Format

35 mm

Length in m

1899

Other Title

Die beiden Freunde

English Title

Little Kiss And The General

Release Date (for Cinema)
Short Summary (English)
A school boy called Punkt ("Dot") is the appointed leads the pioneer group of class 7b. But instead, his rude schoolmate General is in command. And General uses his power mainly to instigate the other children to mischief and pranks. The situation changes when new pioneer Küßchen joins the group. He is diligent, likes to do handicrafts and even has his own field telephone. To get across to the new boy that he is in command of the group, General and his gang set up a pitfall, but unfortunately for them it is not Küßchen who steps into the trap, but a lieutenant of the National People's Army. When likable Küßchen visits the injured soldier in the hospital, they become friends. The lieutenant even helps the children to set up an amateur radio station. That brings jealous General back to the scene. With a sly prank, he wants to score off Küßchen. But when his prank calls up the police, he proves that he can also be a loyal comrade.
(Quelle: filmportal)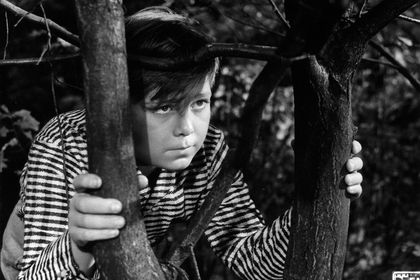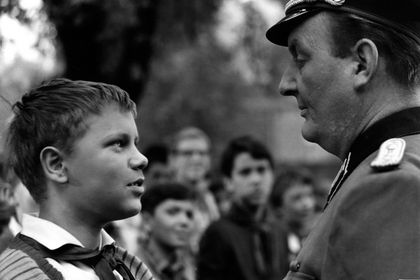 Film Crew
Script

Peter Brock
Wolfgang Bartsch

Cast

Bernd Kersten (Küßchen)
Rolf Furkert (General)
Axel Stage (Herbert)
Ingo Oldag (Pinguin)
Frank Lammla (Stulle)
Astrid Oldag (Renate)
Gudrun Wiesenberg (Punkt)
Gudrun Vogel (Mädchen mit Mundharmonika)
Jürgen Frohriep (Leutnant)
Helga Raumer (Frau Kuß)
Brigitte Lindenberg (Frau Höflich, Lehrerin der 7b)
Werner Senftleben (Hauptmann der Volkspolizei)
Dieter Bisetzki (Unteroffizier)
Wolfgang Kalweit (Funker)
Hans-Günter Schmidt (Funker)
Paul Funk (Hausmeister)
Rosemarie Schuldt (Lehrerin)
Walter E. Fuß (Besucher)
Hans-Ulrich Lauffer (Volkspolizist)
Erich Fritze (Wachhabender)
Alfhild Deleuil (Ältere Frau)
Werner Troegner (Obstverkäufer)

Make-Up

Karl Neuling
Christel Schwarzer

Unit Production Manager

Heinz Ullrich
Bruno Schlicht
Short Summary (German)
Die Gruppenratsvorsitzende der 7b, Punkt, hat einen schweren Stand, denn in der Klasse gibt General den Ton an - zu dummen Streichen. Da ist der Neue, Küßchen, ganz anders. Er bastelt gern, hat ein eigenes Feldtelefon. General und seine Clique wollen ihm eins auswischen und bauen eine Fallgrube, doch nicht Küßchen, sondern ein Leutnant der NVA stürzt hinein. Er bricht sich einen Arm, und Küßchen besucht ihn im Krankenhaus. Verrat - denken die anderen. Aber die beiden freunden sich an, und der Leutnant hilft den Kindern beim Bau einer Amateurfunkanlage. Der dazukommende General ist interessiert. Er verleitet Küßchen zum illegalen Funken, was die Polizei auf den Plan ruft. Und nun zeigt der General, daß er doch ein anständiger Kerl ist.
(Quelle: Das zweite Leben der Filmstadt Babelsberg. DEFA-Spielfilme 1946-1992)
Short Summary (Other Languages)
Punkt, che comanda il plotone 7b, si trova in una posizione difficile, perché in realtà è il Generale a dettar legge, incitando gli altri a delle marachelle. Küßchen, invece, il nuovo arrivato, è più coscienzioso. Con la sua cricca, il Generale vuole tendergli una trappola, in cui finirà tuttavia il sottotenente dell'Armata Popolare Nazionale. Küßchen lo va a trovare in ospedale. I due fanno amicizia e il sottotenente aiuta i bambini a costruire una radiotrasmittente amatoriale. Il Generale convince Küßchen a trasmettere illegalmente via radio. La polizia li scopre, ma il Generale darà prova di essere un bravo ragazzo. (Italienisch)