Lachtauben weinen nicht
Director: Ralf Kirsten, 82 Min., Color, Feature Film
Deutsche Demokratische Republik (DDR)
DEFA-Studio für Spielfilme, 1979
Film/Video Format

35 mm

Length in m

2259

Other Title

Die Feuerfesten

English Title

Ring Doves Don´t Cry

Premiere Date

Release Date (for Cinema)

Literary Source

Baierl, Helmut: "Die Lachtaube", Bühnenstück
Short Summary (English)
The film tells the story of the smelter brigade of a steel mill whose members are connected by a strong comradeship. Among the workers are, for instance, young Rolf, whom everybody just calls "Lachtaube" and who always comes through for his co-workers, or the likable Hubert, who works as a simple smelter again after being dismissed as the head of the steel mill. Then, there is also the stubborn Manfred, who should have become a brigadier long ago because of his experience and his competence, but this privilege is refused to him because Manfred is not a party member. Ironically, it is Manfred who hears by accident about the plans of the mill to close down the old Martin furnaces - and to lay off the smelters. When the other men learn about the plans they enter the barricades for their jobs and force the plant's management to face the workers' demands and criticism.
(Quelle: filmportal)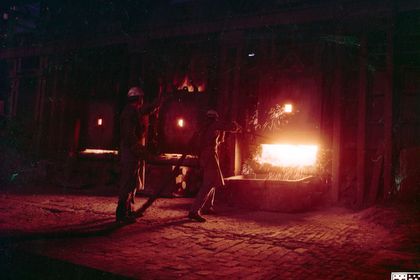 Film Crew
Cast

Uwe Kockisch (Rolf Ziener, "Lachtaube")
Günter Naumann (Hubert Zementhin)
Eberhard Mellies (Heinz Flatow)
Günter Junghans (Dr. Ing. Dörster)
Klaus Manchen (Enders)
Dieter Bellmann (Manfred Nasse)
Jürgen Kluckert (Dieter Krampe)
Jörg Panknin (Georg Fletscher)
Ernst-Georg Schwill (Schweyk)
Berndt Stübner (Karl-Heinz Barhaupt)
Eugeniusz Priwieziencew (Andri Brom)
Robert Pfeiffer (Werner Horscht)
Gert Gütschow (Eddi)
Herwart Grosse (Alfred Pöpel)
Waltraut Kramm (Pöpels Frau)
Werner Godemann (Wilhelm Heppner)
Ingeborg Westphal (Doris)
Barbara Trommer (Luise Becker)
Helga Ziaja (Zieners Freundin)
Christine Reinhardt (Heidi)
Dieter Montag (Hermann Becker)
Detlef Bierstedt (Gerd Riedel,, "Feuerglocke")
Eva-Sybille Edel (Jüngere Fahrerin)
Fred-Arthur (auch: Fred-Artur) Geppert (Pförtner)
Monika Hildebrand (Programmiererin)
Peter Kalisch (Pförtner)
Willi Neuenhahn (Volkspolizist)
Joachim Tomaschewsky (Leiter Wohnungsamt)
Jaochim Zietz (Lehrling)
Renate Hundertmark (Frau Flatow)
Theresia Wider (Sekretärin Kimball)
Petra-Angelika Solga (Susanne)
Christa Löser (Frau Schulze)
Anneliese Papke (Zugschaffnerin)
Peter Dommisch (Mitropa-Kellner)
Christian Balhaus (Programmierer)
Bärbel Beck (Frau Schweyk)
Brigitte Struwe (Eddis Frau)
Bärbel Wollenweber (Barhaupts Freundin)
Gertrud Adam (Frau Krampe)
Joachim Pape (Rascher)
Roland Kuchenbuch (Skatspieler)
Hans-Joachim Leschnitz (Skatspieler)
Manfred Dietzel (Wirt)
Ursula Menzel (Serviererin)
Petra Witte (Serviererin)
Kurt Fritsche (Musiker)
Dieter Fischer (Musiker)
Hans-Georg Heinrich (Musiker)
Kive Antonow (Musiker)
Dieter Erhardt (Musiker)
Paul-Gerhard Raspe (Ein Herr)
Michael Dejak (Ein Herr)
Victor Keune (Ein Herr)
Hans-Gotthilf Brown (Ein Herr)
Johannes Wagner (Ein Herr)
Jürgen Fortmann (Ein Herr)
Karl-Heinz Danowski (Ein Herr)
Gundula Kotscha (Mannequin)
Martina Resch (Mannequin)
Dagmar Henkel (Mannequin)
Monika Bäßler (Mannequin)
Angela Brunner (Frau Tunke)

Assistant Camera

Peter Bernhardt
Jürgen (auch: Hans-Jürgen) Hoeftmann

Sound

Gerhard Baumgarten
Helga Kadenbach

Make-Up

Lothar Stäglich
Rosemarie Stäglich

Unit Production Management

Karl-Heinz Marzahn
Walter Hunger

DEFA Photography

Jürgen (auch: Hans-Jürgen) Hoeftmann
Heinz (auch: Hein) Wenzel

Dubbing (Dubbing Actor)

Andrzej Pieczynski (Andri Brom)
Short Summary (German)
Eine Schmelzerbrigade eines Martin-Stahlwerkes. Zu ihr gehören unter anderem der junge Rolf Ziener, genannt Lachtaube, der sich einmischt, wenn etwas nicht in Ordnung ist; Hubert Zementhin, der als Leiter eines Werkes abgesetzt wurde und nun wieder Schmelzer ist; Manfred Nasse, der seinen Fähigkeiten entsprechend Brigadier sein müsste, aber es als Nichtgenosse nicht sein darf. Letzterem fällt eher zufällig das Intensivierungsprogramm des Werkes in die Hände, aus dem hervorgeht, dass ihre überalterten Martinöfen stillgelegt werden und damit ihre Arbeitsplätze verloren gehen sollen. Die Brigademitglieder sind empört, dass der Beschluss gefasst wurde, ohne mit ihnen zu sprechen. Sie verweigern die Arbeit und erzwingen eine Auseinandersetzung mit der Werkleitung, in der der Leitungsstil von Direktor Flatow scharf attackiert wird.
(Quelle: Das zweite Leben der Filmstadt Babelsberg. DEFA-Spielfilme 1946-1992)
Short Summary (Other Languages)
Rolf Ziemer, soprannominato tortora, è un fonditore che alza la voce ogni qual volta qualcosa in fabbrica non va. Un giorno un suo collega scopre casualmente che l'azienda ha intenzione di chiudere i vecchi forni e licenziare i fonditori. Gli operai sono indignati per la decisione unilaterale, decidono di scioperare, cercano lo scontro con la direzione e criticano aspramente il modo di lavorare del direttor Flatow. (Italienisch)