Leben in Wittstock
Director: Volker Koepp, 85 Min., Black-White, Documentary
Deutsche Demokratische Republik (DDR)
DEFA-Studio für Dokumentarfilme, 1984
Film/Video Format

35 mm

Length in m

2318

Other Title

Auch mein Betrieb

English Title

Life in Wittstock

Release Date (for Cinema)

Releases

DVD: absolut MEDIEN GmbH / www.absolutmedien.de
Short Summary (English)
Three women talk about their commitment at work in a textile factory and about their withdrawal into the private life in the small town. After the film's tape protocols were published in the FDJ magazine, the women were being observed.
Award of the Film Critics Association of the GDR, 1984, Silver Dove, 27th International Documentary and Short Film Festival, Leipzig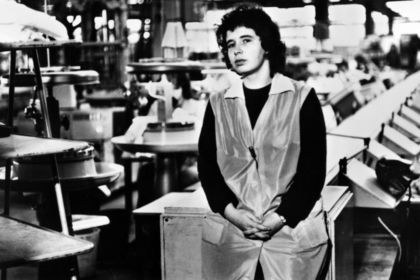 Film Crew
Script

Wolfgang Geier
Volker Koepp
Annerose Richter

Assistant Camera

Michael Loewenberg
Sebastian Richter
Awards
XXVII. Internationale Leipziger Dokumentar- und Kurzfilmwoche (1984): Silberne Taube
Prädikat (1984): Besonders wertvoll
Short Summary (German)
Der Film fasst die in den Jahren 1974 bis 1984 gedrehten Materialien zusammen. In Abständen von einigen Jahren äußern sich die 3 Filmheldinnen des VEB Obertrikotagenwerkes Wittstock nicht nur zu Problemen der Arbeit, sondern geben auch Auskunft über ihr privates Leben.