Leben zu zweit
Director: Herrmann Zschoche, 84 Min., Black-White, Feature Film
Deutsche Demokratische Republik (DDR)
DEFA-Studio für Spielfilme, 1967
Film/Video Format

35 mm

Length in m

2297

Other Title

Ein gewisses Mädchen; Wer liebt, wird sehen

English Title

Live for Two

Premiere Date

Release Date (for Cinema)
Short Summary (English)
Karin, who is in her mid-thirties, works as registrar but has been divorced for several years. Together with her 16-year old daughter Nora, she leads a happy and independent life. Then, she finds a new partner in the mathematician Peter, but does not tell her daughter about him. When Peter proposes marriage, Karin always comes up with new excuses why such a step is still too early for her. She mainly fears that Nora would not be able to cope with another marriage of her mother. But when Peter cannot be dissuaded anymore by her excuses and finally wants to marry her, Karin comes up with a bizarre plan - Peter is supposed to meet Nora "by coincidence", to win her sympathy, and to fall in love with her mother, also "by coincidence". But it does not take long until Nora sees through her mother's trick.
(Quelle: filmportal)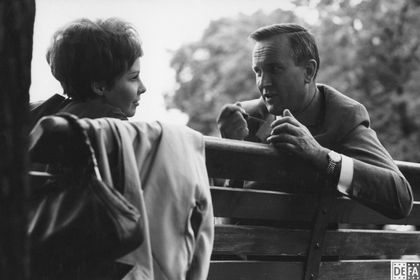 Film Crew
Cast

Marita Böhme (Karin Werner)
Alfred Müller (Peter Freund)
Evelyn Opoczynski (Nora Werner)
Jan Bereska (Mark)
Hanns-Michael Schmidt (Sascha)
Ilse Voigt (Frau Braun)
Marga Legal (Professorin Wolle)
Walter Lendrich (Bibliothekar)
Brigitte Lindenberg (Sekretärin)
Volkmar Kleinert (Klapproth)
Ildiko Malich (Noras Freundin)
Ingrid Pollow (16-Jährige)
Evelyn Wolf (Segebrecht)
Kurt Miesel (Dozent)

Music

Georg Katzer
Jürgen Pippig (Lied "Wir sind jung")

Sound

Joachim Preugschat
Eberhard Mierke

Musical Performance

Oktoberklub (Musikgruppe)

Make-Up

Christel Schwarzer
Helga Märtens

Unit Production Management

DEFA Photography

Klaus Goldmann
Jörg Erkens
Short Summary (German)
Die Standesbeamtin Karin, Mitte dreißig, seit langem geschieden, lebt mit ihrer 16-jährigen Tochter Nora allein. Sie hat sich daran gewöhnt, vor allem an die Unabhängigkeit, die sie nicht mehr aufgeben möchte. Ihr neuer Freund dagegen, der Mathematiker Peter, will die Ehe. Karin findet Ausreden, schiebt ihre Tochter vor, der sie eine solche Lebensversänderung nicht zumuten können. Doch Peter bleibt hartnäckig, und so ersinnt Karin einen etwas abwegigen Plan: Peter soll sich an Nora heranmachen, ihre Sympathie gewinnen, sich von ihr einladen lassen, um sich dann in die Mutter zu verlieben. Nora allerdings durchschaut nicht nur den Plan, sondern hat bereits eigene Liebesprobleme. Und so nimmt die Geschichte ihren eigenen - unplanmäßigen - Verlauf, bis zum Happy End.
(Quelle: Das zweite Leben der Filmstadt Babelsberg. DEFA-Spielfilme 1946-1992)