Lebende Ware
Director: Wolfgang Luderer, 97 Min., Black-White, Feature Film
Deutsche Demokratische Republik (DDR)
DEFA-Studio für Spielfilme, 1966
Film/Video Format

35 mm

Length in m

2638

English Title

Living Ware

Premiere Date

Release Date (for Cinema)

Releases

DVD: absolut MEDIEN GmbH / www.absolutmedien.de
Short Summary (English)
The movie is based on the true story of the business man Kurt Andreas Becher, albeit taking the liberty to change a few details. In 1944, SS-Obersturmbannführer (Senior Storm Unit Leader) Becher arrives in Budapest in order to obtain material for the Waffen-SS (Armed SS). At the same time, he starts to gather private property by offering an insidious choice to the corporation's Jewish majority shareholder, Dr. Chorin: Either Chorin assigns the company to Becker "on his own free will" - thereby obtaining the permission to travel abroad - or he his family will end up in an extermination camp. Chorin chooses survival. Following the slogan "People for Goods" Becher starts a roaring business and stashes away most of the money in Switzerland. After the war, he uses his millions to establish a couple of trading companies. In the Federal Republic of Germany he is never brought to justice for his atrocities.
(Quelle: filmportal)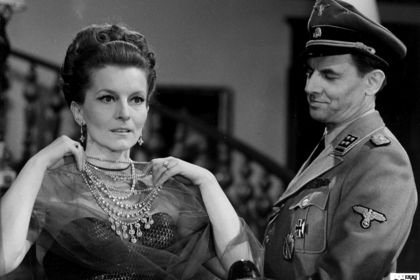 Film Crew
Script

Walter Jupé
Friedrich Karl Kaul
Wolfgang Luderer

Cast

Horst Schulze (Becher)
Marion van de Kamp (Gräfin)
Hannjo Hasse (Eichmann)
Siegfried Weiß (Chorin)
Wolfgang Greese (Kastner)
Peter Sturm (Mahlmann)
Erika Pelikowsky (Frau Mahlmann)
Rolf Hoppe (Grabau)
Thomas Weisgerber (Krumey)
Hannes Fischer (Wisliceny)
Wolfram Handel (Brand)
Albert Hetterle (Rathey)
Kurt Steingraf (von Freudiger)
Friedrich Richter (Stern)
Hans-Ulrich Lauffer (von Mauthner)
Ivan Malré (Endre)
Werner Dissel (Brody)
Genia Lapuhs (Frau Chorin)
Wolfgang Luderer (SS-Oberscharführer)
Horst Preusker (Franke-Griebsch)
Peter (auch: Eugen Peter) Herden (Wolf)
Rolf Ripperger (SS-Hauptscharführer)
Horst Gill (Ordonanz von Becher)
Walter Jupé (Himmler)
Martin Flörchinger (Gabor)
Albert Zahn (Unterscharführer Lohmann)
Gerhard Lau (SS-Scharführer)
Hans-Hartmut Krüger (SS-Unterscharführer)
Harald Moszdorf (Jüdischer Juwelier)
Harald Grünert (Jüdischer Juwelier)
Günther Ballier (Salinger)
Günter Sonnenberg (SS-Scharführer)

Assistant Director

Bärbel Engelberger
Hans-Hartmut Krüger

Make-Up

Karl Neuling
Renate Gürgen

Unit Production Management

Kurt Lichterfeldt
Klaus Hildebrand

DEFA Photography

Dieter Jaeger
Hans-Joachim (auch: Jochen) Zillmer
Short Summary (German)
Im Mittelpunkt dieses auf einem authentischen Fall basierenden Films steht die Vergangenheit des in der Bundesrepublik unbehelligt lebenden Geschäftsmanns Kurt Andreas Becher. 1944 nimmt der SS-Obersturmbannführer und Chef des SS-Ausräumkommandos in der Budapester Villa des Juden Dr. Chorin, Hauptaktionär eines Konzerns, Quartier. Er stellt Chorin vor die Alternative: Deportation in ein Vernichtungslager oder Rettung ins Ausland für alle Familienangehörigen der Aktionäre, wenn er Becher "freiwillig" den Konzern in Treuhand gibt. Chorin wählt das Leben. Für Becher ist dies der Anfang eines bestialischen Handels: Vermögen gegen Leben. Es gelingt ihm, den Leiter der zionistischen Bewegung Ungarns zu seinem Handlanger zu machen. Den größten Teil der Beute bringt Becher auf ein Schweizer Konto. Nach dem Krieg gelingt es ihm, alle Verfahren gegen ihn unbeschadet zu überstehen und mit den erbeuteten Millionen ein Unternehmen aufzubauen.
(Quelle: Das zweite Leben der Filmstadt Babelsberg. DEFA-Spielfilme 1946-1992)
Short Summary (Other Languages)
Prendendo spunto da una storia vera, il film racconta di come, nel 1944, un gerarca delle SS prende alloggio nella Villa dell'ebreo Dr. Chorin, principale azionista di un'azienda di Budapest. Fra la deportazione e la fuga all'estero assieme ai famigliari dei restanti azionisti a fronte di una cessione "volontariamente" dell'azienda al commerciante Kurt Andreas Becher, Chorin sceglie di vivere e Becher trasferisce tutta la ricchezza dell'azienda su un conto svizzero. Finita la guerra, Becher riesce a farla franca e con i milioni messi da parte, fonda una sua azienda. (Italienisch)