Lebensbedürfnis oder: Arbeit macht Spaß
Director: Sieglinde Hamacher, Color, Animation Film
Deutsche Demokratische Republik (DDR)
DEFA-Studio für Trickfilme, 1988 - 1989
Film/Video Format

35 mm

Length in m

86

Type of Animation

Zeichentrickfilm

Other Title

Lebensbedürfnisse

English Title

Basic Need, or Working is Fun

Release Date (for Cinema)
Short Summary (English)
A man energetically crushes stones into gravel with a hammer, while in another part of the workshop, a woman forms gravel into stone blocks with equal enthusiasm.
This film, which provides sarcastic commentary on the socialist planned economy, ironically won the Prize of the Council for Reciprocal Economic Support at the Leipzig Documentary and Short Film Week.
(source: University of Massachusetts (UMASS) - DEFA Film Library)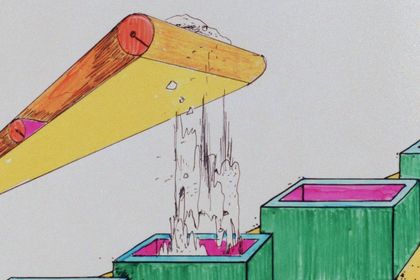 Short Summary (German)
Mit großem Engagement und körperlichem Einsatz zertrümmert ein Mann Steine zu Kies. Mit ebensolchem Eifer formt eine Frau daraus Steine. Die Steine werden von dem Mann erneut mit emsigem Bemühen zertrümmert...
(Quelle: Die Trick-Fabrik. DEFA-Animationsfilme 1955-1990)