Leuchtfeuer
Director: Wolfgang Staudte, 94 Min., Black-White, Feature Film
Deutsche Demokratische Republik (DDR), Schweden
DEFA-Studio für Spielfilme / A. B. Pandora Film, Stockholm, 1954
Film/Video Format

35 mm

Length in m

2599

Other Title

Fortunas letzte Reise; Insel ohne Hafen

English Title

The Beacon

Premiere Date

Release Date (for Cinema)
Short Summary (English)
On a barren and stormy island, fishing families eke out a meager existence on what they can catch during summer, and what washes ashore during winter. But little has been washing ashore of late, and their situation worsens. Elders recall how twenty years ago, when the lighthouse keeper's beacon went dark, a cargo ship broke apart on the cliffs. It proved a bountiful accident for the fishermen. Today people on the island view the conscientious lighthouse keepers with evil hungry eyes. One night a ship sends out a rescue signal: SOS - Transporting Children! The fishermen are aghast and run to their boots to save the people on board.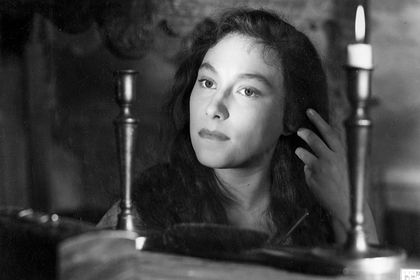 Film Crew
Script

Wolfgang Staudte
Werner Jörg Lüddecke

Cast

Leonhard Ritter (Leuchtturmwärter)
Horst Naumann (Mastfischer)
Waltraut Kramm (Frau des Mastfischers)
Jochen Thomas (Masträuber)
Ursula Kempert (Frau des Masträubers)
Friedrich Gnaß (Alter Mann mit Prothese)
Hans Klering (Kaufmann)
Ulrich von der Trenck (Schnapsfischer)
Maria Wendt (Frau des Schnapsfischers)
Kurt Oligmüller (Fischer)
Hans Schille (Fischer)
Johannes Schmidt (Fischer)
Frank Michelis (Netzflicker)
Julius Klee (Segelmacher)
Claus Peter Lüttgen (Sohn des Segelmachers)
Paul Pfingst (Fischer)
Erwin Wittmer (Fischer)
Martin Angermann (Fischer)
Alfred Struwe (Junger Fischer)
Heino Biesenthal (Kind)
Gertrud Seelhorst (Fischerin)
Lisa Wehn (Einfältige)
Barbara Adolph (Junge Mutter)
Ricarda Benndorf (Fischerin)
Else Korén (Fischerin)
Hela Gruel (Fischerin)
Elfriede Florin (Fischerin)
Irene Eisermann (Fischerin)
Maly Delschaft (Dame in der Küche)
Kurt Mikulski (Fischgroßhändler)
Lou Seitz (Frau des Fischgroßhändlers)
Alfred Maack (Kapitän der "Fortuna")
Herbert Richter (Betrunkener)
Joe Münch-Harris (Kunsthändler)
Heinz Kammer (Ausrufer)
Friedrich Richter (Kapitän der "Akra")
Heinz Keuneke (auch: Keunecke) (2. Offizier an Bord der "Akra")
Willi Schwabe (Geistlicher an Bord der "Akra")
Hans-Jürgen Jürgens (Rudergast an Bord der "Akra")
Horst Kube (Signalmatrose an Bord der "Akra")
Kurt Arndt (Matrose Wischnu an Bord der "Akra")
Gerhard Lau (Bootsmann an Bord der "Rico Pecos")
Raimund Schelcher (Betrunkener Matrose an Bord der "Rico Pecos")
Wolfgang Paulsen (Sänger)
Johannes Maus (Schmierer)
Harald Jopt (Matrose mit französichem Akzent an Bord der "Rico Pecos")
Willi Wietfeldt (Matrose an Bord der "Rico Pecos")
Johannes Rhein (Fremdländischer Matrose an Bord der "Rico Pecos")
Horst Wünsch (Junger Matrose an Bord der "Rico Pecos")
Thomas Ulkuo-Ungambi (Schwarzer Sänger)
Joe Schorn (Maschinist an Bord der "Rico Pecos")
Otto Lange (Kunde auf dem Weihnachtsmarkt)
Emil Leser (Kunde in der Kunsthandlung)
Otto Sommer (Kunde)
Walter B. Schulz (Bufettier)
Bruno Atlas-Eising (Heizer an Bord der "Rico Pecos")
Erwin Loraino (Heizer an Bord der "Rico Pecos")
Hermann Stetza (Heizer an Bord der "Rico Pecos")
Teddy Wulff (Heizer an Bord der "Rico Pecos")
Ellen Anders (Tante)
Maria Besendahl (Ältere Tante)
Harry Merkel (Vetter)
Egon Vogel (Verwandter)
Herbert Scholz (Signalmatrose)
Heinz Gerlach (Matrose)
Oswald Foerderer (Matrose)
Fritz Decho (Matrose)
Georg Helge (Matrose)
Hans Schwenke (Matrose)
Joachim Konrad (Matrose)
Karl Brenk (Matrose)
Lutz Götz (Matrose)
Heinz Laggies (Matrose)
Karl Block (Matrose)
Wladimir Marfiak (Matrose)
Gottfried Kala-Kinger (Schwarzer)
Mohamed Nagel (Schwarzer)
Jean Pauliard (Schwarzer)

Assistant Director

Peter Podehl
Siegfried Menzel

Costume Design

Walter Schulze-Mittendorff

Make-Up

Alois Strasser
Elfriede Kuster

Unit Production Management

DEFA Photography

Heinz (auch: Hein) Wenzel
Short Summary (German)
(Koproduktion DDR/Schweden)
Auf einer öden, sturmumtobten Insel im Atlantik fristen einige Fischerfamilien ihr karges Leben - im Sommer vom Fischfang existierend, im Winter vom Strandgut. Die Strandgutausbeute aber wird immer kläglicher, die Not größer. Die Älteren erinnern sich noch an eine Nacht vor zwanzig Jahren, als das Licht des Leuchtturms erlosch und ein Frachter auf die Klippen lief - für die Fischer ein Fest. Heute betrachten alle den gewissenhaften Leuchtturmwärter mit bösen, auffordernden Augen. Bis eines Nachts tatsächlich dessen Licht ausgeht. Ein Schiff verunglückt und sendet Notruf: SOS-Kindertransport. Die Fischer laufen entsetzt zu ihren Booten, um die Kinder und die Mannschaft zu retten. Der Leuchtturmwärter, der ihrem Drängen nachgegeben hatte, stellt sich dem Kapitän.
(Quelle: Das zweite Leben der Filmstadt Babelsberg. DEFA-Spielfilme 1946-1992)
Short Summary (Other Languages)
Su una desolata isola in mezzo all'Atlantico, alcune famiglie di pescatori conducono un'esistenza piuttosto misera, vivendo di pesca d'estate e d'inverno con quello che offre la spiaggia, sempre in balia di nuove tempeste. Gli anziani ricordano con nostalgia la volta in cui, senza la luce del faro, una nave mercantile si era arenata sulla spiaggia dell'isola - per i pescatori una manna dal cielo. Una notte, dopo insistenti pressioni, il guardiano del faro spegne la luce. L'SOS arriva questa volta da un'imbarcazione con a bordo dei bambini. I pescatori corrono a mettere in acqua le loro barche, per prestare soccorso, mentre il guardiano del faro si consegna al capitano. (Italienisch)