Levins Mühle
Director: Horst Seemann, 116 Min., Color, Feature Film
Deutsche Demokratische Republik (DDR)
DEFA-Studio für Spielfilme / Fernsehen der DDR, 1980
Film/Video Format

35 mm

Length in m

3213

English Title

Levin´s Mill

Premiere Date

Release Date (for Cinema)

Literary Source

Bobrowski, Johannes: "Levins Mühle", Roman

Releases

DVD: ICESTORM Entertainment GmbH / www.icestorm.de
Short Summary (English)
The film is set in the seventies of the previous century Germans, Poles, Romanies and Jews live next to each other in a small village in Western Prussia, near the Lower Weichsel. The wealthy German mill owner Johann refuses to allow the Jew Levin to grind grain in his boat mill.
Johann thinks his refusal is justified and he feels confident that the judiciary will be on his side because he is German. So one night he opens the weir and Levin's mill is washed away Johann does in fact succeed inasmuch as the courts decide against Levin, who subsequently leaves the village with his Romany girlfriend Marie. But the rich mill owner hasn't reckoned with the solidarity and sense of fairness of the other villagers. Differences of nationality are irrelevant in this case - the moral condemnation of Johann is universal. Resigned, he too now leaves the village to settle in the district town as a gentleman of leisure.
Source: Progress Film-Verleih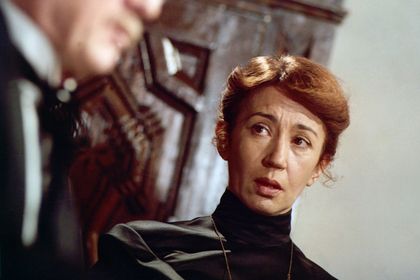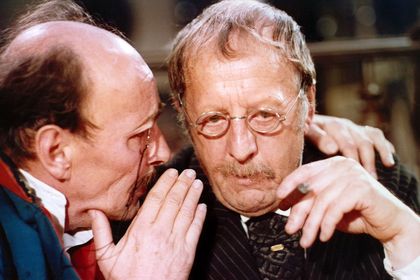 Film Crew
Cast

Erwin Geschonneck (Johann, deutscher Mühlenbesitzer)
Katja Paryla (Christina, Johanns Frau)
Christian Grashof (Levin)
Jonka Iliewa (Marie)
Fred Düren (Prediger Feller)
Käthe Reichel (Josepha, Prediger Fellers Frau)
Peter Slabakow (Habedank)
Andrzej Szalawski (Weiszmantel)
Rolf Ludwig (Scarletto)
Kalina Jedrusik (Antonia)
Eberhard Esche (Krolikowski)
Kurt Böwe (Philippi)
Dieter Franke (Willuhn, Lehrer a. D.)
Elsa Grube-Deister (Tante Huse)
Stefan Lisewski (Kaplan Rogalla)
Hans Teuscher (Polizeimeister Birfacker)
Leon Niemczyk (Korrinth)
Wirgiliusz Gryn (Nieswandt)
Herwart Grosse (Regierungspräsident von Bahr-Uckley)
Dieter Mann (Regierungsrat von Tittlack)
Iga Maria Cembrzynska (Frau Palm)
Horst Schulze (geb. 1921) (Pfarrer Glinski)
Kina Dashewa (Frau Glinski)
Gerry Wolff (Goethe)
Rolf Hoppe (Abdecker Froese)
Hans Klering (Fagin)
Ursula Karusseit (Frau Rosinke)
Carl Heinz Choynski (Gendarm Adam)
Werner Dissel (Plontke)
Wolfgang Greese (Richter Nebenzahl)
Günter Rüger (Sekretär Bonikowski)
Hannjo Hasse (Rittmeister von Lojewski)
Gerd Ehlers (Wiezorrek)
Wlodzimierz Borunski (Onkel Dowid)
Hanna Skarzanka (Tante Perel)
Michal Szwejlich (Onkel Sally)
Jozef Nalberczak (Gregor German)
Teresa Szmigielowna (Frau German)
Peter Köhncke (Gustav)
Sina Fiedler (Gustavs Frau)
Regine Albrecht (Ofka)
Hilmar Baumann (Innokentij)
Christoph Engel (König Boleslaw)
Hans-Eberhard Gäbel (Zygmunt II)
Andrzej Krasicki (Tethmeyer)
Ryszard Ostalowski (Tomaschewski)
Carlo Schmidt (Kossakowski)
Willi Schrade (Krzysztof)
Hanns-Jörn Weber (Polenske)
Werner Wieland (Strzegonia / Landrat von Drießler)
Berthold-David Kogut (Kaminski)
Simone Trettin (Frau Kaminski)
Walter Bensten (Flötist)
Karl Maschwitz (Tänzer)
Silvana Lauenberger (Kind Antonella)
Joachim Pape (Rocholl)
Edward Wichora (Rosinke)
Eckhard Müller (Palm)
Stefania Staszewska-Balbin (Tante Glickle)
Juliusz Kalinowski (Jan Marcin)
Pedro Hebenstreit (Knebelbärtiger)
Andrzej Cembinski (Lebrecht)
Roman Kosierkiewicz (Feierabend)
Gerd Staiger (Barkowski)
Roland Kuchenbuch (Koschorrek)
Szesław Seniuch (Stany)
Dietmar Sommer (Ragolski)
Peter Pauli (Fenske)
Leon Lochowski (Schmuggler)
Liane Kanitz (Schwägerin von Gustav)
Hans Heinrich Gülzow (Willitzki)
Theresia Wider (Frau Tomaschewski)
Hartmut Puls (Der Schweigsame)
Fritz Decho (Dicker Deutscher)
Willi Neuenhahn (Wagenführer)
Eckhard Becker (Zbylut)
Ulrich Kanakowski (Jescha)
Ulrich Anschütz (Promian)
Horst Seemann (Swist Powist)
Roman-Eckhard Gallonska (Mattern)
Hans-Gotthilf Brown (Wärter Szezesny)
Leonard Andrzejewski (Nachrichter)
Theresa Lassota (Waschfrau)
Fred Ludwig (Bürger)
Karin Beewen (Bürgerfrau)
Tadeusz Antoni Gwiazdowski (Pfarrer)
Antje Töpel-Neumann (Geistererscheinung)
Harald Hebenstreit (Tänzer)
Marie Pawlowa (Tänzerin)
Ursula Fischer-Maschwitz (Tänzerin)
Brigitte Struwe (Tänzerin)
Erika Schöne (Tänzerin)

Make-Up

Lothar Stäglich
Liddy (auch: Liddi; Lydia) Beyer
Margrit Neufink
Karl-Heinz Wolter
Rosemarie Stäglich

Unit Production Management

Karl-Heinz Marzahn
Walter Hunger

Dubbing (Dubbing Actor)

Barbara Brylska (Marie)
Ryszard Pietruski (Habedank)
Zygmunt Maciejewski (Nieswandt)
Gertraud (auch: Trude) Kreißig (Frau Glinski)
Gisbert-Peter Terhorst (Tomaschewski)
Janusz Paluszkiewicz (Stany)
Waltraut Kramm (Waschfrau)
Awards
2. Nationales Spielfilmfestival der DDR Karl-Marx-Stadt (1982): Spezialpreis für sein Engagement gegen Intoleranz und Chauvinismus - Horst Seemann
Short Summary (German)
In einem kleinen Dorf im Westpreußischen, nahe der unteren Weichsel, leben in den 1870er-Jahren Deutsche, Polen, Juden und Sinti und Roma nebeneinander. Der wohlhabende deutsche Mühlenbesitzer Johann leidet es nicht, dass der Jude Levin in seiner Bootsmühle auch Korn mahlt. Im Glauben, dass die Justiz auf Seiten der Deutschen sein wird, öffnet er nachts das Wehr und schwemmt Levins Mühle weg. Seine Rechnung aber geht nur zum Teil auf. Levin bekommt kein Recht und flieht resigniert mit seiner Freundin Marie, einer Sinti. Johann aber wird seines Lebens auch nicht mehr froh. Die anständigen Menschen des Ortes solidarisieren sich - über Nationalitätenunterschiede hinweg - und verurteilen ihn moralisch. Auch er verlässt den Ort und geht als Rentier in die Kreisstadt.
(Quelle: Das zweite Leben der Filmstadt Babelsberg. DEFA-Spielfilme 1946-1992)
Short Summary (Other Languages)
Negli anni Settanta del secolo scorso, tedeschi, polacchi, ebrei e gitani vivono assieme in un paesino della Prussia occidentale. Johann, ricco mugnaio tedesco, non sopporta che l'ebreo Levin macini il grano nel suo mulino ad acqua. Convinto che la legge stia dalla parte dei tedeschi, una notte solleva la diga che trascina via il mulino di Levin. Senza aver ottenuto giustizia, quest'ultimo lascia il paese con la gitana Marie. Indipendentemente dalla loro nazionalità, i restanti abitanti si coalizzano contro Johann, che sarà costretto a trasferirsi da pensionato in un altro villaggio. (Italienisch)