Lissy
Director: Konrad Wolf, 89 Min., Black-White, Feature Film
Deutsche Demokratische Republik (DDR)
DEFA-Studio für Spielfilme, 1957
Film/Video Format

35 mm

Length in m

2425

English Title

Lissy

Premiere Date

Release Date (for Cinema)

Literary Source

Weiskopf, Franz Carl: "Lissy", Roman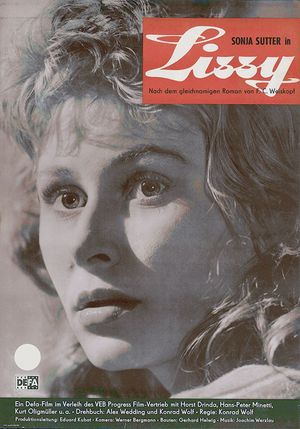 Short Summary (English)
Director Konrad Wolf looks back on 1932 to the beginnings of fascism. His heroine, Lissy, is an unstable, flighty character, from a social democratic household. Lissy's dreams of obtaining a higher social position are realized when she marries Alfred, a good-looking customer of the tobacconist shop in which she works. When Alfred loses his job, a friend encourages him to join the Nazi Storm Troopers (SA) and he accepts. Lissy and Alfred benefit from his new position, but Lissy is plagued by doubts over her husband's involvement in the SA. When her brother, a young communist also in the SA, is shot for his opposing political views, Lissy resolves to leaver her husband. Based on the novel of the same name by F.C. Weiskopf.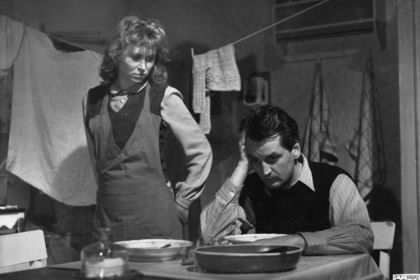 Film Crew
Script

Grete Weiskopf (Pseudonym: Alex Wedding)
Konrad Wolf

Camera

Werner Bergmann
Hans Heinrich (Kameraführung)

Cast

Sonja Sutter (Lissy)
Horst Drinda (Fromeyer)
Hans-Peter Minetti (Paul Schröder)
Kurt Oligmüller (Kaczmierczik)
Gerhard Bienert (Vater Schröder)
Else Wolz (Mutter Schröder)
Raimund Schelcher (Max Franke)
Christa Gottschalk (Toni Franke)
Mathilde Danegger (Erzählerin)
Horst Friedrich (Warnke)
Annemarie Hase (Frau Kaluweit)
Otto Eduard Stübler (Direktor Hoppe)
Willi Schwabe (Kassierer Gold)
Gerd Michael Henneberg (Staudinger)
Else Korén (Eine Frau)
Hela Gruel (Hausmeisterin)
Christiane von Trümbach (Hausmeisterin Engelmann)
Käte Alving (Nachbarin von Lissy)
Edith Klatt (Verkäuferin)
Georg Feicht (Dr. Danziger)
Klaus Erforth (Pauls Freund)
Walter E. Fuß (Mixer)
Axel Triebel (Fromeyers Hauswirt)
Wilhelm Gröhl (Geschäftsführer)
Karl-Heinz Weiß (Führer der SA-Staffel)
Augustin Kovacz (Scharführer)
Hans Waldemar Anders (Polizeioffizier)
Gerhard Rachold (Junger SA-Mann)
Erich Nadler (Frankes Nachbar)
Rolf Bergmann (RFB-Mann)
Rolf Ripperger (Fromeyers Kollege)
Siegfried Weil (Kellner im "Bierpalast")
Willi Dehnert (Schupo vor Bahnhof)
Hans Schwenke (Schupo)
Marga Haschker (Lissys Nachbarin)
Willy Linke (Ober im "Gartenlokal")
Erich Braun (Rausschmeißer)

Assistant Director

Frank Winterstein
Michael Englberger

Music

Joachim Werzlau
Jerzy Petersburski (Tango "Oh, Donna Clara")

Musical Performance

Solisten des DEFA-Sinfonieorchesters (Leitung: Fritz Guhl)

Unit Production Management

Gerhard Freudel
Horst Lockau
Erwin Rose
Awards
X. Internationales Filmfestival Karlovy Vary (1957): 3. Hauptpreis
Internationales Filmfestival der VI. Weltfestspiele der Jugend und Studenten Moskau (1957): Bronzemedaille
Short Summary (German)
Berlin 1932. Lissy ist die Tochter eines sozialdemokratischen Arbeiters und wohnt im Berliner Wedding. Sie möchte heraus aus dem elenden Milieu und arbeitet als Verkäuferin an einem Tabakstand in der Nähe des Kurfürstendamms. Einer der Kunden, der gut aussehende Angestellte Alfred Fromeyer, ist ihr sehr zugetan. Sie hofft, durch eine Heirat mit ihm den sozialen Aufstieg zu schaffen. Doch kaum ist ihr erstes Kind geboren, hat Fromeyer seine so sicher geglaubte Stellung verloren. Seine Verzweiflung und die Begegnung mit einem alten Freund führen ihn in die SA: In der braunen Uniform gelingt ihm - und damit auch seiner Frau - ein schneller "gesellschaftlicher Aufstieg" bis zum SA-Sturmführer. Lissy jedoch wird ob dieser Karriere von schmerzhaften Zweifeln geplagt. Ihr Bruder Paul, einst Jungkommunist, trägt nun auch die SA-Uniform. Seine Agitation gegen die rechten Kapitalisten allerdings passt den Nazis nicht ins neue Konzept. Er wird von seinen eigenen Kumpanen erschossen. Durch diesen Vorfall erkennt Lissy nun deutlich ihren fatalen Irrtum. Sie trennt sich von Fromeyer.
(Quelle: Das zweite Leben der Filmstadt Babelsberg. DEFA-Spielfilme 1946-1992)
Short Summary (Other Languages)
Año 1932 en Berlín. Lissy es la muchacha mas linda en el «Quick», un restaurante automatizado en las cercanias del Kurfürstendamm. Ella habita en una casa miserable de un patio trasero en el barrio obrero de Wedding y sueña con escapar de sus oscuros alrededores.
Ella gusta a los hombres y contrae matriomonio con el empleado Fredi Fromeyer. Su sueño de lograr ser una esposa en una posicion acomodada y de una vida alejada de las preocupaciones no serán satisfechos: su marido queda cesante, el dinero no alcanza, su hijo nace prematuro.
Su esposa ve su oportunidad en el movimiento fascista e ingresa en las SA (fuerzas de choque).
Tambien Paul, el hermano de Lissy, se cambia de los «rojos» a las SA. El será acusado de discrepancias y por sus propios grupos de choque asesinado.
Los burgeses que lograron llegar al poder desarrolan estrategias brutales ante las cuales Lissy se acobarda. Ella se separa de su marrido y se queda solo. (Spanisch)
(Konrad Wolf Retro, Goethe Institut 1992)
Nel 1932, per sfuggire a una vita piuttosto misera, Lissy, figlia di un operaio socialista, lascia il quartiere di Berlino Wedding per lavorare in una tabaccheria nei pressi del Kurfürstendamm. Alfred Fromeyer, bell'impiegato, s'innamora di lei. Sposandolo, Lissy spera di riuscire nella sua ascesa sociale. Ma dopo il primo figlio, Alfred perde il posto e, dopo aver incontrato un amico, si arruola nelle SA. Nell'arma fa una brillante carriera, che permette a lui e alla sua famiglia di avanzare socialmente. Anche Paul, giovane comunista fratello di Lissy, finisce per indossare l'uniforme delle SA. Le sue recriminazioni contro i capitalisti di destra non piacciono ai nazisti, che lo fucilano. Il tragico evento farà capire a Lissy di essersi sbagliata. Si separerà da Alfred. (Italienisch)