Lotte in Weimar
Director: Egon Günther, 119 Min., Color, Feature Film
Deutsche Demokratische Republik (DDR)
DEFA-Studio für Spielfilme, 1975
Film/Video Format

35 mm

Length in m

3400

English Title

Lotte In Weimar

Premiere Date

Release Date (for Cinema)

Literary Source

Mann, Thomas: "Lotte in Weimar", Roman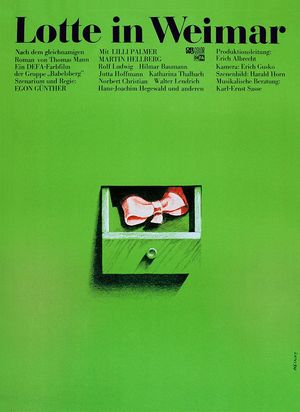 Short Summary (English)
On a late summer's day in 1816, Charlotte Kestner nee Buff, widow of a privy councillor, and her daughter arrive in Weimar and take lodgings at the inn "Zum Elephanten". Mager, the smart, well-read waiter, identifies Charlotte as "Lotte" from "The Sorrows of Werther", an early work by Goethe. Mager has nothing more urgent to do than spread this interesting novelty allover Weimar, which leads to many visitors turning up at the inn to visit "Lotte".: Dr. Riemer, who has a love-hate relationship with the genius Goethe, Adele Schopenhauer, a bright, selfconfident woman, Goethe's son August, and many others. These visitors prepare Charlotte for the forthcoming visit by the famous poet himself this encounter, however, takes a very different course from what she expected. The small world of Charlotte Kestner and the big, cosmopolitan world of Goethe hardly have any points of contact. Although the friend of her youth is attentive, polite and considerate, Lotte is taken aback by his aloof and distanced manner towards her. And she comes to realize that the time they shared in Wetzlar in the past was but one of many episodes...
Source: Progress Film-Verleih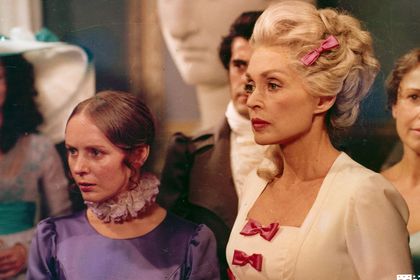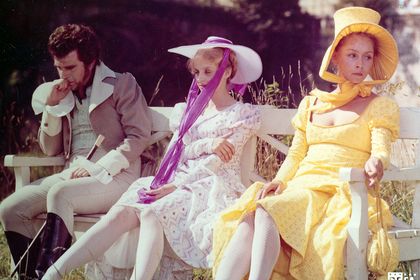 Film Crew
Cast

Lilli Palmer (Lotte)
Martin Hellberg (Goethe)
Rolf Ludwig (Kellner Mager)
Hilmar Baumann (Goethes Sohn August)
Jutta Hoffmann (Adele Schopenhauer)
Katharina Thalbach (Ottilie von Pogwisch)
Monika Lennartz (Lottes Tochter)
Norbert Christian (Prof. Meyer)
Hans-Joachim Hegewald (Dr. Riemer)
Walter Lendrich (Landkammerrat Ridel)
Dieter Mann (Diener Carl)
Angelika Ritter (Zofe bei Lotte)
Annemone Haase (Amalie Ridel)
Gisa Stoll (Frau Riemer)
Christa Lehmann (Frau Meyer)
Linde Sommer (Frau Kirms)
Sonja Hörbing (Frau Coudray)
Victor Deiß (Stephan Schütze)
Hans-Dieter Schlegel (Hofkammerrat Kirms)
Peter Köhncke (Oberbaurat Coudray)
Wilhelm Gröhl (Bergrat Werner)
Fred Delmare (Bauer)
Wolfgang Greese (Sergeant Rührig)
Thomas Neumann (Ferdinand Heinke)
Barbara Berg (Frau Elmenreich)
Ute Hübner (Miss Cuzzle)
Axel Triebel (Hausdiener)
Martina Wilke (Junge Lotte)
Hilmar Eichhorn (Junger Goethe)
Thomas Thieme (Kestner)
Hans-Gerd Schäfer (Kestner)
Detlef Heintze (Von Egloffstein)
Berko Acker (Rittmeister von Werthern-Wiese)
Rainer Etzenberg (Offizier)
Kurt Götz (Schmied)
Paul Arenkens (Doktor)
Gertrud Adam (Mädchen)
Thomas Schäfer (Bursche)
Klaus Powollik-Ronay (Bursche)
Hannes Stelzer (Polizist)
Horst Giesen (Polizist)
Fred Graeve (Polizist)
Irene Freymann (Frau von Pogwisch)
Frank Wuttig (Lehrling)
John Peet (Engländer)
Hans-Peter Körner (Prof. Passow)
Melchior Vulpius (Herzog Karl August)
Heinz Laggies (Kutscher)
Matthias Molter (Kastellan)
Joachim Uhlitzsch (Langer Merk)
Katharina Zschoche (12jähriges Mädchen)
Friedrich Teitge (Angestellter)
Werner Kanitz (Studienkamerad)
Gerd Zimmermann (Studienkamerad)
Jörg Gillner (Junger Offizier)
Jochen Diestelmann (Älterer Herr)
Beatrice Brandenburg (Annchen Brandt)
Birgit Edenharter (Dorthelchen Brandt)
Manuela Marx (Goethes Haustochter)
Ilse Voigt (Zofe bei Ridel)
Klaus Schleiff (Prof. Luden)
Klaus Manchen (Obertst Geismar)
Kurt Pehle (Diener)
Barbara Lotzmann (Enthusiastin)
Brigitte Ostrucnyak (Geschändete Frau)
Karli Schwarz (Bibliothekar)
Jochen Schwarzwald (Bibliothekar)
Bernd Czernowski (Soldat)
Peter Heiland (Soldat)
Elly Schäffner-Pierny (Alte Frau)
Ines Fischer (Julemuse)
Nadine Nelken (Museline)
Jaqueline Bleinagel-Ney (Lottes Schwester)
Petra Schäning (Lottes Schwester)
Timo Karossa (Lottes Bruder)
Marko Jahnke (Lottes Bruder)
Holger Menz (Lottes Bruder)
Juliane Schwanstecher (Lottes Schwester)

Music

Gustav Mahler (6. Sinfonie a-moll)
Karl-Ernst Sasse (Musikberatung)

Sound

Wolfgang Höfer
Gerhard Ribbeck

Musical Performance

Gewandhausorchester Leipzig (Leitung: Vaclav Neumann)

Make-Up

Günter Hermstein
Ursula Funk
Ingeborg Merten
Monika Mörke
Eberhard Neufink

Unit Production Management

Dieter Krüger
Karl-Heinz Rüsike
Theo Scheibler

DEFA Photography

Ingo Raatzke
Wolfgang Ebert
Awards
Cannes Film Festival (1975): Wettbewerbsteilnahme
Short Summary (German)
Im September 1816 kommt die Hofrätin Charlotte Kestner, geborene Buff, nach Weimar, einen Vorwand nutzend, um nach 44 Jahren ihre Jugendliebe wiederzusehen - Goethe, der sie durch "Die Leiden des jungen Werthers" unsterblich gemacht hat. Die Nachricht ihrer Ankunft spricht sich in Weimar schnell herum, der sie bewundernde Kellner Mager sorgt dafür. Neugierige Besucher stellen sich ein, alles fiebert auf die Begegnung zwischen dem jetzt 67-jährigen Dichterfürsten und der frühen Liebe aus Wetzlar. Das gemeinsame Essen im größeren Kreis ist geprägt von Goethes Zurückhaltung und unverbindlicher Liebenswürdigkeit sowie dem Eifer der Gäste, sich geistreich zu präsentieren. Durch Begegnungen wie mit Adele Schopenhauer bekommt Charlotte auch Kritisches über den Staatsmann Goethe zu hören. Allein mit Goethe hat sie ein kurzes Gespräch in der Kutsche nach einem Theaterbesuch. Sie reist in der Gewissheit ab, dass dieses Kapitel ihres Lebens endgültig abgeschlossen ist.
(Quelle: Das zweite Leben der Filmstadt Babelsberg. DEFA-Spielfilme 1946-1992)
Short Summary (Other Languages)
Brillante adaption du livre de Thomas Mann sur les retrouvaiiles de Goethe et de l'héroine des "Souffrances de jeune Werther". (Französisch: Cinémathèque française 2003)
Nel settembre del 1816, Chartlotte Kestner, nata Buff, si reca a Weimar per rivedere a distanza di 44 anni Goethe, suo amore di gioventù, che con il suo "I dolori del giovane Werther" aveva ottenuto il successo internazionale. La notizia del suo arrivo si diffonde presto in tutta la città. I due s'incontrano dapprima durante una cena, a cui partecipa anche Adele Schopenhauer, critica nei confronti di Goethe, e, più tardi, a teatro. Charlotte riparte da Weimar con la convinzione di avere ormai chiuso questo capitolo della sua vita. (Italienisch)