Lütt Matten und die weiße Muschel
Director: Herrmann Zschoche, 79 Min., Black-White, Feature Film
Deutsche Demokratische Republik (DDR)
DEFA-Studio für Spielfilme, 1963
Film/Video Format

35 mm

Length in m

2169

English Title

Little Matten And The White Shell

Premiere Date

Release Date (for Cinema)

Literary Source

Pludra, Benno: "Lütt Matten und die weiße Muschel", Kinderbuch

Releases

DVD: ICESTORM Entertainment GmbH / www.icestorm.de
Short Summary (English)
The fisher boy Matten wants to imitate the adults and sets out with his little weir to catch some fish. When he fails, he becomes the laughing stock of the other children and some adults as well. Only his little friend Mariken sticks by him. To prove himself, Matten puts himself in great danger. In search of a white sea shell which, according to legend, attracts shoals of fish by its singing, he sets out to sea at night. He gets caught up in a storm and the fishermen's big weirs turn out to be a death trap when the boy gets stuck in them. Rescue comes in the form of his father and his friends. When his father realizes that he did not spend enough time with Matten, he wants to make up for his mistakes and helps him build a new weir. Suddenly, Matten is even able to catch fish.
(Quelle: filmportal)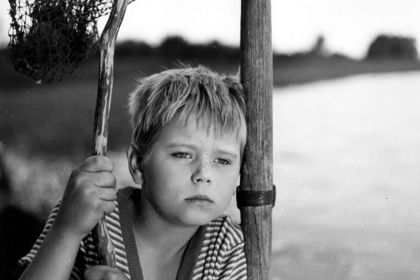 Film Crew
Script

Benno Pludra
Herrmann Zschoche

Cast

Lutz Bosselmann (Lütt Matten)
Heike Lange (Mariken)
Joachim Krause (Kaule)
Erik S. Klein (Vater)
Johanna Clas (Mutter)
Otto Saltzmann (Großvater)
Herbert Köfer (Badegast)
Herbert Sturm (Junger Fischer)
Ernst Striesow (Fischer)
Hans Heisler (Fischer)
Hans Hübner (Fischer)
Harry Studt (Badegast)

Assistant Camera

Hans-Joachim (auch: Jochen) Zillmer

Sound

Joachim Preugschat
Werner Klein

Unit Production Management

DEFA Photography

Hans-Joachim (auch: Jochen) Zillmer

Dubbing (Dubbing Actor)

Michael Herbst (Lütt Matten)
Günter Kollwitz (Kaule)
Short Summary (German)
Der Fischerssohn Lütt Matten hat sich eine eigene Reuse gebaut, fängt aber keinen Fisch. Enttäuscht und von den Erwachsenen verspottet, fährt er nachts auf den Bodden hinaus, um die weiße Muschel zu suchen. Von ihr sagt man, dass sie die Fische herbeizaubert. Aber ein Sturm kommt auf und der Junge verfängt sich in den großen Reusen. Die Fischer retten ihn. Unter ihnen ist auch der Vater, der jetzt langsam begreift, dass er sich zu wenig um seinen Sohn gekümmert hat. Er baut zusammen mit Lütt Matten und dessen kleiner Freundin Mariken eine neue Reuse. Und nun gehen endlich die Aale ins Netz.
(Quelle: Das zweite Leben der Filmstadt Babelsberg. DEFA-Spielfilme 1946-1992)
Short Summary (Other Languages)
Lütt Matten, figlio di un pescatore, si è costruito la sua nassa, con cui tuttavia non riesce a pescare. Deluso e deriso dagli adulti, una notte lascia la baia per cercare la conchiglia bianca, capace di attirare i pesci. Travolto da una tempesta, il ragazzo viene ripescato da un gruppo di pescatori, fra cui anche suo padre. Riconoscendo di aver trascurato il figlio, lo aiuterà a costruire una nuova nassa. (Italienisch)