Männer ohne Bart
Director: Rainer Simon, 81 Min., Black-White, Feature Film
Deutsche Demokratische Republik (DDR)
DEFA-Studio für Spielfilme, 1971
Film/Video Format

35 mm

Length in m

2224

Other Title

Klassenfest

English Title

Men Without Beard

Premiere Date

Release Date (for Cinema)

Literary Source

Kant, Uwe: "Das Klassenfest", Roman

Releases

DVD: ICESTORM Entertainment GmbH / www.icestorm.de
Short Summary (English)
In his daydreams, 15-year old Otto is a real hero who masters dangerous situations by the dozen. But in reality, the rather imaginative ninth grader has trouble moving up to the next grade. Fortunately, his teacher Nickel notices that Otto does not lack intelligence, but the ability to use his imagination for the requirements of everyday school life. Together with school director Menschke, Nickel tries to change Otto's attitude. Although this is easier said than done, Otto eventually realizes that he has to try to build his cloud-castles only after school has ended. And his teacher is going to support him in his attempts.
(Quelle: filmportal)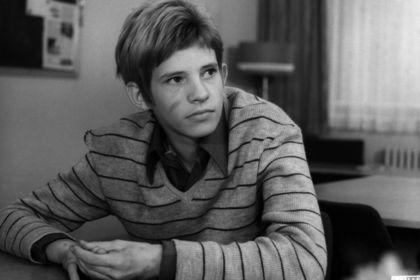 Film Crew
Cast

Hermann Beyer (Lehrer Nickel)
Manfred Böhm (Otto Hintz)
Käthe Reichel (Frau Hintz)
Dieter Franke (Direktor Menschke)
Gerd Grasse (Blaustock)
Barbara Döbel (Hannchen)
Petra Thierbach (Margot Zeidler)
Angelika Witzsch (Carla Anton)
Jürgen Hruska (Christoph Höhne)
Peter Schmidt (Rudi Helm)
Rolf Hoppe (Gangster)
Erdmute Schmid (Fräulein Kunschus)
Margot Busse (Rita)
Ursula Staack (Rosi Schucht)
Horst Hiemer (Richard)
Günter Zschäckel (Kalle)
Ostara Körner (Tante Grete)
Kurt Radeke (Onkel Kuhnat)
Heinz-Karl Konrad (Mann im Zug)

Make-Up

Britta Kersten
Dieter Wagner

DEFA Photography

Dietram Kleist
Dieter Lück
Rudolf Meister
Short Summary (German)
Der 15jährige Otto Hintz, Schüler einer 9. Klasse, hat eine blühende Phantasie, sieht sich gefährliche Situationen bestehen und außergewöhnliche Leistungen vollbringen. In Wirklichkeit ist er mit seinen schlechten Schulnoten versetzungsgefährdet. Nicht nur Lehrer Nickel weiß, daß dies nichts mit mangelhafter Intelligenz zu tun hat. Vielmehr fällt es dem vielseitig interessierten Otto schwer, seine Phantasie mit den Forderungen des Alltags in Übereinstimmung zu bringen. Schulleiter Menschke führt das Problem auf den Punkt: Wie bringen wir den Schüler Hintz dazu, seine Aufmerksamkeit gerecht und nutzbringend zu verteilen, zwischen Schule und Vögelfangen? Otto weicht der Frage aus, aber er hat einiges begriffen. Und Nickel, der die Lage des Jungen gut nachvollziehen kann, wird sein Bestes tun, ihm zu helfen.
(Quelle: Das zweite Leben der Filmstadt Babelsberg. DEFA-Spielfilme 1946-1992)
Short Summary (Other Languages)
Il quindicenne Otto Hintz ha una fervida immaginazione, che lo porta a sentirsi invincibile quando, in realtà, non è altro che un pessimo alunno che rischia la bocciatura. L'insegnante Nickel sa che lo scarso rendimento scolastico del ragazzo non è un problema d'intelligenza. Riuscendo a immedesimarsi molto bene nella sua situazione, farà del suo meglio per aiutarlo. (Italienisch)