Märkische Forschungen
Director: Roland Gräf, 96 Min., Color, Feature Film
Deutsche Demokratische Republik (DDR)
DEFA-Studio für Spielfilme, 1981
Film/Video Format

35 mm

Length in m

2625

English Title

Exploring the Mark Brandenburg

Premiere Date

Release Date (for Cinema)

Literary Source

de Bruyn, Günter: "Märkische Forschungen", Erzählung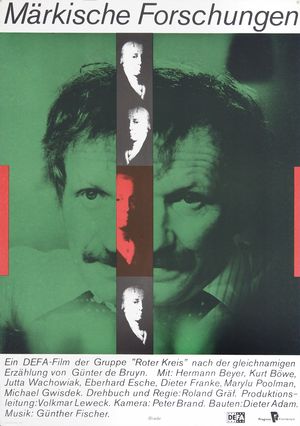 Short Summary (English)
On a forest road in the Brandenburg March, village teacher Potsch accidentally encounters the distinguished Professor Menzel, who got stuck there in his car. In the conversation that ensues, Menzel and Pötsch quickly discover that they both are great admirers of the early 19th-century writer Max von Schwedenow who was born in the area.
Menzel believes finally to have found a co-worker and fellow-combatant for his research; he offers Potsch an assistant professorship. The teacher is delighted and feels honoured by the understanding and kindness of the renowned scholar. Full of hope, he looks forward to entirely new life circumstances linked to his new area of work.
However; the more deeply Pötsch gets involved in his research on the March writer; the more he discovers that Max von Schweden ow in fact had been an extremely progressive author in his youth, but later he became a renegade and traitor to his previous principles. However,
the aim of Menzel's research is a one-sidedly positive image of the writer. If Pötsch now publicized his discoveries, Menzel's work would not only be questioned, but would not be worth a penny. The professor; who has power and connections, discards his irksome assistant.
Source: Progress Film-Verleih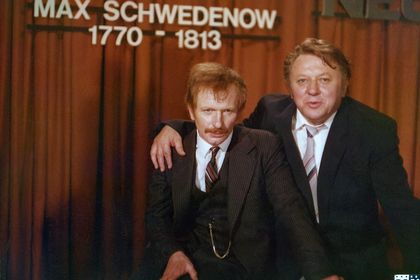 Film Crew
Film Editing

Monika Schindler (geb. Behrendt)

Cast

Hermann Beyer (Pötsch)
Kurt Böwe (Prof. Menzel)
Jutta Wachowiak (Frau Pötsch)
Dieter Franke (Fritz)
Gertrud (auch: Trude) Bechmann (Oma Alwine)
Eberhard Esche (Bradtke)
Marylu Poolman (Frau Eggenfels)
Michael Gwisdek (Dr. Albin)
Simone von Zglinicki (Frau Unverloren)
Horst Schulze (geb. 1921) (Lepetit)
Günter Schubert (Stämmiger)
Christa Löser (Frau Segebrecht)
Jaecki Schwarz (Offizier)
Barbara Dittus (Frau Menzel)
Hilmar Baumann (Minister Fritz)
Doris Thalmer (Frau Spießbauch)
Joachim Tomaschewsky (Historiker)
Walter Lendrich (Älterer Bibliothekar)
Carl Heinz Choynski (Erschöpfter)
Thilo Braune (Ludwig)
Katrin Pfau (Dorette)
Kai Rennebarth (Stefan)
Helmut Raddatz (Fotograf)
Sina Fiedler (Journalistin)
Joachim Pape (Bibliotheksleiter)
Klaus Schönberg (Schriftsteller)
Hanswerner (auch: Hannswerner) von Gehr (Germanist)
Horst Papke (Lehrer)
Roland Kuchenbuch (Lehrer)
Theresia Wider (Lehrerin)
Dietmar Sommer (Institutsfahrer)
Lothar Förster (Schmaler)
Ruth Glöss (Geschiedene Frau von Menzel)
Elli Jessen-Somann (Mutter von Menzel)
Kai Krause (Sohn von Menzel)
Angela Brunner (Dolmetscherin)
Hendrik Karpinski (Sohn des Historikers)
Ronald Reuter (Musiker)
Jochen Diestelmann (Ein Herr)
Jürgen Freiheit (Ein Herr)
Günter Falkenau (Ein Herr)
Hans-Joachim Finke (Theatermann)
Horst Lebinsky (Wirt im Dorfkrug)
Johannes Maus (Schulhausmeister)

Assistant Director

Irene Weigel (geb. Ulrich; auch: Maetzig)

Assistant Camera

Ingo Raatzke
Waltraut Pathenheimer

Sound

Klaus Heidemann
Gerhard Ribbeck (Tonmischung)

Costume Design

Barbara Braumann (geb. Müller)

Make-Up

Klaus Becker
Waltraud Becker
Christine Steinfelder

Props

Hans-Olaf Böttcher
Ernst Drechsel

Unit Production Management

Giselher Venzke
Henry-Michael Zielske
Awards
2. Nationales Spielfilmfestival der DDR Karl-Marx-Stadt (1982): Schauspielerpreis - Hermann Beyer
2. Nationales Spielfilmfestival der DDR Karl-Marx-Stadt (1982): Schauspielerpreis - Kurt Böwe
2. Nationales Spielfilmfestival der DDR Karl-Marx-Stadt (1982): Preis für Szenographie - Dieter Adam
2. Nationales Spielfilmfestival der DDR Karl-Marx-Stadt (1982): Preis des Filmclubs (Der Findling) für den wirkungsvollsten Film
Short Summary (German)
Der angesehene Berliner Professor Winfried Menzel hat einen vergessenen märkischen Dichter, Max von Schwedenow, wiederentdeckt. Bei einer Reise trifft er den Landlehrer Pötsch und muss überrascht feststellen, dass der ebenfalls auf Schwedenows Spuren forscht und beinahe mehr weiß als er selbst. Er bietet Pötsch eine Zusammenarbeit nebst Assistentenstelle in Berlin an. Pötsch ist begeistert. Bei seiner Forschung stößt er auf Ergebnisse, die das revolutionäre Bild, das Menzel von Schwedenow gezeichnet hat, infrage stellen. Er hat entdeckt, dass der in seiner Jugend progressive Schwedenow später als reaktionärer Zensor der preußischen Regierung gearbeitet hat - unter anderem Namen. Menzel will, dass Pötsch das ignoriert, um sein eigenes Werk nicht zu gefährden. Als Pötsch darauf beharrt, nutzt Menzel seine Position, um ihn zu Fall zu bringen. Pötsch sucht weiter wie ein Besessener nach dem letzten Beweis.
(Quelle: Das zweite Leben der Filmstadt Babelsberg. DEFA-Spielfilme 1946-1992)
Short Summary (Other Languages)
Winfried Menzel, esimio professore berlinese, riscopre il poeta Max von Schwedenow, caduto nel dimenticatoio. Anche Pötsch, semplice insegnante di campagna, è affascinato dallo stesso autore, che conosce a menadito. Menzel gli offre dunque un posto da assistente a Berlino. Durante le sue ricerche, Pötsch scopre alcuni fatti che mettono in discussione l'immagine rivoluzionaria del poeta. Quello che in gioventù era stato il progressista von Schwedenow, aveva finito per lavorare come reazionario censore per il governo prussiano. Pur di evitare che queste informazioni trapelino, Menzel sfrutta la sua posizione per eliminare Pötsch, che continuerà le sue ricerche, per riportare alla luce la verità. (Italienisch)
Une comédie sérieuse d'après la nouvelle de Günter de Bruyn.
Un jour, dans la Marche de Brandenbourg, deux hommes se rencontrent; c'est l'instituteur de village Ernst Pötsch et le professeur de lettres et d'histoire Winfried Menzel. A leur grand étonnement, ils se découvrent un amour commun; c'est l'amour d'un écrivain allemand tombé dans l'oubli et qui vivait dans la Marche au début du 19ème siècle. Le professeur considère que son ouevre relève de la tradition progressiste de l'histoire allemande.
Une amitié s'amorce dans l'enthousiasme, on projette de travailler ensemble. Pötsch, encouragé à écrire, voudrait faire part au professeur d'une découverte sensationelle. Ses recherches confirment ce qu'il soupçonnait en secret depuis longtemps: Max von Schwedenow, c'est Maximilian von Massow. Mais cette découverte a un inconvénient. Elle éclaire d'un jour nouveau cet écrivain allemand respecté qui, en prenant de l'âge, a renié les idées de sa jeunesse et changé de nom, tandis qu'il se compartait de manière répugnante vis-à-vis d'étudiants révolutionnaires, les dénonçant et les traitant de jacobins. Ainsi était détruit le mythe d'un héros exemplaire et le livre de Menzel , résultat de dix années de traivail, se trouvait périmé avant même de paraître. Pour cette raison, deux hommes qui voulaient devenir amis ses retrouvèrent ennemis. Pour Menzel, tous les moyens sont bons pour empêcher que cette découverte ne soit rendue publique, même s'ils portent préjudice à la société. Pötsch, par contre, passionné par l'écrivain et obsédé par l'idée de faire toute la vérité sur lui, ne peut comprendre que l'on place sa réputation personelle avant l'amour de la vérité; il croira jusqu'au bout pouvoir faire changer le professeur d'avis. Quel qu'en soit pour lui le prix ... (Französisch)
(source: 33. Internationale Filmfestspiele Berlin 1983 Dokumentation)