Mama, ich lebe
Director: Konrad Wolf, 103 Min., Color, Feature Film
Deutsche Demokratische Republik (DDR)
DEFA-Studio für Spielfilme, 1976
Film/Video Format

35 mm

Length in m

2820

Other Title

Fragen an ein Foto

English Title

Mama, I'm Alive

Premiere Date

Release Date (for Cinema)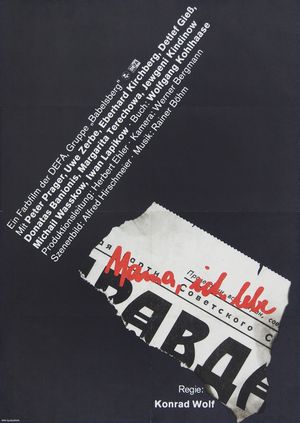 Short Summary (English)
In a Russian P.O.W. camp, four young Germans determined to end the Second World War exchange their uniforms for those of the Red Army and travel to the frontlines. Their new Russian comrades are unsure whether to accept them. When given a mission behind German lines, only three agree to go. Those three find themselves unprepared to fire upon their countrymen, and it costs them the life of a fellow soldier. In the meantime, the man who remained in Russia falls in love with a radio operator named Swetlana. After much criticism from the other Russians, he too agrees to the mission.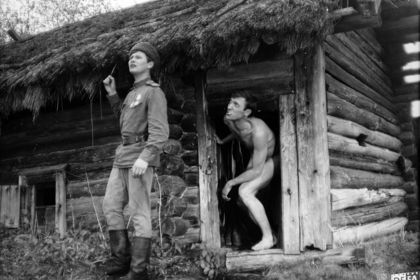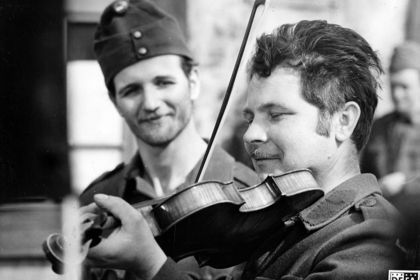 Film Crew
Script

Wolfgang Kohlhaase
Konrad Wolf

Cast

Peter Prager (Becker)
Uwe Zerbe (Pankonin)
Eberhard Kirchberg (Koralewski)
Detlef Gieß (Kuschke)
Donatas Banionis (Mauris)
Margarita Terechowa (Swetlana)
Jewgeni Kindinow (Glunski)
Michail Wasskow (Kolja)
Iwan Lapikow (General)
Bolot Bejschenalijew (Kirgisischer Oberst)
Jewgeni Efimowitsch Schutow (Sauna-Offizier)
Swetlana Krjutschkowa (Teemädchen)
Sergej Sholtikow (Bandonionspieler)
Sergej Jegoschin (Popyschkin)
Blagoi Itscherenski (Setzer)
Pawel Saizew (Kuhbauer)
Ljuda Issakowa (Lisotachka)
Anatoli Rudakow (Adjutant)
Juri Djedowitsch (Oberstleutnant)
Eve Kostova-Neuwirt (Tatarin)
Sergej Gordejew (Offizier)
Albert Saprudski (Offizier)
Olga Pawlowa (Mädchen im Zug)
Dmitri Nesterow (Junge im Zug)
German Koluschkin (Kartoffelfahrer)
Anatoli Papanow (Lopatkin)
Martin Trettau (Kosel)
Wiktor Uralski (Starschina)
Walter Ruge (Antifa-Lehrer)
Klaus Gehrke (Antifa-Schüler)
Uwe Steinbruch (Antifa-Schüler)
Jürgen-Michael Watzke (Antifa-Schüler)
Christoph Heckel (Antifa-Schüler)
Gerald Schaele (Antifa-Schüler)
Eugen Albert (Torfstecher)
Gerd Blahuschek (Linge)
Jürgen Graf (Rattmann)
Erich Löwel (Egerer)
Sinowi Loktinow (Offizier im Schnee)
Norbert Christian (Schober)
Thomas Neumann (Mann in Lederjacke)
Jürgen Hentsch (Panzeroffizier)
Peter Pauli (Sterbender)
Ernst Meincke (Schmidt)
Dieter Montag (Deutscher Leutnant)
Gennadi Kuzero (Fliegerleutnant)
Gordon Maitheng (Engländer)

Assistant Director

Doris Borkmann (Assistenzregie)

Script Editing

Wolfgang Beck
Günter Klein
Klaus Wischnewski
Dieter Wolf

Make-Up

Lothar Stäglich
Rosemarie Stäglich

Unit Production Management

Werner Teichmann
Ralph Retzlaff

Consulting

Wolfgang Beck
Günter Klein
Klaus Wischnewski
Dieter Wolf

Dubbing (Dubbing Actor)

Jürgen Frohriep (Becker)
Ulrich Anschütz (Torfstecher)
Gisbert-Peter Terhorst (Rattmann)
Peter Friedrichson (Egerer)
Awards
Kunstpreis des FDGB (1977): Kunstpreis des FDGB - Werner Bergmann
Kunstpreis des FDGB (1977): Kunstpreis des FDGB - Wolfgang Kohlhaase
Kunstpreis des FDGB (1977): Kunstpreis des FDGB - Konrad Wolf
Short Summary (German)
Ein Kriegsgefangenenlager in der Sowjetunion. Vier junge Deutsche tauschen ihre Uniform, um an der Seite des ehemaligen Feindes für eine schnellere Beendigung des Krieges zu kämpfen. In sowjetischer Uniform fahren sie mit ihrem Betreuer im Zug an die Front. Den Mitreisenden bleibt nicht lange verborgen, dass sie Deutsche sind. Für sie ist es nicht einfach, mit der neuen Identität fertigzuwerden. Im Lager wurden sie von einigen Kameraden als Verräter bezeichnet. Das Verhalten der sowjetischen Soldaten ihnen gegenüber ist unterschiedlich. Einige sind unsicher, andere betrachten sie als Gleiche. An der Front angekommen, müssen sie sich entscheiden, ob sie einen Auftrag hinter den deutschen Linien übernehmen. Einer bleibt zurück. Die anderen gehen in den Wald, um sich auf den Partisanenkampf einzustellen, und begegnen plötzlich abgeschossenen deutschen Fliegern. Sie sind nicht fähig, auf die Deutschen zu schießen; ihren Betreuer Kolja kostet dies das Leben. Sein Tod löst große Betroffenheit bei ihnen aus. In der Zwischenzeit haben sich der zurückgebliebene Deutsche und die sowjetische Funkerin Swetlana ineinander verliebt. Sie hält zu ihm, obwohl er von einigen Russen kritisiert wird. Schließlich entscheidet auch er sich für den Einsatz.
Filmtext: Mama, ich lebe. Ein Drehbuch von Wolfgang Kohlhaase. In Film und Fernsehen 1977/5.
(Quelle: Das zweite Leben der Filmstadt Babelsberg. DEFA-Spielfilme 1946-1992)
Short Summary (Other Languages)
Seconde Guerre mondiale, front oriental. Quatre jeunes Allemands, prisonniers dans un camp soviétique, sont choisis pour effectuer une mission au coeur des lignes allemandes. (Französisch: Cinémathèque française 2003)
Ce film montre la difficulté d'être allemand et anti-fasciste à la fin de la 2ème Guerre Mondiale. Les héros du film sont des anti-fascistes allemands, à la recherche de leur identité. Ils ont été libérés et rééduqués par les soviétiques afin qu'ils comprennent bien les raisons et les conséquences de la catastrophe allemande. les 4 membres du groupe "Panokin" vont changer leurs uniformes de la Wehrmacht pour ceux de l'Armée rouge. (Französisch: Archives Seine Saint Denis)
Quattro giovani tedeschi decidono d'indossare l'uniforme del nemico per contribuire a una rapida risoluzione della guerra. Con l'uniforme sovietica si recano al fronte. Alcuni camerati li guardano come traditori e anche i soldati sovietici li trattano ognuno in modo diverso. Arrivati al fronte, devono decidere se accettare un incarico dietro la linea tedesca. Uno di loro desiste. Incontrando nel bosco dei piloti tedeschi, i ragazzi si rifiutano di sparare. Nello scontro perde la vita Kolja, il loro accompagnatore. Nel frattempo il soldato rimasto al fronte si è innamorato della radiotelegrafista Swetlana. Nonostante lei stia dalla sua parte, il ragazzo decide di entrare in azione. (Italienisch)