Mein Vater Alfons
Director: Hans Kratzert, 73 Min., Color, Feature Film
Deutsche Demokratische Republik (DDR)
DEFA-Studio für Spielfilme, 1980
Film/Video Format

35 mm

Length in m

1997

English Title

My Father Alfons

Premiere Date

Release Date (for Cinema)

Literary Source

Ebert, Günter: "Mein Vater Alfons", Erzählung
Short Summary (English)
Ten-year old Ernst wants to go on a bicycle tour with his father Alfons. But their plan seems to fall through when Ernst's mother tells them that they have to go to a wedding anniversary in the Ore Mountains. Eventually, sad Ernst can persuade his mother of a compromise: He and his father are allowed to travel to the party by bicycle. The two "men" know scarcely that the long way from Mecklenburg to the Ore Mountains has a lot of surprises for them in store. On their way, they have to free a parachute bride who unfortunately landed with her wedding dress in a tree from her awkward situation. The date of the wedding anniversary is coming closer and closer, but the Ore Mountains are still far away. Eventually, Alfons und Ernst receive unexpected help and spectacularly arrive at the party.
(Quelle: filmportal)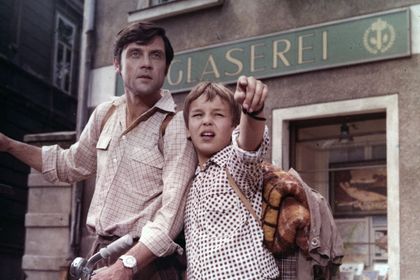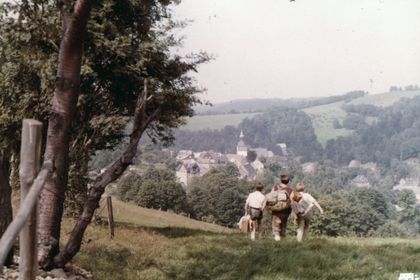 Film Crew
Cast

Jürgen Huth (Alfons Markgraf)
Jan King Lauschus (Ernst Markgraf)
Petra Hinze (Margot Markgraf)
Fred Delmare (Dixi-Mensch)
Wolfgang Greese (Erfinder Kieselmeier)
Günter Schubert (Wirt Zastrow)
Kareen Schröter (Susanne Markgraf)
Andreas Hirschfeld (Wilfried)
Ursula Christowa-Staack (geb. Staack) (Elise Bierbach)
Marga Legal (Dalien-Dame)
Christa Scheuner (Brunhilde Zastrow)
Jaecki Schwarz (Hoteldirektor)
Viola Schweizer (Braut)
Herbert-Wolfgang Krause (Bräutigam)
Horst Beeck (Maxe Flugauf)
Steffie Spira (Jubilarin)
Johannes Wieke (Jubilar)
Gerd Blahuschek (Leutnant Breitfuß)
Wilhelm Gröhl (Egon Rammler)
Ernst-Georg Schwill (Glaser)
Arnim Mühlstädt (Portier)
Jens Albert (Kind Udo)
Marina Waligora (Krankenschwester)
Babette Jahns (Kind Katrin Zastrow)
Herbert Manz (Schrankenwärter)
Eva Schäfer (Ria Leineweber)
Herbert Ambach (Kurt Leineweber)
Heinz Peter Linse (GST-Sportler)
Jochen Diestelmann (Diplomat)
Günter (auch: Günther) Götze (Diplomat)
Peter Sippach (Diplomat)
Hans Feldner (Diplomat)
Wolfgang Zschäckel (Junges Ehepaar (Mann))
Ilona Wruck (Junges Ehepaar (Frau))
Marco Lerbs (Dreikäsehoch)
Gela Götze (Schwimmerin)

Assistant Camera

Ulrich Jänchen
Dieter Lück

Scenario

Günter Ebert
Hans Kratzert

Sound

Günter Springer
Helga Kadenbach

Make-Up

Bernhard Schlums
Franziska Berger

Unit Production Management

Günter Berger
Herbert Ambach
Short Summary (German)
Der zehnjährige Ernst will mit seinem Vater Alfons eine Fahrradtour machen, doch die Mutter bestimmt, dass sie alle gemeinsam zur Goldenen Hochzeit nach Seifertsgrün fahren. Schließlich lässt sie sich erweichen, dass die beiden mit dem Fahrrad fahren dürfen, wenn sie versprechen, pünktlich anzukommen. Ernst und Alfons machen sich auf den Weg - von Mecklenburg ins Erzgebirge. Es wird eine Reise mit vielen Hindernissen und abenteuerlichen Erlebnissen, denn Alfons greift überall ein, wo Hilfe gebraucht wird. Unter anderem rettet er eine Fallschirmspringerbraut, die in ihrem Hochzeitskleid in einem Baum gelandet ist. So rückt der vereinbarte Zeitpunkt immer näher, und Vater und Sohn sind von Seifertsgrün noch weit entfernt. Aber auch sie bekommen Hilfe und landen mit einem Flugzeug an der Festtafel.
(Quelle: Das zweite Leben der Filmstadt Babelsberg. DEFA-Spielfilme 1946-1992)
Short Summary (Other Languages)
Il piccolo Ernst vorrebbe fare una gita in bicicletta con suo padre, ma la madre ha già deciso che per le nozze d'oro tutta la famiglia andrà in viaggio a Seifertsgrün. Ritornando sui suoi passi, autorizza la gita a patto che Ernst e Alfons arrivino puntuali a Seifertsgrün. Durante il loro tour in bicicletta padre e figlio incapperanno in molti ostacoli e avventure, ma con un pizzico d'aiuto arriveranno puntuali al banchetto. (Italienisch)