Meine Frau macht Musik
Director: Hans Heinrich (geb. 1911), 88 Min., Color, Feature Film
Deutsche Demokratische Republik (DDR)
DEFA-Studio für Spielfilme, 1958
Film/Video Format

35 mm

Length in m

2501

Other Title

Solo zu viert, Sag es mit Musik

English Title

My Wife Makes Music

Premiere Date

Release Date (for Cinema)

Releases

DVD: ICESTORM Entertainment GmbH / www.icestorm.de
DVD: Fernsehjuwelen GmbH / www.filmjuwelen.de
Short Summary (English)
Having been happily married for ten years, Gerda Wagner, devoted mother and housewife, suddenly gets it into her head that she would like a career as a pop star. She had singing lessons in the past and her voice is still beautiful. A chance meeting with the idolized Italian singer Fabiani, revives her stage fever - much to the annoyance of her husband Gustl Wagner, head of the records section at a department store. But Gerda is determined not to give up her wish and goal even though Gustl begins to suffer from sleeplessness and also becomes hooked on alcohol. In a state of total intoxication, he turns up at the variety show in which Gerda is having great success. Gustl even gets onto the stage - the audience at first takes this to be an accomplished burlesque intermezzo. But then things become quite turbulent...
Eventually Gustl realizes that his wife really does not want to do anything but make music, that his jealousy is therefore entirely unfounded and that his good, happy marriage is not at risk in any way.
Source: Progress Film-Verleih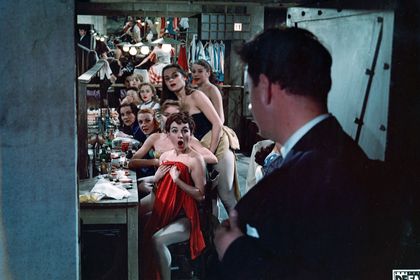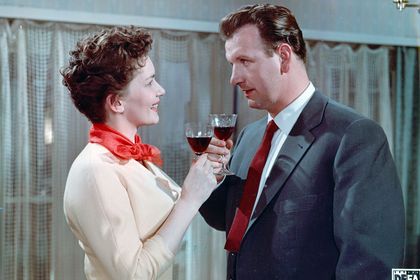 Film Crew
Director

Hans Heinrich (geb. 1911)

Script

Hans Heinrich (geb. 1911)

Camera

Eugen Klagemann
Karl Drömmer (2. Kamera)

Cast

Lore Frisch (Gerda Wagner)
Günther Simon (Gustl Wagner)
Axel Dietrich (Rigi)
Guido Thielsch (Sigi)
Maly Delschaft (Susi Rettig)
Alice Prill (Eva Rettig)
Herbert Kiper (Fritz Rettig)
Evelyn Künneke (Daisy)
Alexander Hegarth (Lorenzo Fabiani)
Mario Lerch (Francesco)
Lou Seitz (Jette)
Kurt Schmidtchen (Arthur Papke)
Paul Heidemann (Direktor Nielsen)
Else Korén (Frau des Hutkäufers)
Alfred Maack (Alter Pförtner)
Hans Klering (Hutkäufer)
Paul R. Henker (U-Bahnkontrolleur)
Walter E. Fuß (Barmixer)
Guido Goroll (Mann in Loge)
Katina Imme (Katharina)
Ruth Kommerell (Verkäuferin am Papierwarenstand)
Genia Lapuhs (Autogrammjägerin)
Werner Lierck (Kunde)
Hannelore Lottis (Nummerngirl)
Ingeborg Naß (auch: Nass) (Direktrice)
Dieter Perlwitz (Kunde)
Heinz Schubert (Spießer)
Nico Turoff (Theaterdiener)
Brigitte Stroh (Verkäuferin)
Sabine Nebauer (Stubenmädchen)
Friedrich Teitge (Bühnenarbeiter)
Hans Schwenke (Alter Artist)
Wolf Lucas (Kunde)
Christiane von Trümbach (Zuschauerin)
Gerd Michael Henneberg (Mann in Loge)
Karl-Heinz Weiß (Zuschauer)
Friedrich Wilke (Genießer)
Hilde Püsch (Spießerin)
Albert Zahn (Spießer)

Sound

Gerhard Wiek
Günter Lambert (Musikton)

Musical Performance

Gitta Lind (Gesang (Gerda Wagner))
Klaus Groß (auch: Gross) (Gesang (Lorenzo Fabiani))
Ping-Pongs (Musikgruppe)
Rundfunk-Tanzorchester Leipzig (Leitung: Kurt Henkels)
Horst Fischer (Trompete (Solist))
Großes DEFA-Orchester
Hanhausen-Sextett (Musikgruppe)
Hemmann-Quintett (Musikgruppe)
Trio Harmonie (Musikgruppe)
Ballett der Komischen Oper Berlin
Manon Damann (Tanz (Solistin))
Wladimir Marof (Tanz (Solist))
Werner Höllein (Tanz (Solist))
Ballett des Friedrichstadt-Palastes Berlin
Ballett Brasiliana

Make-Up

Lydia Braatz
Stefan Jezierski

Unit Production Management

Design

Gertrud Steinweg (Choreografie (Ballett der Komischen Oper Berlin))
Jens Keith (Choreografie (Ballett des Friedrichstadt-Palastes Berlin))
Short Summary (German)
Nach zehnjähriger glücklicher Ehe kommt es Gerda Wagner, Mutter zweier Kinder, plötzlich in den Sinn, eine Karriere als Schlagersängerin zu versuchen. Eine zufällige Begegnung zwischen der ehemaligen Gesangsschülerin mit noch immer schöner Stimme und dem umschwärmten italienischen Sänger Fabiani ließ den alten Traum wieder aufleben. Nun setzt sie alles daran, ihn zu verwirklichen - sehr zum Ärger ihres Gatten Gustl, Leiter der Schallplattenabteilung eines Warenhauses. Ihn treibt die Eifersucht auf Fabiani zum Alkohol, und der wiederum treibt ihn zum Varieté, in dem Gerda bereits großen Erfolg hat. Mit seinem "Auftritt" richtet Gustl einigen Trubel an, bis er am Ende erkennt, dass es seiner Frau wirklich nur um die Musik und nicht um Fabiani geht.
(Quelle: Das zweite Leben der Filmstadt Babelsberg. DEFA-Spielfilme 1946-1992)
Short Summary (Other Languages)
Gerda Wagner, felicemente sposata da dieci anni e madre di due figli, decide improvvisamente di riprendere la sua carriera di cantante. Il fortuito incontro con il corteggiato cantante italiano Fabiani potrebbe permetterle di realizzare il suo sogno. E mentre Gerda s'impegna per farsi conoscere, suo marito Gustl, direttore del reparto dischi di un grande magazzino, geloso di Fabiani si da all'alcol e irrompe nel varietà dove sua moglie sta riscuotendo grande successo. La sua "performance" crea una gran confusione e Gustl dovrà riconoscere che sua moglie è veramente interessata alla musica e non a Fabiani. (Italienisch)