Mit mir nicht, Madam!
Director: Roland Oehme, Lothar Warneke, 94 Min., Color/Black-White, Feature Film
Deutsche Demokratische Republik (DDR)
DEFA-Studio für Spielfilme, 1968
Film/Video Format

35 mm

Length in m

2576

Other Title

Unser Mann

English Title

Not To Me, Madam!

Premiere Date

Release Date (for Cinema)
Short Summary (English)
Accompanying a CDR fashion team, journalist Thomas takes a plane to an haute couture festival in an exclusive Mediterranean seaside resort. A French Padre, who could be mistaken for Thomas's twin brother, is a fellow passenger. Precisely for this reason, the journalist is plunged into the most extraordinary and very precarious situations.
In fact, Thomas is confused with a French fashion designer, a thorn in the flesh of his competitors from Rome and London, who therefore try to eliminate him. Even the "boss" of the English "gang", a certain Miss Mabel, tries to seduce him with her feminine charms. But especially in this respect, Thomas is not susceptible as he is in love with charming Eva, whose uncle, however keeps a very watchful eye on her.
Finally the self-styled Padre reveals himself as the couturier in question and Thomas even manages to save him from his competitors and pursuers. He boards the home-bound plane as a "hero" and is bowled over when Eva turns out to be one of the fight attendants.
Source: Progress Film-Verleih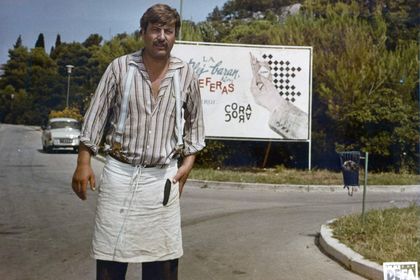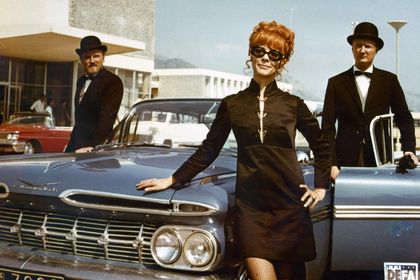 Film Crew
Director

Roland Oehme
Lothar Warneke

Script

Wolfgang Ebeling
Rolf Römer (auch: Rolf Specht)

Camera

Peter Krause
Hans-Joachim Reinicke

Cast

Rolf Römer (auch: Rolf Specht) (Thomas und Padre)
Annekathrin Bürger (Engländerin Mabel Patrick)
Krystyna Mikolajewska (Eva)
Rolf Herricht (Hasselhuhn)
Milivoje Popovic-Mavid (Menzano)
Etta Cameron (Carol X)
Enrico Bonaterra (Othello)
Alfredo Lugo (Cesare)
Manfred Krug (Evas Onkel; Portier; Schafhirt; Barkeeper; Bautruppenführer; Flugkapitän; Schwarzer; Zigeunerprimas)
Peter Dommisch (Bob)
Milan Bosiljcic-Beli (Bill)
Edwin Marian (Josef)
Annemarie Brodhagen (Team-Chefin)
Bosic Boscovic (Taxifahrer)
Maria-Lore Walter (Mannequin)
Ingrid Lungwitz (Mannequin)
Birgit Hegewald (Mannequin)
Elizabeth Grabacs (Mannequin)
Karin Beewen (Barfrau)
Monika Reeh (Mädchen)

Costume Design

Inge Kistner
Heinz Bormann (Exklusivmodelle und Modenschau)

Unit Production Management

DEFA Photography

Peter Bernhardt
Klaus Zähler
Short Summary (German)
Der Journalist Thomas Ahrens reist mit einer DDR-Delegation zu einem internationalen Modefestival. Doch statt seiner Arbeit nachgehen zu können, muss er sich im wahrsten Sinne des Wortes seiner Haut erwehren. Er wird mit einem französischen Couturier verwechselt, den die Konkurrenz aus London und Rom auszuschalten versucht. Clever entzieht er sich den Angriffen, gibt auch dem mit raffinierten Mitteln vorgehenden weiblichen Boss der englischen "Gentlemen", Miss Mabel, das Nachsehen. Und er verliebt sich auch noch in die von ihrem Onkel scharf bewachte hübsche Eva, die er am Ende sogar bekommt. Den echten Franzosen, der inzwischen enttarnt wurde, rettet er zu guter Letzt vor seinen finsteren Konkurrenten.
(Quelle: Das zweite Leben der Filmstadt Babelsberg. DEFA-Spielfilme 1946-1992)
Short Summary (Other Languages)
Con una delegazione della RDT il giornalista Thomas Ahrens si reca a un incontro internazionale dedicato alla moda. Scambiato per un famoso stilista francese, che minaccia la supremazia della moda londinese e romana, Ahrens dovrà respingere diversi attacchi. Alla fine salverà anche il vero stilista, ma verrà ricompensato dall'amore della bella Eva. (Italienisch)