Mohr und die Raben von London
Director: Helmut Dziuba, 95 Min., Black-White, Feature Film
Deutsche Demokratische Republik (DDR)
1968
Film/Video Format

35 mm

Length in m

2604

English Title

Moor And The Ravens Of London

Premiere Date

Release Date (for Cinema)

Literary Source

Korn, Ilse; Korn, Vilmos: "Mohr und die Raben von London", Roman
Short Summary (English)
London in 1856. Karl Marx is living in exile in the British capital. One day, "Mohr", as Marx is called by his friends, meets the 13-year old worker's son Joe. The boy works every day for twelve hours in a spinning mill and even has to work night shifts although that violates current rules. Marx tries to end the illegal activities of the spinning mill owner and one night shows up at the mill together with an inspector. But his foray is undermined by a robbery by the rebellious raven gang that is led by Joe's brother Billy. The spinning mill owner of course takes this chance to blame his young workers for the theft. But Marx is not let astray and does not stop to fight against child labour. Furthermore, he tries to get the members of the raven gang back on the straight and narrow - with success.
(Quelle: filmportal)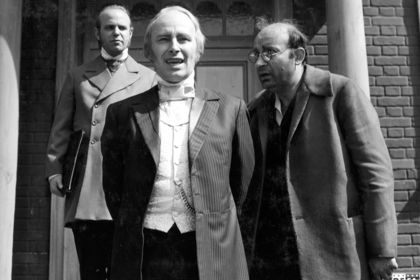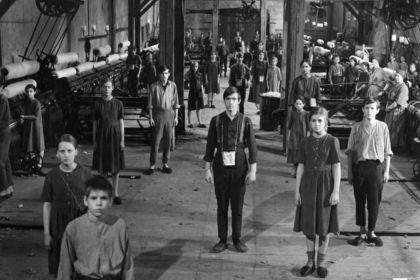 Film Crew
Cast

Alfred Müller (Karl Marx)
Barbara Adolph (Jenny Marx)
Marina Propp (Laura Marx)
Christina Daum (Jenny Marx)
Mathias Redweik (Edgar Marx)
Barbara Dittus (Lenchen Demut)
Helmut Straßburger (Friedrich Engels)
Thomas Karl (Joe Kling)
Ruth Kommerell (Mary Kling)
Wolfgang Sasse (Vater Kling)
Ina Merkel (Becky)
Peter Reusse (Billy, der King)
Axel Dietrich (Spely)
Jörg George (Jim)
Jörg Gillner (Oliver)
Manfred Richter (Jack)
Wolfgang Greese (Bell)
Hannjo Hasse (Mr. Cross)
Gerry Wolff (Collins)
Christoph Engel (Mr. Cuttle)
Siegfried Fiebig (Black)
Herbert Körbe (Dr. Webbs)
Walter Lendrich (Anderson)
Siegried Weiß (Mr. Ender)
Albert Zahn (Potter)
Gudrun Lenski (Kat)
Karin Ensslen (Sally)
Frank Laskus (Richard)
Michael Naumann (Macky)
Detlef Sommer (Jimmy)
Hans Hardt-Hardtloff (Patt, der Pfandleiher)
Ezard Haußmann (Cellist)
Hans Klering (Schaffner)
Frank Michelis (Wächter)
Hannes Stelzer (Smith)
Hans-Rudolf Schwarze (Burner)
Hildegard Friese (Höckerin)
Rose Becker (Eine Frau)
Heide Kipp (Eine Frau)
Eugen Eschner (Junger Mann)
Gerhard Rachold (Betrunkener)
Willy Schmitz (Schaffner)
Ulrich Anschütz (Ein Geck)
Uwe Schmidt (Ein Geck)
Kurt Schmengler (Kassierer)
Rolf Hoppe (Bankier)
Friedrich Teitge (Lakai)
Otto Krieg-Helbig (Wackelwirt)
Emmi Thomassen (Dame mit Hündchen)

Assistant Director

Doris Borkmann (Assistenzregie)

Scenario

Margot Beichler
Gudrun Deubener (geb. Rammler)

Make-Up

Günter Hermstein
Inge Merten
Hans-Günter Schulz

Unit Production Management

Manfred Peetz
Karl-Heinz Marzahn

DEFA Photography

Detlef Hertelt
Heinz (auch: Hein) Wenzel
Klaus Zähler
Awards
Nationalpreis III. Klasse (1969): Schauspielerisches Gesamtschaffen sowie für die Marx-Rolle in "Mohr und die Raben von London" den Nationalpreis III. Klasse - Alfred Müller
Short Summary (German)
London 1856. Karl Marx, von seinen Freunden "Mohr" genannt, lebt in der englischen Hauptstadt im Exil. Er lernt den 13-jährigen Arbeiterjungen Joe kennen, der zwölf Stunden täglich in einer Spinnerei arbeitet - auch in Nachtschicht, obwohl das Gesetz Nachtarbeit für Kinder untersagt. Joes Bruder Billy versucht mit seiner "Rabenband", der Ausbeutung auf eigene Weise zu entgehen: durch Stehlen. Eines Nachts taucht Marx mit einem Inspektor in der Spinnerei auf, um das Recht der Kinder durchzusetzen. Er ermutigt die Jungen, über ihre Lage zu sprechen. Einen Diebstahl, den kurz darauf die "Rabenbande" begeht, schieben die Unternehmer den "Aufsässigen" in die Schuhe. Marx setzt sich für sie ein und nimmt sich auch der "Rabenbande" an. Er überzeugt sie von der Sinnlosigkeit ihres Handelns und zeigt ihnen den einzig richtigen Weg. Bei einem Streik der Arbeiter sind dann auch die Jungen dabei.
(Quelle: Das zweite Leben der Filmstadt Babelsberg. DEFA-Spielfilme 1946-1992)
Short Summary (Other Languages)
Nel 1856 Karl Marx, soprannominato dagli amici il "moro", vive a Londra in esilio. Qui conosce Joe, un tredicenne costretto a lavorare in filanda 12 ore al giorno, anche di notte, nonostante sia vietato per legge. Billy, il fratello di Joe, cerca di sfuggire allo sfruttamento a modo suo: rubando assieme alla "cricca dei corvi". Una notte Marx si presenta nella filanda con un ispettore. Incoraggiando i bambini a parlare della loro situazione, spera di far valere i loro diritti. Ma gli imprenditori attribuiscono ai "sovversivi" un furto compiuto poco prima dalla banda dei corvi. Marx intercede tanto per i lavoratori, quanto per la banda dei corvi, convincendoli dell'insensatezza delle loro azioni e mostrando loro la strada giusta da percorrere. Al successivo sciopero dei lavoratori, scendono in piazza anche i bambini. (Italienisch)