Moritz in der Litfaßsäule
Director: Rolf Losansky, 86 Min., Color, Feature Film
Deutsche Demokratische Republik (DDR)
DEFA-Studio für Spielfilme, 1983
Film/Video Format

35 mm

Length in m

2346

English Title

Moritz In The Advertising Pillar

Premiere Date

Release Date (for Cinema)

Literary Source

Kozik, Christa: "Moritz in der Litfaßsäule", Kinderbuch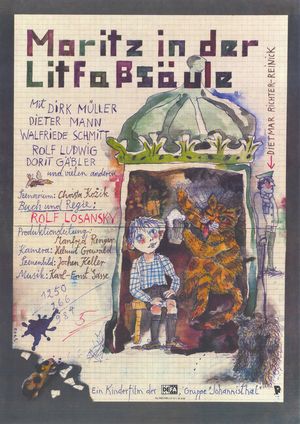 Short Summary (English)
In the eyes of his parents and teachers, Moritz Zack does not do his last name any honour. For Moritz is not at all snappy, or always on his toes - as his name "Zack" implies - but rather slow and thorough. This nine-year-old's behaviour especially infuriates his family: his father; director of a savings bank, has a lot to do and often brings work home; his mother; who, on top of working, is taking a correspondence course; and his three sisters. At school, especially in maths, Moritz is always lagging behind and consequently brings home school reports with nothing but bad marks - which does not exactly help to bring about harmony within the family. One day Moritz simply has had enough and runs away from home. An outdoor advertising pillar which serves as his hiding place not only becomes his new home, but also the realm of his fantasies. He makes the acquaintance of a "divorced" cat that likes drinking beer and the two of them mull over life's problems. He also meets Kitty, a girl from the circus. And finally, he gets to know a street cleaner who becomes his friend. The street cleaner understands Moritz's problems, is responsive and kind-hearted to him, but he makes Moritz understand that hiding cannot be the solution to his problems. Finally, Moritz returns to his family.
Source: Progress Film-Verleih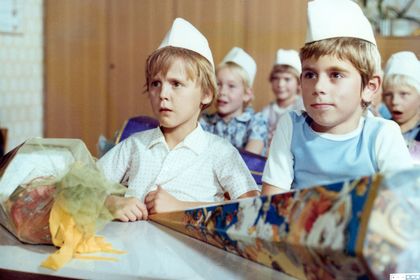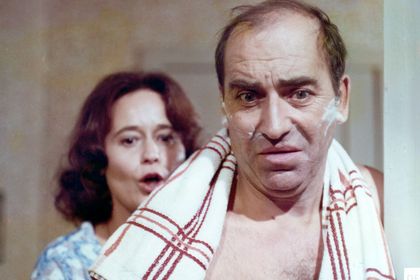 Film Crew
Camera

Helmut Grewald
Erich Günther (Trick)

Cast

Dirk Müller (Moritz)
Dieter Mann (Vater Zack)
Walfriede Schmitt (Mutter Zack)
Rolf Ludwig (Straßenfeger)
Theresia Wider (Stimme Katze)
Julia Jäger (Suse)
Iris Riffert (Salome)
Franziska Hausding (Sina)
Dorit Gäbler (Tante Pia)
Dietmar Richter-Reinick (Polizist Zampe)
Gertraud (auch: Trude) Kreißig (Frau Zampe)
Franziska Troegner (Lehrerin)
Jörg Panknin (Lehrer)
Gerd Staiger (Direktor)
Barbara Schnitzler (Clown-Frau)
Werner Sperlich (Clown)
Theo Sperlich (Clown)
Dieter Jäger (Clown)
Brigitte Beier (Kassenfrau in Sparkasse)
Ruth Kommerell (Sekretärin)
Helmut Schreiber (Braumeister)
Willi Neuenhahn (Brauer Emil)
Roland Richter (Brauer Horst)
Günter Matthes (Brauer)
Benno Mieth (Polizeioffizier)
Rahel Bringmann (Kitty)
Ernst Krämer (Kittys Vater)
Adelheide Hein (Kassenfrau im Zirkus)
Hannes Stelzer (Einlasser)
Gertraut Last (Aufgeregte Zuschauerin)
Eberhard Schäfer (Aufgeregter Zuschauer)
Carola Bläss (Zuschauerehepaar)
Wolfgang Krone (Zuschauerehepaar)
Mathias Möller (Marcus)
Susanne Schwab (Marcus' Mutter)
Dirk Jungnickel (Marcus' Vater)
Michael Roth (Robert)
Alexander Rohde (Thomas)
Jan Ostinga (Sylvio)
Christian Richter (Dirk)
Karin Gäbert (Karin)
Grit Wüstenhagen (Nachbarmädchen)
Regine Albrecht (Sekretärin vom Direktor)

Production Design

Jochen (auch: Joachim) Keller

Sound

Rosemarie Linde
Helga Kadenbach (Tonmischung)

Make-Up

Bernhard Schlums
Franziska Berger

Unit Production Management

Wolfgang Teich
Wolf-Dieter Zech

Design

Frank Wittstock (Trick)
Heiko Ebert (Trick)
Wolfgang Chevallier (Trick)
Awards
"Findling" der Zentralen Arbeitsgemeinschaft Filmclubs (1984): Jahr der Findling-Auzeichnung unklar
4. Nationales Festival "Goldener Spatz" für Kinderfilme der DDR in Kino und Fernsehen Gera (1985): Sonderpreis des Ministers für Volksbildung der DDR
Short Summary (German)
Moritz ist ein neunjähriger Junge, der seine Umwelt mit seiner Langsamkeit in Verzweiflung bringt: den Vater, der ein kühler Rechner ist, die Mutter, zwischen Arbeit, Haushalt und Fernstudium immer in Eile, den Mathelehrer, weil er wegen Moritz nie den Plan schafft. Seine drei Schwestern nennen ihn einfach Trödelhannes. Dabei ist Moritz nur ein Junge, der über alles gründlich nachdenkt und den selbst die alltäglichsten Gegenstände zu Fantasie-Exkursen anregen. Sich von allen missverstanden fühlend, flieht er eines Tages und versteckt sich in der Litfaßsäule am Marktplatz. Dort kampiert er ein paar Tage, lernt eine sprechende Katze kennen, die ihn über das Leben aufklärt, ein Mädchen vom Zirkus und den Straßenfeger, der sein Freund wird. Er macht dem Jungen begreiflich, dass Weglaufen nicht zur Lösung seiner Probleme führt. Während Moritz von allen gesucht wird, entschließt er sich freiwillig, zurückzugehen und sich durchzuboxen.
(Quelle: Das zweite Leben der Filmstadt Babelsberg. DEFA-Spielfilme 1946-1992)
Short Summary (Other Languages)
A nove anni Moritz è talmente lento, da far disperare tutti: suo padre, un freddo calcolatore, sua madre, sempre di corsa fra lavoro, famiglia e università a distanza, il suo insegnante di matematica, che per colpa sua non porta mai a termine una lezione. Le sue tre sorelle lo chiamano "perditempo", quando invece Mortiz non è altro che un bambino che ama riflettere attentamente e fantasticare. Sentendosi frainteso da tutti, decide di nascondersi per qualche giorno nella colonna per le affissione sulla piazza del mercato. Qui fa amicizia con un gatto parlante, che gli spiega come funziona il mondo, con una bambina del circo e con uno spazzino, che gli spiega come la fuga non sia la soluzione ai suoi problemi. Moritz decide così di rientrare a casa e di farsi largo da solo. (Italienisch)